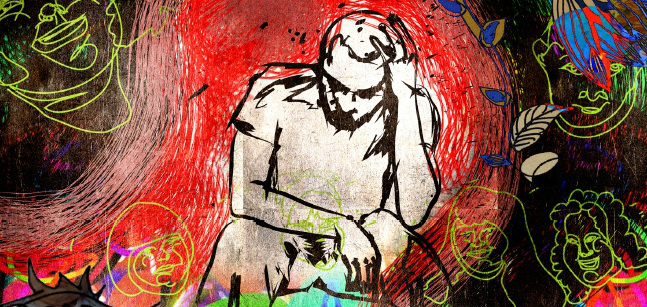 In over ten years of writing for Broken Frontier, there have been few comics I have reviewed that have come close to matching Ravi Thornton's HOAX Psychosis Blues in terms of emotional impact, connectivity and communicative power. Thornton's graphic novel deals with the last decade of her brother Rob's life as he struggled with schizophrenia. It combines a framing sequence focusing on their relationship with comics interpretations of his poetry by artists of the calibre of Bryan Talbot, Karrie Fransman, Hannah Berry, Mark Stafford, Rian Hughes, Julian Hanshaw, Rozi Hathaway, Ian Jones, Rhiana Jade (above) and Leonardo M. Giron. 
I called it "a hauntingly beautiful masterpiece" when I reviewed it here at Broken Frontier in 2014. Re-reading it in preparation for this interview I realised that those words don't even begin to do it justice.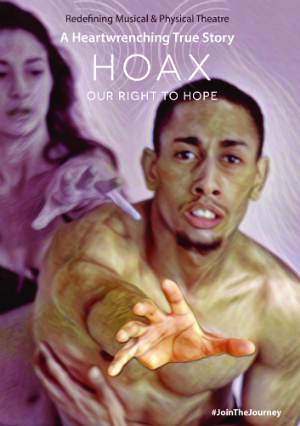 Psychosis Blues was just one part of the HOAX experience however. It was complemented by a sell-out musical play HOAX My Lonely Heart in 2014 acting as a prologue to the book. Thornton's artistic practice has been notable for embracing cross-media approaches and the HOAX project returns as HOAX Our Right to Hope this year with a third strand in the form of an interactive app. Ravi Thornton talks to me today about the evolution of HOAX as its North of England tour approaches in April… 
ANDY OLIVER: You came to comics as a medium a little later than many creators. When you did discover the form what was it about sequential art that most inspired you in terms of its storytelling possibilities?
RAVI THORNTON: I guess I came to sequential art in response to a need I had to tell a certain story in a certain way. And then, finding the wonderful quiet space within the architecture of writing for sequential art, a space that others can then move into and inhabit, well, I just liked it. I like the quiet.
The process led me to want to write other stories in the same medium, and as I did so I came to realise just how powerful and inclusive a medium sequential art is. It's all the things that people say it is: a great way to engage with people who don't read much prose, a great way to express personal journeys, a tradition of superheroes and subversity… But it's much more than that too. It's a craft that is both fragile and robust in the same moment, and as such a very good representation of the human condition.
Can you tell us about the events that HOAX is based on, how the graphic novel aspect of it fits into the graphic medicine/graphic memoir strand of comics, and its genesis as a cross-media event?
The entire HOAX project is based on my younger brother Rob, who lived with schizophrenia for over a decade before killing himself at the age of 31, and who wrote the most heartbreaking poetry: not because the poems were sad, but because they were honest and insightful, often cuttingly so.
Pages from the framing sequence by Leonardo M. Giron
A few years after his death I started working with Rob's poetry, devising a musical based on his experiences titled HOAX My Lonely Heart with director Benji Reid. The musical follows Rob's story over the six months before his first psychotic breakdown. It's a love story, actually – but also raw and hard hitting. Working on the musical, however, prompted a whole set of additional questions; and I realised the best way to explore and answer them would be to continue Rob's story, this time through sequential art. Thus the graphic novel HOAX Psychosis Blues came into being.
HOAX Psychosis Blues tells Rob's story from the time he's diagnosed with schizophrenia through to his death ten years later. It does so through ten of his own poems, framed by his relationship with me. So it's kind of biographical, auto-biographical and an anthology all at the same time.
HOAX Psychosis Blues pages by Mark Stafford and Rian Hughes
I launched these two parts of HOAX in 2014, through what was then the fledgling company Ziggy's Wish, and the response was both gratifying and humbling. The works really seemed to connect with the audience at a very profound level, particularly where that audience had some personal experience around mental health difficulty.
As such the project caught the attention of the renowned and highly progressive Psychosis Research Unit (PRU). We entered into a series of discussions with PRU, to see how we might tangibly harness this impact to help reduce general-stigma and self-stigma around mental health. This led us to create a third narrative work for the HOAX project (this time an app) and to develop the HOAX Our Right to Hope touring event.
Art by Bryan Talbot and Karrie Fransman
HOAX Psychosis Blues was remarkable not just for its thematic heart but also for the stunning line-up of diverse artistic talents who brought Rob's poetry to life with such an empathetic touch. How did you bring together a group of artists that included the celebrated likes of Bryan Talbot, Karrie Fransman, Hannah Berry and Rian Hughes?
Although I sit somewhat on the fringe, I'm lucky enough, through having been published by Jonathan Cape, to have been welcomed into the British comics community and introduced to a great many creators. The artists who worked with me on HOAX Psychosis Blues were all creators I approached because I felt their style was a good fit to the particular poem I was asking them to illustrate. Bringing the artists themselves together was relatively easy (I just asked); but managing their respective contributions into one cohesive flow took a little more work. Everyone was very responsive and professional, though, which helped immeasurably.
(You can read a comprehensive interview with Ravi on the graphic novel here at BF)
Pages by Hannah Berry and Julian Hanshaw
I want to go off on a slight tangent now and talk about one creator whose comics journey began with HOAX Psychosis Blues. How satisfying is it to have seen the astonishing progress of Rozi Hathaway (an original Broken Frontier 'Six to Watch' creator and winner of this year's BF Breakout Talent Award) over the last few years given your pivotal role in bringing her to a wider readership?
Without wanting to sound like a pious puppeteer, it's hugely satisfying. And on many levels. Not just because it's borne out the suspicion I had that Rozi's was a beautiful and strong talent, when I came across her online those few years ago; or because HOAX was Rozi's springboard; but because I was able to mentor her in her own confidence. And nothing brings me greater pleasure than to mentor young women.
I should say, though, that Rozi's doing is just that. Her progress is squarely down to the hard work and effort she puts into her learning, her development and ultimately her delivery.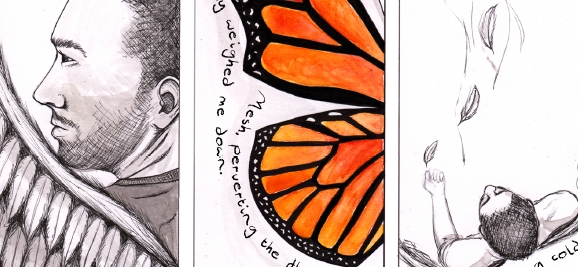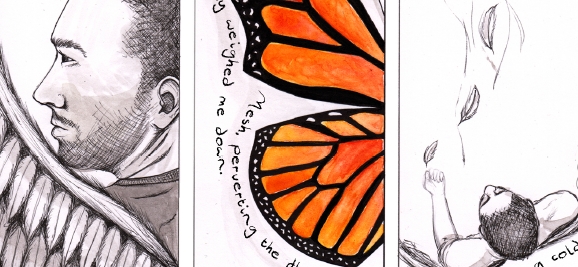 A small sampling of Rozi Hathaway's art from HOAX Psychosis Blues
Three years on from the original HOAX project you're returning in 2017 with the aforementioned HOAX Our Right to Hope tour. How has HOAX evolved in that time and what additional aspects are there to its narrative this time around?
I mentioned PRU earlier, and the conversation that we had with them. This was really the catalyst for the tour. PRU wanted to find a way to take the HOAX artworks to as many people as possible, so that they could measure its impact as part of a mental-health stigma study.
We knew that a tour could be a good way to achieve this, and that getting that tangible measurement would also be a great way to evidence the value of the arts. A good win-win.
So we started to build the case for Arts Council England to fund the tour under their Strategic Touring programme. It took patience, persistence and a couple of attempts, but finally we were successful.
After that everything evolved, really. We re-worked the stage musical script, and are looking forward to starting rehearsals in March. We printed a second edition of the graphic novel, so that everyone who attends the stage musical can take home a copy. And we developed the HOAX Our Right to Hope narrative app.
The app was primarily driven by need. We needed to have a way not only to reach thousands of people, but also to interact with them and gather those interactions as a data-set. We also needed to encourage people to want to interact in the first place, so we decided to offer more of Rob's story in return for the audience's interest and time.
This meant evolving the narrative: extending the timeline of Rob's journey both backwards and forwards. So in the app, the audience first meet Rob as he's heading off to university. Then they meet him a few years later in the stage musical, some months later in the graphic novel, and then are able to go back into the app to explore alternative endings. They also get the chance to join in with Rob's journey by making decisions along the way.
Images from the narrative app. Art by Andrew Chiu.
Looking back to your first graphic novel The Tale of Brin & Bent and Minno Marylebone through to HOAX, exploring a cross-media approach to storytelling feels like a signature part of your work now. How do you feel those expanded cross-media elements of HOAX Our Right to Hope complement each other in creating an immersive experience for its audience?
I think it's a really interesting proposition for an audience. They can choose not only to find out more about the story, but also to be involved in it. By extension, because of the health study that's embedded in the narrative app, they can also choose to be involved with the real-world story of mental health, and therefore to play a part in bringing about actual real-world change.
It's a very altruistic immersive experience. And I think the fact that it's spread across three media only serves to deepen the experience due the different sensory and emotional responses that these three very different elements elicit.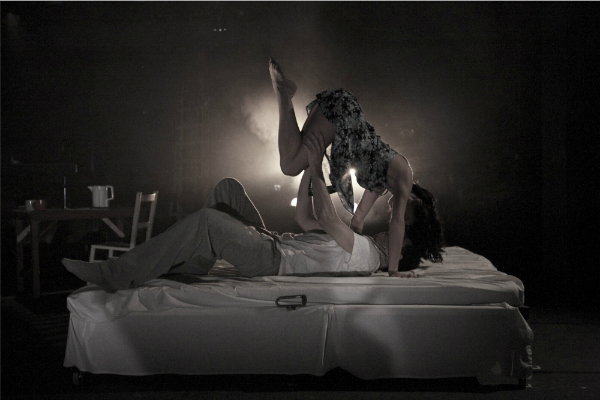 The visceral and immediate stage musical leaves the audience very physically affected. The graphic novel, as well as charting the complex and emotionally fluctuating landscape of the decade it spans, also provides space for deeper reflection. And the app allows for a more decisive cognitive element to come into play.
What's more it's not just Rob's story that plays out over a longer timeline, but the audience interaction too. This begins the moment they get their ticket to the HOAX Our Right to Hope event and thus their unique access code into the app; and goes right through to the point they  hear about the health study's results a few months after the tour, and what their participation meant to actual mental health practice.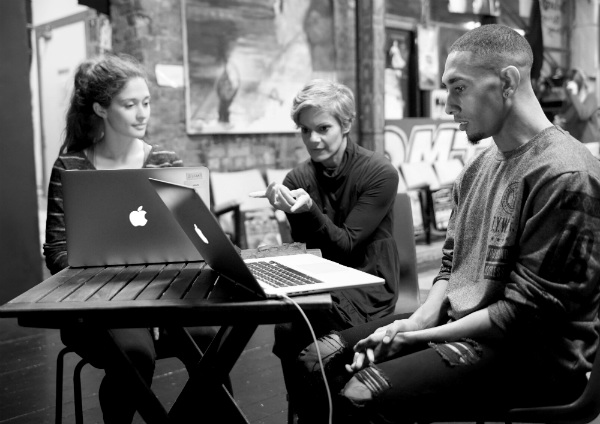 Ravi Thornton (centre) with HOAX My Lonely Heart performers Eleanor Griffiths and Christopher Tendai
From casting performers to app development what have been the logistical challenges in putting together HOAX Our Right to Hope?
HOAX Our Right to Hope is a large and complex project, with a million moving parts, so the whole thing is a logistical challenge. The main difficulties, however, have been working within the constraints on time and budget. Managing these two aspects (with military precision), having a thorough and realistic project plan, and having great people in place to execute that plan, has been really key to getting us where we are with HOAX today.
In fact, by keeping all of that nice and tight, it's meant that achieving the various component parts of the project (castings, rehearsals, contracts, booking tour venues, travel, accommodation, developing the app, re-running the graphic novel, managing accounts, building a marketing campaign, social media, etc etc…) has been, albeit hard work, very enjoyable.
There was an overwhelmingly positive critical response to HOAX in 2014 but on a more individual level were there any instances of it connecting with those who may have shared similar experiences to Rob that have been particularly rewarding for you? 
There were, and continue to be many; but with mental health difficulties affecting so many of us at one time or another, perhaps that's no surprise.
Perhaps it's also no surprise that the encounter that stands out is the most to me is not with someone who shared Rob's experiences, but with someone who shared mine: a soldier, whose younger brother also had schizophrenia and took his own life. He talked about his time in service, how he was away on duty when his brother died, how he'd 'taken the piss', how you're not allowed to be weak in the army, how the suicide didn't really register with him, how the pain came years later…
It was incredibly moving, and I feel privileged that he chose to share his experiences with me.
More Psychosis Blues interiors by Rhiana Jade and Ian Jones
Where will the tour be visiting over the next few months and how can Broken Frontier readers find out more about becoming part of the HOAX experience?
The tour runs April 4th to May 1st and is visiting Civic Theatre Barnsley, Poppleton Centre York, Central Hall Grimsby, Philip Toosey Barracks Liverpool, and The Lowry Salford.
We've a project website (hoaxorth.com) where you can get all the details and buy tickets. Each ticket gets you access to the app, entrance to the musical wherever you'd like to see it, and a copy of the graphic novel. It also means you can take part in the mental health study, if you want to, and be part of this world-first attempt to measurably tackle stigma through cross-media arts.
We've also got plenty going on across social media. So even if you're not able to buy a ticket and come along in person, you can still get involved by joining the conversation online, sharing tweets and telling others about it – especially if you think the HOAX Our Right to Hope experience could be of benefit to them. There will be mental health professionals present at every tour event, as well as information about local and national services. We're also holding, per venue, one event which is fully clinically supported, for anyone who feels they are experiencing psychosis or at risk of experiencing psychosis.
It's actually a really good opportunity for anyone who might be struggling with mental health issues (whether their own or those of someone they care about) to access great support in a very different, safe and inclusive atmosphere.
The Tale of Brin & Bent and Minno Marylebone (published by Jonathan Cape) Art by Andy Hixon
And, finally, what next for Ravi Thornton and Ziggy's Wish after this latest tour? Do you have further plans for HOAX? Are there any other comics-related plans for the future?
I'd love to see HOAX tour nationally, but for the moment, whilst we're testing so many new elements, we're just concentrating on having the biggest impact (and the most fun) that we can have with this North England tour.
Alongside developing HOAX, as a company Ziggy's Wish has been developing a new technology (Narrative Resilience Technology) and are looking at ways we can apply this to achieve positive social impact. It's really interesting stuff.
For me personally, rather unexpectedly it looks like the weird and wonderful universe of Brin, Bent and Minno is about to get a re-visit! I'll keep you posted… 🙂
For more on HOAX Our Right to Hope visit the official site here and follow the project on Twitter here. You can also follow Ravi Thornton on Twitter here and Rozi Hathaway here.