A lavish and opulent visual feast of a comic with a gripping plot at its heart, Ellen Lindner's historical drama is a must-buy affair.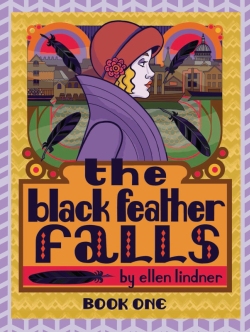 London, the 1920s, and American Tina Swift is about to become embroiled in a twisting murder mystery in England's capital city. When Tina witnesses the police dealing with a brutal death in the street outside her workplace she attempts to draw their attention to a clue that everyone seems determined to ignore. This steely resolve to see the crime properly investigated will entrap her in a web of intrigue with roots going back to the trenches of the First World War…
The Black Feather Falls Book One (of four) collects in print form the first instalment of Ellen Lindner's webcomic,  originally published on the Act-i-vate Comics site. Hearkening back to an age of period detective novels it pairs protagonist Swift with spinster sidekick Miss McInteer. An obvious Holmes and Watson partnership of opposites, perhaps, but one that effectively brings us into the greater world of The Black Feather Falls. Importantly, from a narrative perspective, McInteer acts not just as a foil to her more assured colleague but is also representative of the loss endured in the wake of the Great War: three brothers killed in the conflict and left in her own words "an old Maid" due to dedicating herself to the war effort.
Unsurprisingly this opening chapter contains plenty of set-up – particularly in establishing the dynamics of the Swift-McInteer relationship – but the conspiracy it introduces us to is full of strong storytelling hooks to engage the audience. Why has a homeless war veteran been so viciously butchered? What was the implication of the black feather Swift found on his corpse that the police turned a blind eye to? Why are the authorities hellbent on covering these events up? And how does it all tie into a remote Scottish island community?
What Ellen Lindner has produced here is a carefully constructed package elegantly evoking a sense of era. The visuals are simply gorgeous bringing stylish life to the fashions and decor of the 1920s through both the period detail and the book's design sensibilities (just check out that stunning cover for evidence of that!). It sounds somewhat contradictory but the colouring is simultaneously sumptuous and muted with the hues used carefully selected to complement each other, adding to that slightly faded historical feel.
A selection of pages from throughout Book One
By the end of Book One it's difficult to see how any reader could fail to be pulled in by the compelling strands of the puzzle that's presented to us. In Tina Swift we have an outsider heroine – one who, significantly, does not share the commonality of experience post-war in her adopted place of residence –  whose efforts to stand up to the injustices of the establishment immediately make her a character the readership will empathise with and cheer on. And for the enthusiast of the murder mystery there are just enough parallels and recognisable genre traits to ensure this works as sleek homage as well as having its own narrative identity.
Let's not forget that bringing The Black Feather Falls to print is also a testament to Soaring Penguin who continue to live up to their self-avowed intent of bringing eclectic quality comics projects to the public. From Loisel's Peter Pan to Hardiman's The Lengths to their upcoming Mengelmoes by Willem Samuel, the diversity of their output to date is readily apparent. The Black Feather Falls is an early foray into serialised comics output for them and it's an inspired choice. A lavish and opulent visual feast of a comic with a gripping plot at its heart, Ellen Lindner's historical drama is a must-buy affair.
Ellen Lindner (W/A), Andrea Kendrick (colouring assistance) • Soaring Penguin Press, £3.95, December 2013