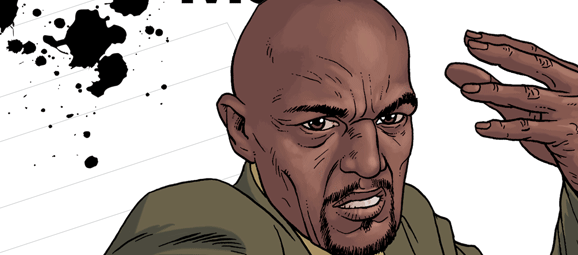 It's nearly Wednesday, and you know what that means: a fresh load of comics and graphic novels! With so many publications hitting your local comics store or digital storefront, the BF staff is here to lead you through the woods with our weekly staff picks. Satisfaction guaranteed!
Comic of the Week
Nowhere Men #7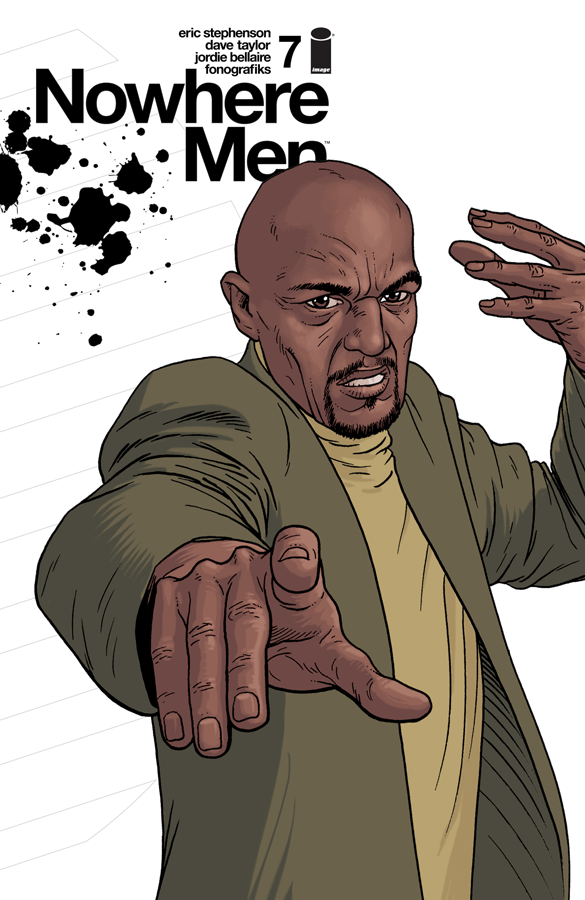 Back in 2012, Nowhere Men was one of the books – along with Hickman and Pitarra's Manhattan Projects – that alerted me to the growing momentum building behind Image Comics. Created by Image publisher Eric Stephenson and artist Nate Bellegarde, with stylish support from Jordie Bellaire (colours) and Fonografiks (lettering and design), it was a thrilling look at what might happen to our humanity if we let our science go 'bad'
However, the book soon suffered from scheduling uncertainties, and after #6 appeared in October 2013, it went on unofficial hiatus. (Nate Bellegarde later revealed that health problems had left him unable to work on the book any longer. Obviously, everyone at Broken Frontier wishes him all the best for the future.)
Now, after a gap of two years (during which time Stephenson has landed another edgy hit in They're Not Like Us), Nowhere Men is returning for a second six-issue arc, picking up where the explosive cliffhanger at the end of #6 left off. Joining the writer is a new art team: the UK's Dave Taylor (Batman, Judge Dredd), working on the main story, and Emi Lenox (Plutona, Emitown), providing the sketch diary of a principal character's daughters.
With its mix of slick visuals, intriguing non-linear storytelling and sharp design (including faux ads and reproduced 'magazine' pages), Nowhere Man made bold and ambitious use of the comic format, and its return is very welcome. And at $2.99 for 32 pages of story and no ads, this could be the perfect opportunity to find out if science really is the new rock 'n' roll.
Eric Stephenson (W), Dave Taylor, Emi Lenox (A), Jordie Bellaire (C) • Image Comics, $2.99
– Tom Murphy
American Monster #1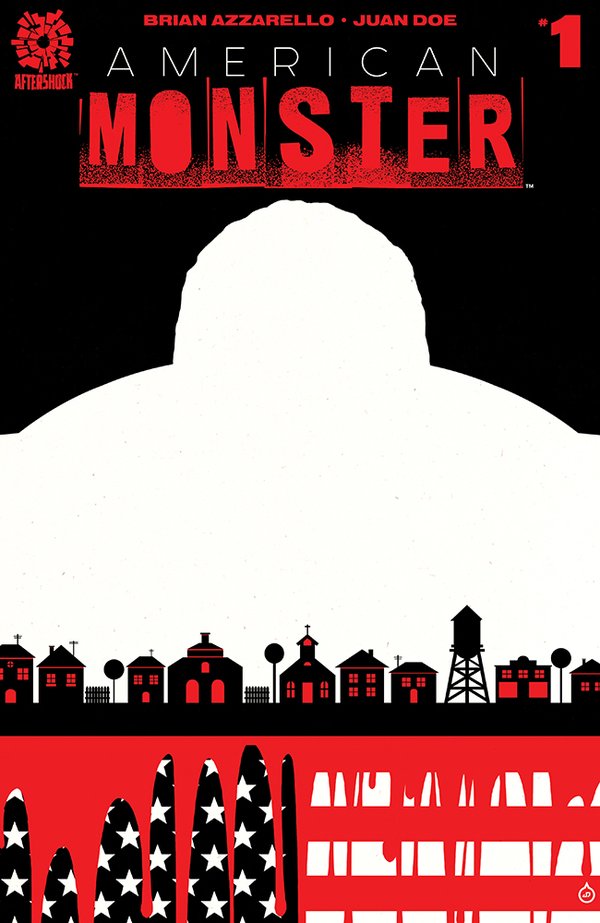 As co-writer of the mega-polarizing Dark Knight III, Brian Azzarello has enjoyed a healthy period in the spotlight lately. The buzz for his new creator-owned series with Juan Doe has been comparatively sparse, however. Somehow that feels right for this gritty war-horror hybrid, the first issue of which skulks into shops this week.
Returning soldier Theo Montclare is the central figure of American Monster—a disfigured veteran who may be hiding a deeper transformation from his former neighbors. Azzarello promises that Theo is not the only character to whom the titular moniker will apply, though.
That seems to promise a return to the brilliant ensemble work of 100 Bullets, but artist Juan Doe is much more than a stand-in for Eduardo Risso. In the book's preview pages, Doe's shadow-drenched, animated style heightens American Monster's overarching sense of unease. This could be one of the first hits for new publishing supergroup Aftershock Comics; don't miss your chance to get in on the ground floor.
Brian Azzarello (W), Juan Doe (A) • Aftershock Comics, $3.99
– Paul Mirek
Pencil Head #1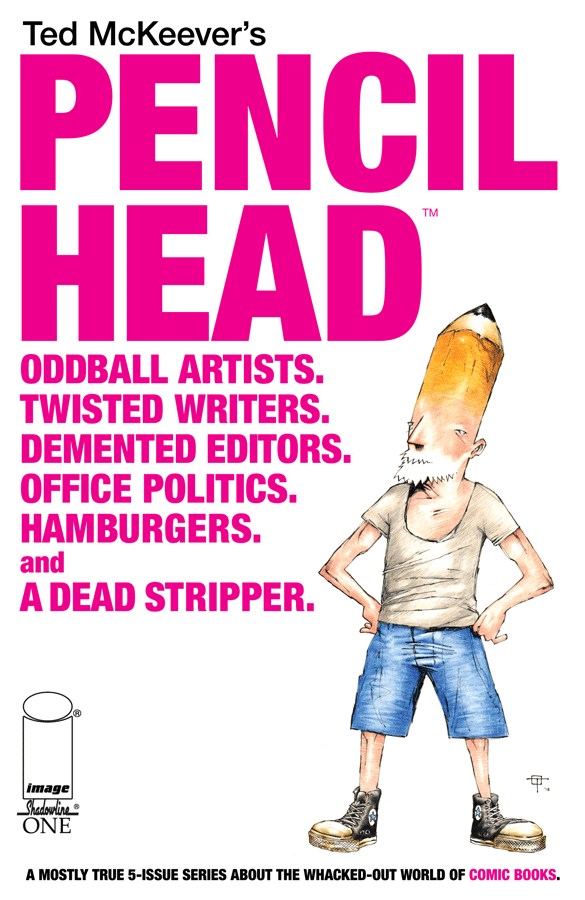 When Ted McKeever burst onto the comics scene in the 1980s with the stark monochrome series Transit and Eddy Current, it marked the arrival of a singular talent. His intense, scratchy style created a trademark mix of the visceral and the industrial, reaching its apotheosis in series like Metropol (Marvel) and, particularly, the prestige format Plastic Forks (Epic). He also worked with collaborators as diverse as Peter Milligan (The Extremist) and Lydia Lunch (Toxic Gumbo).
He's been round the block a few times since then, personally and professionally, but in recent years he's found a new creative home at Jim Valentino's Shadowline imprint, where he's published such characteristically provocative and individual series as The Superannuated Man, Meta 4 and Miniature Jesus. 
Now, in another change of direction, he's turning his unique vision to the wonderful world of the funny books, combining "personal industry experiences, along with a more bizarre subplot, to create an autobiographical stew of behind-the-scenes happenings, mixed with my usual blend of oddities and weirdness." McKeever remains one of comics' arch-stylists, and his work is always worth a look.
Ted McKeever (W/A) • Image Comics/Shadowline, $3.99
– Tom Murphy
Silver Surfer#1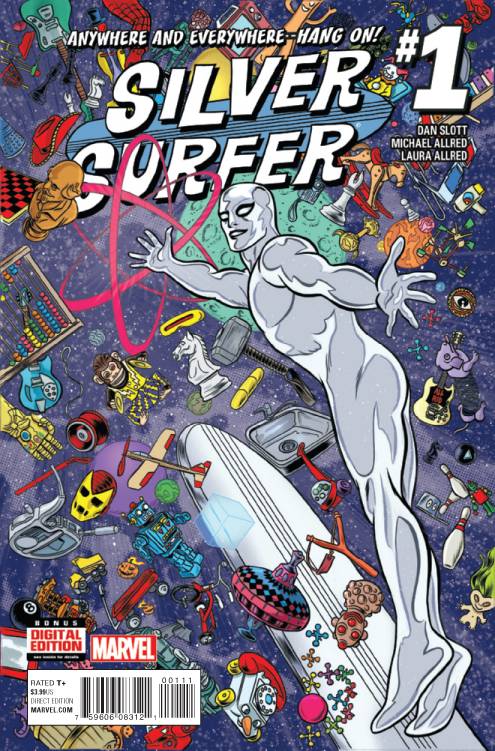 This new episode of Dan Slott and Mike Allred's much-loved and Broken Frontier award-nominated incarnation of the Silver Surfer teases "a secret that will change everything".
This comes as the story takes us on a wild ride to the ends of the universe and a fantastical planet full of monsters, mysticism and magical forces—Earth! In this issue the Surfer takes his traveling companion Dawn Greenwood on a trip to Earth like you've never seen it before, and readers get a chance to enjoy these new adventures and surely spectacular sights in the safe hands of expert artist Mike Allred.
If you've been keeping up with the new Surfer comics, then this will no doubt be an easy sell, but the issue also promises to be a good jumping-on point for newcomers to Marvel's All New Now! Silver Surfer comics – or indeed to any Silver Surfer comics…
Dan Slott (W), Mike Allred (A) • Marvel, $3.99
– Conori Bell-Bhuiyan

Carver: A Paris Story #2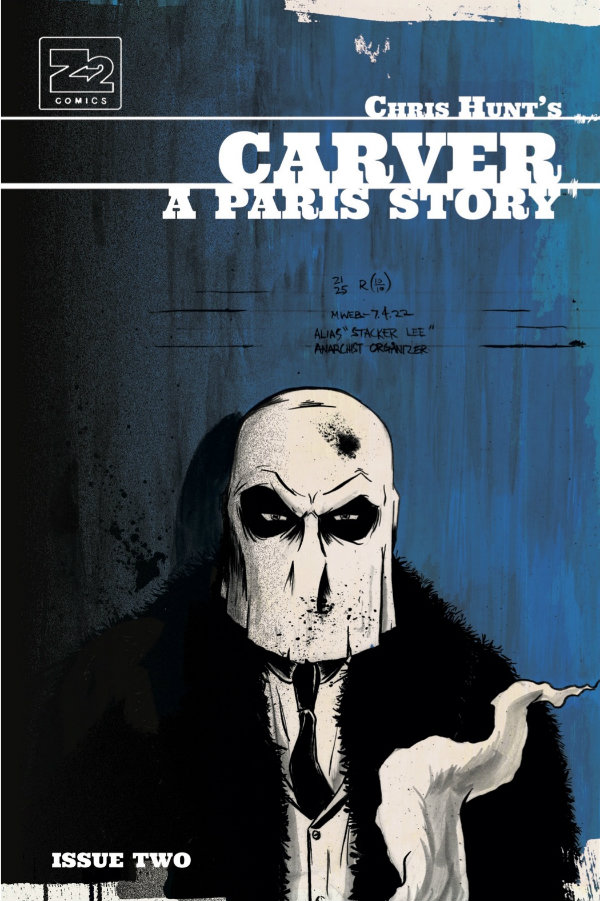 Chris Hunt just missed the cut-off for the 2015 BF Awards this past year as a nominee for the Breakout Talent category. However the Paul Pope protégé starts 2016 with a bang in this second installment of his creator-owned debut from Z2 Comics.
Last issue laid the groundwork for an inevitable confrontation between the titular "gentleman of fortune" and his underworld nemesis Stacker Lee. But instead of facing down hordes of armed Parisian thugs with his grim, steely gaze, Carver must stare down the woman who broke his heart when he was a boy.
Faced with a choice between opening his heart to potential disaster and closing himself off from a chance at true joy, will Carver be able to reconcile the idealistic young man he was with the cynical, world-weary gentleman of fortune he has become?
You have only to immerse yourself in the shadow-choked, decadent world of Hunt's Paris to find out!
Chris Hunt (W, A) • Z2 Comics, $3.99.
– Jason Wilkins
Devolution #1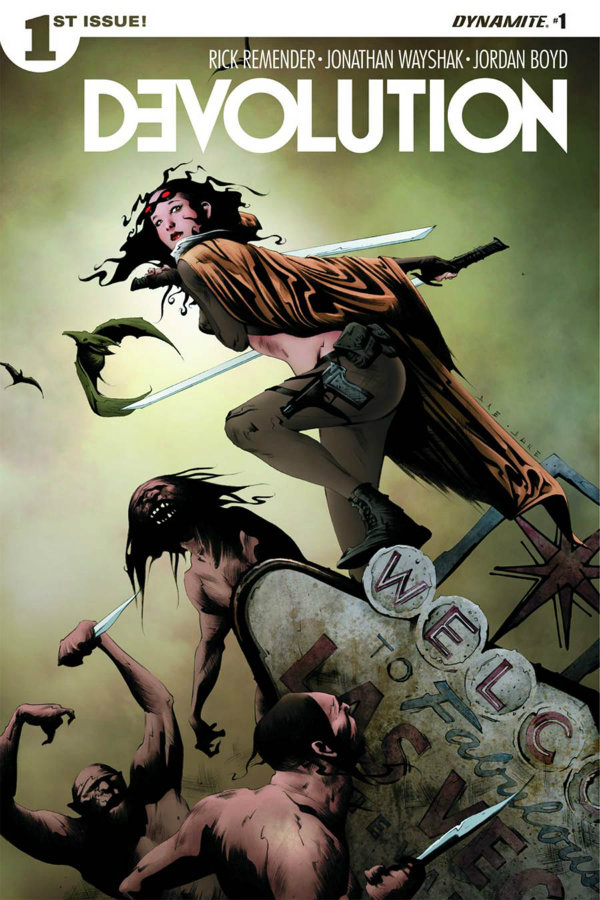 Survival can be a bitch when virtually the entire human race has devolved into a vast, twisted menagerie of evolutionary throwbacks and beasty hybrids. As the last surviving band of humans, it falls to the "Still Sapiens" to hunt for an antidote to the nightmarish world in which they live and to re-evolve humanity.
Rick Remender (Uncanny Avengers, Black Science) is no stranger to the wonderfully weird, and in talented up-and-coming artist Jonathan Wayshak (The Authority), he has found perhaps his most able collaborator. Wayshak's beefy, robust illustrations depict a "lost" world of near-buffoonish exaggeration and hyper-detailed reality.
Each panel is invested with distinctive, expressive characters and settings that allow Remender's densely-packed script to come alive in the hands of readers. This is lively, textured graphic world-building at its finest, with both writer and artist firing on all cylinders to create an environment that is bizarrely original and full of colourful, diverse life.
Keep an eye out for Wayshak – you'll be seeing more of his early Breakout Talent contender, in the future, methinks.
Rick Remender (W), Jonathan Wayshak (A) • Dynamite Entertainment, $3.99.
– Jason Wilkins
Amazing Forest #1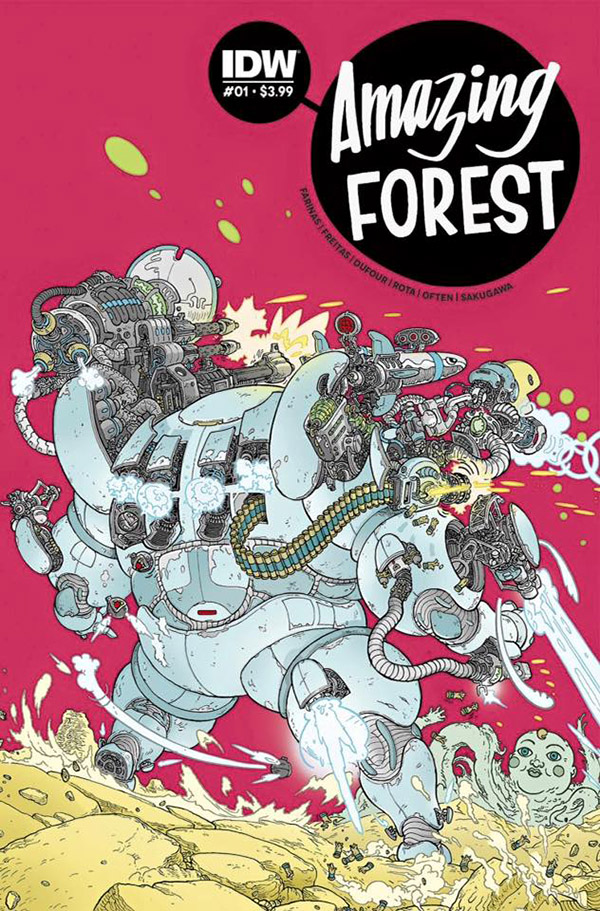 Described as a "modern anthology that lends itself to a time when stories were short and ugly," Amazing Forest #1 delivers four dark tales by the writing duo best known for their work on of the current Judge Dredd series—Erick Freitas and Ulises Farinas. They've selected a different artist for each of the four stories, matching style to story perfectly.
Wickedly twisted and unwilling to give up easy answers, each of these self-contained stories packs a punch in just a few pages as they examine the human condition… even when that condition isn't completely human.
This issue ships with a variant cover by Concrete creator, Paul Chadwick.
Ulises Farinas & Erick Freitas (W), Julien Dufour, Matt Rota, Melody Often & Yumi Sakugawa (A) • IDW, $3.99.
– Tyler Chin-Tanner

Man Plus #1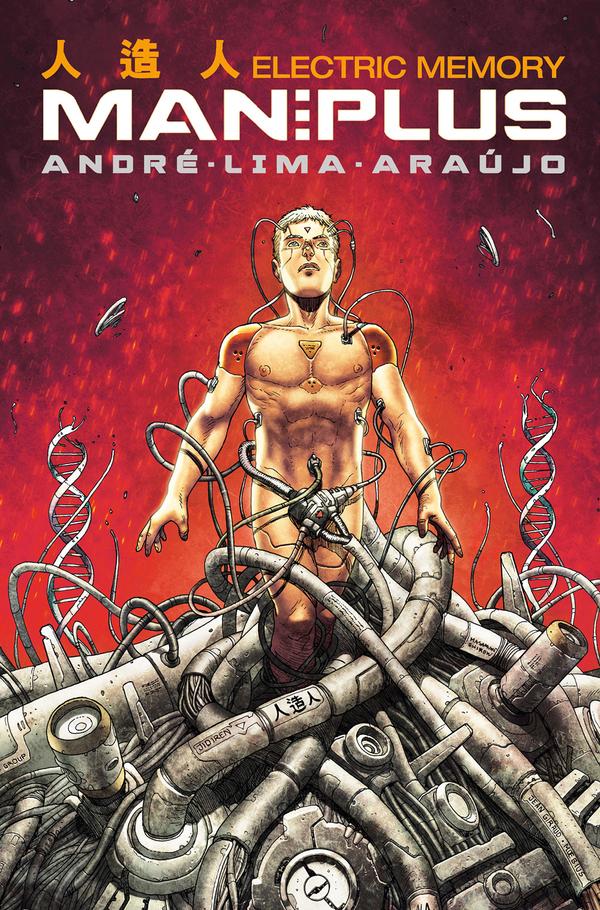 Man Plus, the latest creator-owned miniseries from Titan Comics, hits the shelves this week after previously being announced as a summer 2015 title. This four-part series from writer/artist André Lima Araújo (Avengers A.I., Spider-Verse, Ultimate FF) presents a cautionary technological tale set in the shimmering metropolis of Olissipo City—a place where "technology rules with a heavy hand, cyborg strike teams are commonplace, and the lines between man and machine grow hazier every day."
This dystopian thriller in the tradition of The Terminator and Ghost in the Shell transports readers directly into a "robotic skirmish" and reveals the unsettling conspiracy at the heart of the upheaval. Check out Man Plus this week—with conspiracy theories, robots, and a dystopian future setting, it's could well be your cup of (murky) tea.
Andre Lima Araujo (W/A) • Titan Comics, $3.99
– Karen O'Brien