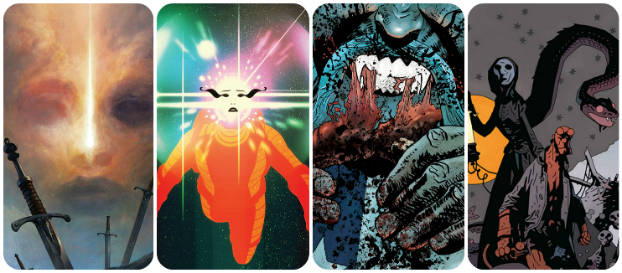 It's nearly Wednesday, and you know what that means: a fresh load of comics and graphic novels! With so many publications hitting your local comics store or digital storefront, the BF team are here to lead you through the woods with our weekly staff picks. Satisfaction guaranteed!
Comic of the Week
World Reader #1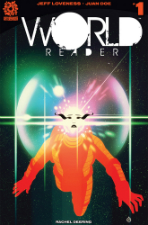 AfterShock Comics is definitely coming into its own as a publisher of intriguing creator-owned material, featuring titles by some big names in comics like Warren Ellis (Shipwreck), Garth Ennis (Dreaming Eagles), and Brian Azzarello (American Monster), just to name a few. Their roster grows even more unique this week with their launch of a new sci-fi series by Emmy-nominated writer Jeff Loveness (Jimmy Kimmel Live!, Groot) titled World Reader.
With a stunning cover and exquisite interior art by Juan Doe (who's done excellent work for just about every publisher you can think of), issue #1 of World Reader introduces us to a universe that is mysteriously dying. Sarah is a space traveller with a special gift – she can communicate with the dead worlds throughout the cosmos – and she's been tasked with unravelling this mystery in the hopes that the cosmic illness can be stopped before it reaches Earth. However, even though she thinks she's following on the heels of Death, it's actually Death who's hunting her.
World Reader looks to be not only fantastic, but also potentially epic in its proportions. It promises to be a "thinking person's sci-fi" series – dealing with the big issues of Life, Death, and Space on a grand scale – and it may just give us some  useful insights into our own troubled little blue/green planet!
Jeff Loveness (W), Juan Doe (A/C) • AfterShock Comics, $3.99
– Matthew Box
Hellboy: Into the Silent Sea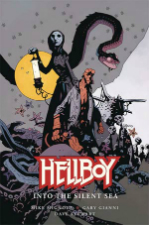 Taking place after the events of the 2005 Hellboy: The Island miniseries, this week's Hellboy: Into the Silent Sea hardcover is an original graphic novel that unites creator Mike Mignola with Eisner Award-winning artist Gary Gianni with colouring by Broken Frontier Award-nominated Dave Stewart.
Out at sea, Hellboy comes face-to-face with the crew of a mysterious ghost ship and is captured by its ethereal sailors who plan to sell him as a freak to the circus. While aboard he becomes embroiled in the agenda of the vessel's captain who is obsessed with a fearsome sea monster…
Expect more Mignola-verse spookiness this week in a handsome physical product from a hugely impressive creative line-up.
Mike Mignola & Gary Gianni (W), Gary Gianni (A), Dave Stewart (C) • Dark Horse Comics, $14.99
– Andy Oliver
Redneck #1

Debuting this week from Image Comics, Redneck is a country-fried twist on the vampire myth created by Donny Cates (Ghost Fleet) and Lisandro Estherren (Last Contract) set deep in the heart of rural Texas. The plot revolves around the reclusive Bowman clan, a family of vampires hiding out from the world behind a veneer of downhome Texas barbecue and cow's blood beer.
Forbidden to kill humans by the clan patriarch, the Bowmans attempt to co-exist peacefully with their neighbours until an ill-considered night on the town provides the spark to a long-simmering feud with a rival family of God-fearing Christians intent on burning their undead carcasses out of Texas.
Cates' strong narrative voice and crackling dialogue transport the reader straight to the heart of his east Texas home, infusing the first issue with a foreboding sense of time and place that rings true. Estherren's gritty, atmospheric artwork is appropriately rough around the edges, underscoring the raw emotions lurking beneath the façade of peaceful co-existence between the two families.
As Cates notes in the back matter, Redneck is a story about blood but not the blood that binds family together or sustains a secretive clan of vampires. Rather, this is a story about the kind of bad blood that tears families apart, even as they strive to become something better than what came before – something we can all relate to, in our own small way.
Donny Cates (W), Lisandro Estherren (A) • Image Comics, $3.99
– Jason Wilkins
Brigands Volume 1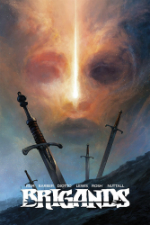 Writer Ram V is something of a rising star on the indie scene at the moment with the very well-received crowdfunded graphic novel Black Mumba last year and his and artist Anand Radhakrishnan's next book Grafity's Wall – a coming-of-age story of life on the streets of Mumbai – currently also going the crowdfunding route from Unbound Books.
This week sees the release of the first volume of his Brigands collaboration with artists Nick Barber, Alex Diotto and Rosh from Action Lab/Danger Zone. A medieval heist caper with a cast of roguish reprobates, this Brigands trade collects the first five issues of the series.
Ram V (W), Nick Barber, Alex Diotto and Rosh (A), Jason Lewis (C), Kel Nuttall (L) • Action Lab/Danger Zone, $14.99
– Andy Oliver
Shaolin Cowboy: Who'll Stop the Reign? #1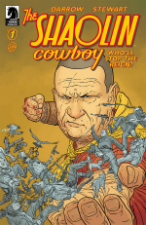 Is the road to hell paved with good intentions? Heck no. If you're Geof Darrow's Shaolin Cowboy, it's likely paved with busted knuckles and one more nemesis bent on bloody revenge. (You didn't really think Darrow was going to send him to renew his library card, did you?).
Shaolin Cowboy: Who'll Stop the Reign is an all-new four-part miniseries, and fans of Darrow's Eisner Award-winning combination of a super-violent protagonist, ironic settings, and meticulously detailed artwork will want to add this book to their pull lists immediately. (The initial Shaolin Cowboy comic produced from 2005-07 won the 2006 Eisner Award for Best Writer/Artist.)
And if you're thinking of not checking out this book because you're unfamiliar with Geof Darrow's work, guess again. You know his work well. The Wachowskis hired him as the conceptual designer on all three Matrix films. Enjoy!
Geof Darrow (W/A), Dave Stewart (C), Dark Horse Comics, $3.99
– Karen O'Brien
Cave Carson Has a Cybernetic Eye #7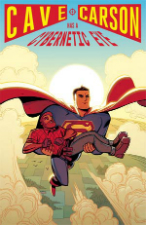 If, like myself, you're one of those long-term DC readers for whom the New 52 reboot of 2011 was sadly your jumping-off point from the DCU then Gerard Way's Young Animal group of books may well have proved to be a most welcome opportunity to revisit some old friends.
While the imprint has, admittedly, been plagued with some momentum-affecting delays it's been a delight to see such experimental books that hearken back to a late '80s-early '90s DC aesthetic with a distinctively indie vibe to them.
After the hectic events of the first story arc, Jon Rivera and Michael Avon Oeming give the titular Silver Age spelunking hero some downtime this month as he catches up with old chum Superman. But is there more to their shared histories than we might think…?
Jon Rivera (W), Michael Avon Oeming (A) • DC Comics, $3.99
– Andy Oliver