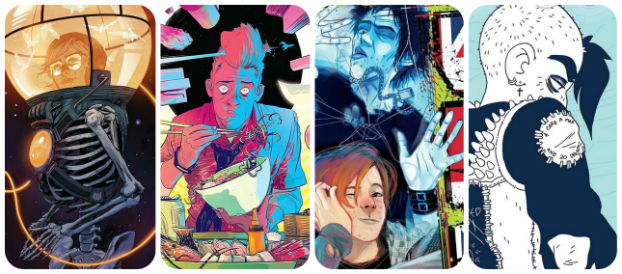 It's nearly Wednesday, and you know what that means: a fresh load of comics and graphic novels! With so many publications hitting your local comics store, comics event or digital storefront, the BF team are here to lead you through the woods with our weekly staff picks. Satisfaction guaranteed!
Comic of the Week
š! #34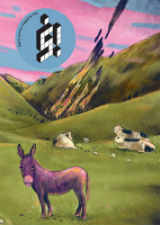 The latest edition of Latvian micropublisher kuš! comics' signature digest-sized anthology of multinational comics contributors is available to order online this week, with New Comic Book Day being its official date of publication. The title of this edition is 'Redrawing Stories from the Past II' and looks at the theme of emigration during the Second World War.
kuš! are one of the true mainstay stalwarts of the international alt comics scene and behind the new volume's Alice Socal cover you'll get to see work by creators from countries including Lithuania, France, Germany and Italy. All editions of š! are worth your time but this one looks set to be very special indeed. You can order the book online here and find out more about the Redrawing Stories from the Past project that the comic ties into here.    
Lina Itagaki, Emilie Josso, Julia Kluge, Alice Socal (W/A) • kuš! comics, $14.95
– Andy Oliver
Egg Cream #1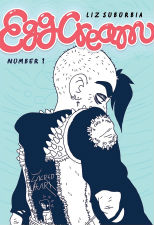 In a bit of a coup, two of our favourite small presses – Czap Books and Silver Sprocket – are teaming up to bring us what's billed as the first in a new annual series from high-energy zinester Liz Suburbia (Cyanide Milkshake).
The blurb promises us "a delicious concoction of sweet, sweet comics, chilled to frothy perfection", from dog dreams to modern-day saints. However, most exciting of all, it launches the eagerly awaited second volume of her Sacred Heart series, her coming-of-age tale set in a town without adults. "Livin' in the Future" picks up the story ten years after the flood and starts to piece together why the kids of Alexandria, VA were left to fend for themselves in the first place.
Liz Suburbia (W/A) • Czap Books/Silver Sprocket, $11.99
– Tom Murphy
Punks Not Dead: London Calling #1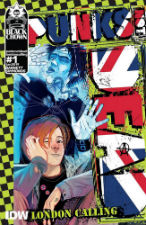 Punks Not Dead from IDW's Black Crown imprint returns this week for what is effectively Season 2 of a series that crosses so many genres that supernatural comedy thriller hardly seems adequate as a description. As we return to the lives of schoolboy Fergie Ferguson and Sid (the ghost of a very familiar looking punk rocker from another era) they're on the run, accused of murder and being pursued by the Department of Extra-Usual Affairs, alongside the police and other dark forces.
Expect another five issues of fast-paced, anarchic action, multi-faceted plotlines and quirky characterisation from one of Black Crown's best received books so far.
David Barnett (W), Martin Simmonds (A), Aditya Bidikar (L) • IDW Publishing/Black Crown, $3.99
– Andy Oliver
The Weatherman Vol. 1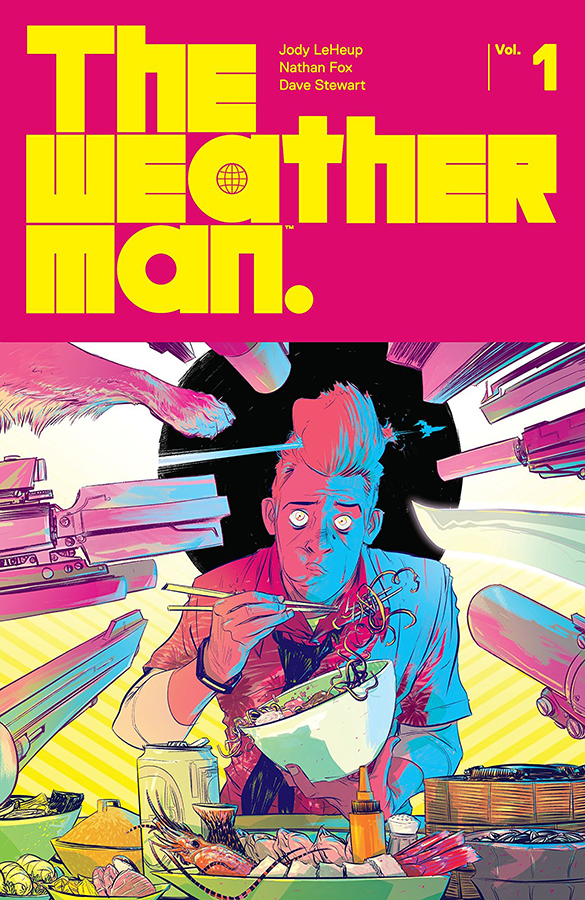 It's not often that a comic's title makes it sound more mundane than it actually is. Yes, the story is centered around everyone's favorite weatherman, Nathan Bright, it's just that he's the weatherman on Mars and his audience is the surviving population of Earth after billions of people were wiped out after a large-scale terrorist attack.
Turns out Nathan might be the key to finding out who was responsible and stopping them from coming back to finish the job. This makes Nathan a wanted man, on the run from the government, bounty hunters and the terrorist organization. And to complicate matters more, Nathan might very well have been the one responsible for the massacre in the first place.
Jody Lehuep (W), Nathan Fox (A), Dave Stewart (C), Steve Wands (L) • Image Comics, $17.99
– Tyler Chin-Tanner
Billie the Bee
If you're familiar with Mary Fleener's early work from Wimmin's Comix or anthologies like Twisted Sisters, you'll note that her graphic novel debut Billie the Bee is a departure in artistic style but spot-on in conveying complex layers of meaning with straightforward honesty.
Billie is a boisterous, oversized worker bee sent by her Queen to be an ambassador of the hive to the local community, and she soon makes friends with turtles who tell dirty jokes, a rattlesnake with rhythm problems, and a kindly fox. When invading humans introduce rabid creatures into the marshland's harmonious environment, its delicate ecological balance is in danger. Add on a natural disaster, and Billie will have to discover leadership qualities she didn't know she had.
On its surface, Billie the Bee is an approachable coming-of-age tale. And beneath that, where Fleener's "signature mind-bending forays into cubist storytelling" take over, is a cautionary tale of the dangers in upsetting natural balances through negligence.
Mary Fleener (W/A) • Fantagraphics Books, $14.99
– Karen O'Brien
Euthanauts Vol. 1: Ground Control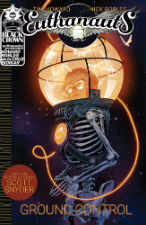 Even if you're not really "into" fun things like skeletons draped in swirling ethereal mists but in space, or lush starlight meets firelight aesthetics, there's no denying that Euthanauts is a stunningly attractive comic, and the premise is intriguing too.
Protagonist Thalia Rosewood is a Neo-esque death obsessive who has no idea of the true weirdness of science fiction meets mysticism lying just behind the metaphysical curtain. As she is unwittingly recruited into the Euthanauts she is offered the chance to explore the land of the dead without actually dying, and this new frontier turns out to be deeper and more strange than even she would have guessed. This trade compilation from IDW brings us the first arc of the series written by Tini Howard with art by Nick Robles and letters by Aditya Bidikar.
Tini Howard (W), Nick Robles (A), Aditya Bidikar (L) IDW Publishing/Black Crown, $16.99
– Jenny Robins