Writer-artist Colin Lorimer expertly weaves a grim, darkly sardonic story of survival and depravity in a post-apocalyptic London.
Dark Horse Comics' UXB hardcover both collects the "UXB" serial from Dark Horse Presents and expands on the story with all-new material. As the survivors of a worldwide nuclear war begin to emerge from their radiation shelters, a trio of brothers take up residence in Buckingham Palace. Permanently attached to their so-called Lifesuits, advanced life-support systems that bond to the wearer's body, conceived of as protection against terrorist threats, the brothers while away their days watching classic films and playing video games, along with the occasional porno.
While in other ways it is an all-around standard example of what you'll often find in post-apocalyptic comics, UXB is also permeated throughout by a certain tone that isn't quite right. Otherwise serious scenes sometimes feel more tongue-in-cheek than anything, and the dark subject matter is often belied by oddly placed instances of gallows humor. This rarely causes a feeling of tonal confusion, though, but rather creates an interesting tension that leaves the reader not sure exactly what genre (or genres) UXB most neatly fits.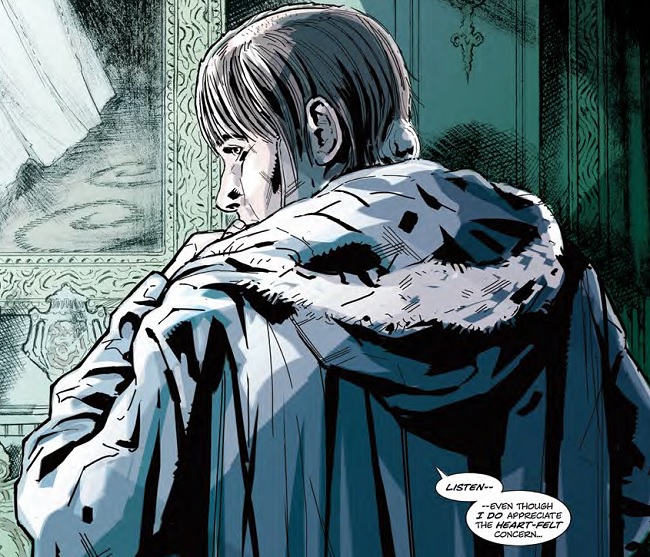 The illustrations of the book mesh easily with the feel of the story. Lorimer casts his scenes in dreary, drab muted blues and grays, breathing vivid life into his characters with an art style that is sometimes short on detail but never sketchy or hard to make out. While a more exaggerated, cartoonish style may have been a better fit for some of the more humorous scenes, Lorimer's art matches the story well overall.
All in all, UXB is as well-written as it is well-drawn, even if it is occasionally weighed down by a story that sometimes moves along at a slow pace. In some scenes, it's easy to see where anywhere from a few panels to a few pages of dialogue could have been trimmed without negatively affecting the book; and from time to time, that dialogue seems a little unrealistic or overdone, with the characters' banter sometimes dragging on for a little longer than it should. Notwithstanding occasional pacing problems, though, UXB is a great read. While the premise may not be the most original, Lorimer has done a commendable job of revitalizing familiar genre tropes with this beautiful and compelling narrative.
Colin Lorimer (W, A) • Dark Horse Comics, $19.99, October 9, 2013