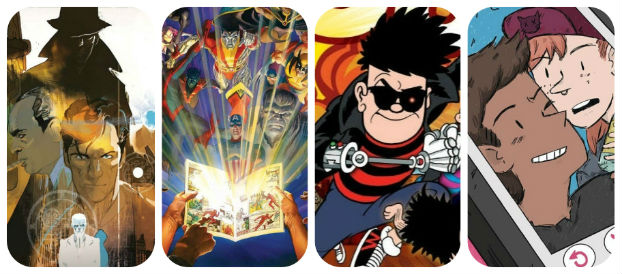 It's nearly Wednesday, and you know what that means: a fresh load of comics and graphic novels! With so many publications hitting your local comics store, comics event or digital storefront, the BF team are here to lead you through the woods with our weekly staff picks. Satisfaction guaranteed!
Comic of the Week
The Beano #4000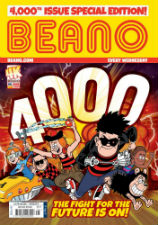 A comic hitting 4,000 issues should, perhaps, seem a far bigger deal but with all the celebrations surrounding venerable British weekly comic The Beano's 80th anniversary last year it's perhaps hardly surprising that this institution of UK publishing's latest landmark issue feels a little lower key in comparsion. (For those interested we reviewed both The Beano's 80 Years of Fun reprint box set and its 80th birthday issue last summer.)
But, of course, such an occasion has to elevate this comics national treasure to the lofty station of 'Comic of the Week'. While you'll need to visit your local newsagent this week to grab a copy of The Beano #4000 its premise sounds incredibly fun with more than a hint of the convoluted time-travel shenanigans of the super-hero world. Flagship characters Dennis and Gnasher are at the heart of events when a Dennis from the future year of 4000 travels to the past to enlist the aid of the Beanotown gang. In that far-off era the mayor of the town has abolished The Beano. Can Dennis, Gnasher, the Bash Street Kids, Minnie the Minx, Roger the Dodger and co save our favourite weekly? Find out this Wednesday!
Anthology – Various creators • DC Thomson, £2.75
– Andy Oliver
The Girl in the Bay TPB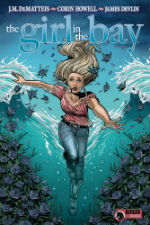 Reuniting legendary writer J.M. DeMatteis with editor Karen Berger for the first time since the early days of Vertigo Comics, The Girl in the Bay featured a creative team in perfect synchronicity, with artist Corin Howell, colourist James Devlin and letterer Clem Robins all at the very tops of their respective games in this twisting, time-jumping, paradoxical mystery.
Violently attacked after a night out in 1969 and thrown into Brooklyn's Sheepshead Bay, Kathy Sartori makes her way back to the surface only to find herself catapulted forward in time 50 years to the present day. In a world that has passed her by she needs not just to come to terms with what has happened to her but also solve the mystery of the stranger who has been living her life in her place.
You can read our Broken Frontier review of the first issue here before picking up this trade paperback of the four-issue miniseries hitting shelves this Wednesday.
J.M. DeMatteis (W), Corin Howell (A), James Devlin (C), Clem Robins (L) • Dark Horse Comics/Berger Books, $17.99
– Andy Oliver
Grease Bats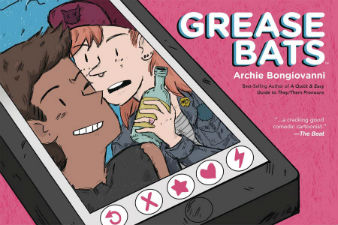 Coming this week from BOOM!'s BOOM! Box imprint, Grease Bats centres on two best pals – trans genderqueer Andy and their BFF Scout. Collecting Archie Bongiovanni's webcomic, it also features new material following the adventures of the duo as they "navigate friendships, roommates, and romances within their community."
Bongiovanni describes the book in the following terms: "When I created Grease Bats, I sought to draw what the possibilities of radical friendship can look like. I wanted to draw a comic that reflected the nuances of who my community was — of who I am. My characters are flawed, diverse, weird, and living in a world where there isn't one way to be, act, look, date, or handle the complicated situation of going to a party where all your exes are."
BOOM! Studios have been putting out a really impressive and eclectic line-up of books across their various imprints of late and Grease Bats is well worth your attention this NCBD.
Archie Bongiovanni (W/A) • BOOM! Box, $19.99
– Andy Oliver
Marvel Comics #1000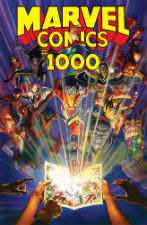 While The Beano got to this week's anniversary numbering legitimately this 80th anniversary "thousandth issue" special from Marvel is another in its long line of silly numbering stunts. Still, even if there's every suspicion it's largely playing on the hype that surrounded the Detective Comics and Action Comics #1000 festivities earlier in the year, at least it's a brief respite from Marvel's unhealthy obsession with the number 1…
Numbering nonsense aside, this looks set to be a fun read with a legion of creative names from Marvel's past and present combining to bring the whole Marvel Universe together as its inhabitants are pulled together by a mystery that has its origins in the Golden Age Marvel Comics #1. The enigma of the Eternity Mask is explored by a plethora of writers, artists and characters this Wednesday. Expect a similar amount of variant covers swamping the shelves at the same time…
Anthology – Various creators • Marvel Comics, $9.99
– Andy Oliver
Tommy Gun Wizards #1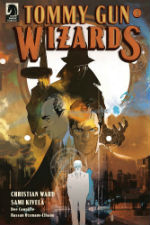 Acclaimed comics artist Christian Ward's profile has been an ever rising one over the last few years but this debuting Dark Horse series sees him tread new ground as writer for the first time.
Alternate history meets genre mash-up in a world where Eliot Ness and the Untouchables operate in a criminal infested 1930s Chicago. But the twist here is that Al Capone and his cohorts aren't dealing in alcohol but in magic instead. An atmospheric and playful re-imagining of the past with a mystic spin this is one of the definite picks of this week's serial comics output.
Christian Ward (W), Sami Kivelä (A), Christian Ward & Dee Cunniffe (C), Hassan Otsmane-Elhaou (L) • Dark Horse Comics, $3.99
– Andy Oliver