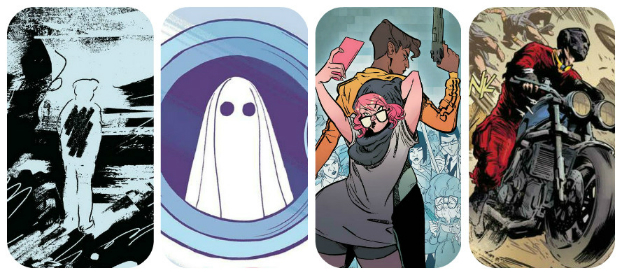 It's nearly Wednesday, and you know what that means: a fresh load of comics and graphic novels! With so many publications hitting your local comics store, comics events or digital storefront, the BF team are here to lead you through the woods with our weekly staff picks. Satisfaction guaranteed!
Comic of the Week
Minor Leagues #6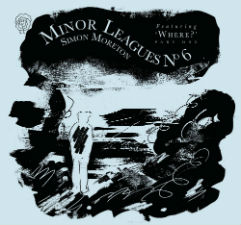 The twice Broken Frontier Awards-nominated series returns this week with creator Simon Moreton expanding his autobio zine explorations of place and time into new territories. Whereas previous editions have largely focused on vignettes from across Moreton's life, this latest issue showcases a different direction for the title and a major new project from Moreton.
Beginning with #6 Minor Leagues will serialise 'Where?', a collection of stories centring on Titterstone Clee in the area where Moreton grew up. This exploration of life, death, history, landscape and nature on the South Shropshire Hills is told via his usual cross-media approach of comics, prose, photos, drawings, paintings and collage.
If you've never experienced Simon Moreton's powerful studies of self and space before then this is, as they say, the perfect jumping-on point. Moreton can elicit the most profound of emotional responses in his readership and this is set to be one of the most important UK small press releases of the year. You can read a guest blog about the zine from the artist here at Broken Frontier and order it online here.
Simon Moreton (W/A) • Lydstep Lettuce, £6.00/£5.00/£4.00 (choose what you can afford pricing)
– Andy Oliver
East of West Vol. 8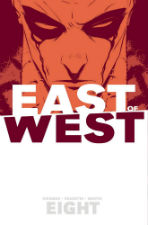 East of West is one of the most consistently excellent comics on the shelves. Combining a dystopian future with political intrigue, religious fervor, and starring the actual Four Horsemen of the Apocalypse, this title is one of the most complex and enjoyable you'll find—if you're okay with comics that force you to pay attention to the small details of plot and panel as this incredible (and fascinatingly despicable) cast of characters brings their world to the brink of destruction.
Writer Jonathan Hickman (Avengers, Secret Wars) provides page-turning twists and turns that had me hooked from the first issue. Nick Dragotta's (Fantastic Four) gorgeous artwork tempts you to pick a side among the layers of conflict and dares you to detect the truth in a world where everyone is a skilled practitioner of deceit. (Hint: you'll guess wrong—a lot!)
If you're not reading the monthly issues, trade collections are definitely the way to go. Volume 8 released this week, collects issues #35-38, and provides a look at the relationship between Death and Babylon as they travel.
Jonathan Hickman (W), Nick Dragotta (A) • Image Comics, $16.99
– Karen O'Brien
The Vigilant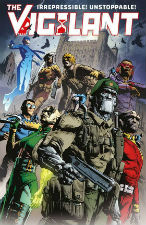 Rebellion set up the groundwork for their new shared universe of classic British comics characters in the Scream! and Misty Halloween Special last year with a short preview strip that was one of the highlights of that one-shot. This week we encounter those updated versions of Death Wish, the Leopard from Lime Street, Pete's Pocket Army, Steel Commando, Adam Eterno and more, as Rebellion's acquisition of so much of the IPC archives bears more fruit.
Revisiting strips from such fondly remembered comics as Buster, Tiger, Scream!, Valiant, Thunder and the like, this is a fond celebration of the past with a contemporary twist. The perfect complement to Rebellion's Treasury of British Comics collections, there's work from a legion of creators herein including Simon Furman, Simon Coleby, DaNi, Warwick Fraser-Combe, Staz Johnson and many more. You can read a full review of The Vigilant by BF's Tony Ingram here.
Anthology – Various Creators • Rebellion, £3.99
– Andy Oliver
Sanpaku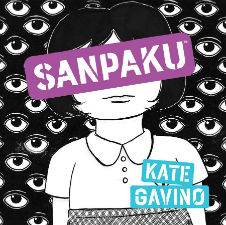 Kate Gavino is the creator of the blog Last Night's Reading where she compiles her illustrations and favourite quotes from the many book readings she attends. In 2015 that work was collected by Penguin in a collection of "illustrated encounters with extraordinary authors".
This week sees her second book published by BOOM! Studios; a publisher who are putting out some excellent OGNs at the moment. Sanpaku uses a specific cultural reference point to talk about universal teen concerns as central character Marcine becomes obsessed with a Japanese superstition about seeing the white around the iris of the eye.
Kate Gavino (W/A) • BOOM! Studios, $24.00
– Andy Oliver
Crowded #1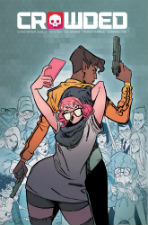 In the very near-future, the world's economy runs almost entirely through job shares and crowding apps. For Charlie Ellison, it's just reality; renting out her home while out driving ride shares, babysitting while walking dogs, even meeting up with her "matches" for insta-dates.
It's all going so well until random people start trying to kill her. When she realizes she's the target of a new crowdfunding campaign for her assassination, Charlie does the only thing she can; go onto the Dfend app. Too bad she can only afford the lowest rated bodyguard!
Christopher Sebela (W), Ro Stein & Ted Brandt (A), Triona Farrell (C), Cardinal Rae (L) • Image Comics, $3.99
– Tyler Chin-Tanner
Sheets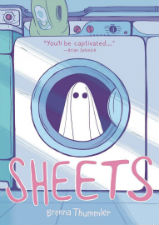 A haunted launderette seems an unlikely location for a powerful coming-of-age story but that's the locale that serves as the focal point for Brenna Thummler's graphic novel, hitting shelves this week via publisher Lion Forge.
Marjorie Glatt is a 13-year-old who, after the sudden death of her mother, finds herself looking after the family business and coping with not just her father's grief but also difficult customers. Sheets tells the story of her unlikely friendship with the "sheet-dependent" ghost of a young boy named Wendell. This one looks like having a dark charm all of its own…
Brenna Thummler (W/A) • Lion Forge, $12.99
– Andy Oliver
Brute Force TPB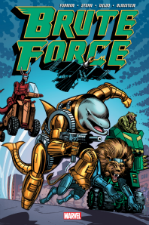 As the Big Two continue to plunder their back catalogues for trade paperback collections they occasionally dig up something very unlikely from the vaults to re-present to a whole new generation of readers.
The Brute Force trade paperback is a fine example of that. Combining two largely forgotten titles from Marvel's past it puts together the titular 1990 miniseries featuring the titular cybernetically enhanced animal protectors of the environment alongside the 1989 spoof one-shot Power Pachyderms. While neither of these books are ever going to be held up as groundbreaking uses of the form they nevertheless have a certain curiosity value and both are fun reads in their own escapist ways.
Simon Furman & Roger Stern (W), Jose Delbo & Adam Blaustein (A) • Marvel Comics, $24.99
– Andy Oliver