In Chrononauts #1, Mark Millar, Sean Murphy and Matt Hollingsworth make up for a lack of depth and characterisation with pace and high-impact visual overload.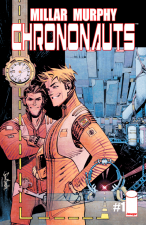 Even having been on the ground when Trident Comics dropped Saviour and The Shadowmen way back when, I've somehow remained immune to the charms of Mark Millar's comics down the years*.
However, when I received an imperative earlier this week from the World Council of Murphys (motto: "God likes us – that's why he made so many of us"), instructing me to read and review Chrononauts #1, I knew it was more than my life was worth to ignore it. You really don't want to mess with the Murphys.
And, fortunately, what Millar, Sean Murphy and Matt Hollingsworth deliver in this opening issue is a shot of fast-forward narrative that might lack depth or characterisation, but doesn't leave as bad a taste in the mouth as some of Millar's previous work.
The set-up is straightforward enough. Puzzled and a bit obsessed by the modern artifacts that have been turning up at otherwise ancient sites, rock star NASA scientist Dr Corben Quinn is developing time travel (although it seems that not even work of that importance can get him a parking space within half a mile of the lab). Working alongside him – the Pete Doherty to his Carl Barat – is the even more dudebro-ish Dr Danny Reilly.
With amphetamine pacing (and a lack of scientific chit-chat that you'll either find a relief or infuriating), this first issue rattles through the development process. Within 18 months of sending a satellite back for a look-see at the Battle of Gettysberg, they've fine-tuned the tech into personal time suits. However, as Dr Quinn hops through the portal, a temporal gust blows him off course. Reilly has no choice but to go in after him, and that, as they say, is when their troubles really begin.
The pacing and banter of this opener are largely what you'd expect from Millar, and the characterisation of its protagonists – who won't be getting the book any nominations for services to diversity – is perfunctory at best.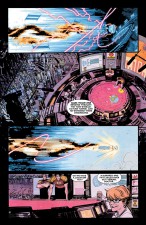 However, what really elevates this into a comic of note is the contribution of Sean Murphy, whose intricate style and design sense provide a real flair for the high-tech doohickery that furnishes the issue (complete with in-jokes and 'Easter eggs', including the now famous optical illusion on the cover). He's helped by colourist Matt Hollingsworth, who adds a neon tang of strangeness to the time-travel process.
I was about to speculate that Chrononauts might well have been intended – at least in part – to lay the ground for another lucrative film version, but events have overtaken me.
However, with the stylish input of Murphy and Hollingsworth, it still works as an energetic and engaging lightning bolt of a comic – albeit one that won't really linger much in the memory until it's time for the next ish.
* In the interests of full disclosure, I did think the first issue of Starlight a few months ago had quite a bit of heart.
Mark Millar (W), Sean Murphy (A), Matt Hollingsworth (C) • Image Comics, $3.50, March 18, 2015.