It's nearly Wednesday, and you know what that means: a fresh load of comics and graphic novels! With so many publications hitting your local comics store, comics event or digital storefront, the BF team are here to lead you through the woods with our weekly staff picks. Satisfaction guaranteed!
Comic of the Week
Tomorrow #1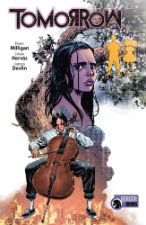 Peter Milligan and Karen Berger have cooked up some treats together down the years, so a new title from the writer under the editor's 'Berger Books' line is always going to be worth some attention – especially with classy collaborators providing first-rate storytelling.
In a timely twist, the five-issue Tomorrow is a tale of pandemic horror and societal breakdown. As a bit of Russian malware somehow jumps from the digital world to the physical, this opening issue plays out across a number of fronts: a young musical prodigy lost in New York and desperate to return to his twin sister in Southern California; a gaggle of entitled posh boys from a private school stuck in the middle of nowhere after a coach crash; a gang of workers at each other's throats while on a team-building exercise; and a cybersecurity specialist and family man who reluctantly finds himself at the very heart of the crisis.
Describing his take on the familiar viral apocalypse story, Milligan pitches the book as "Lord of the Flies meet Planet of the Apes". Their advocates would have you believe that today's young people are some sort of homo superior parachuted in to save the world from social and environmental cataclysm. But if civilization crumbled and they were left picking up the pieces, would they end up being just as brutal and awful as every generation that has preceded them?
Peter Milligan (W), Jesús Hervas (A), James Devlin (C), Sal Cipriano (L) • Dark Horse Comics, $3.99
– Tom Murphy
Amethyst #1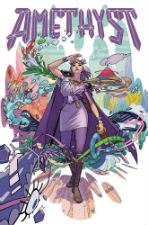 DC's last attempt to recapture the magic of the various 1980s Amethyst, Princess of Gemworld in Sword of Sorcery fell far wide of the mark, missing much of the point of the original concept and New 52-ing it to the point of redundancy.
This week sees the character spinning out of Young Justice appearances and into her own limited series created by Amy Reeder (Madame Xanadu, Batwoman, Moon Girl and Devil Dinosaur). Teenager Amy Winston return to her other life as Amethyst in the fantasy realm of Gemworld only to discover she is now a princess without subjects. With a truly stunning cover this one is going to instantly catch the readers' eyes on the shelves and will hopefully appeal to a wider demographic than the usual super-hero crowd. The quest begins tomorrow!
Amy Reeder (W/A) • DC Comics, $3.99
– Andy Oliver
Laurel and Hardy Meet The Three Stooges #1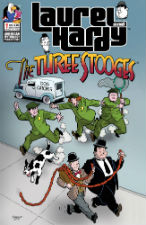 Monthly comics in that traditional US format can often feel inaccessible with their long story arcs designed for trade collections, and a notable lack of easy entry, self-contained individual issues. American Mythology have been a rare exception to that trend on shelves over the last few years with a number of books that have an immediate appeal and no need for foreknowledge of intricate continuity.
With Casper the Friendly Ghost, Laurel and Hardy, The Three Stooges, Rocky and Bullwinkle and more, they've also had a very nostalgic vibe to their output. This month sees two of those properties meeting in one classic team-up in a story written by S.A. Check & James Kuhoric and illustrated by Diego Tapie. Expect the slapstick to be turned up to 11.
S.A. Check & James Kuhoric (W), Diego Tapie (A) • American Mythology, $3.99
– Andy Oliver
Protector #2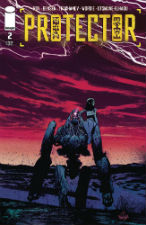 Though its title may be unassuming, this is a serial comic with a huge amount of buzz surrounding it after its cracking debut issue last month. Set on a 33rd century Earth, after some kind of environmental collapse, it introduced us to a tribal society where the mysterious and godlike Devas have a huge influence. Issue #1 spotlighted runaway slave Mara who awakened something unknown in the ruins of the familiar-sounding city of Shikka-Go.
We said of Protector #1 when we reviewed it earlier this month here "the world-building elements of this book have been so carefully thought out that we can only hope this initial arc is just the beginning of a long exploration of the wider storytelling landscape of Protector and its characters." There's still time to get in on the early chapters of an epic in the making and also to sample those stunning Artyom Trakhanov visuals.
Simon Roy & Daniel Bensen (W), Artyom Trakhanov (A), Jason Wordie (C), Hassan Otsmane-Elhaou (L), Richard Ballermann (Logo), James Stokoe (CA) • Image Comics, $3.99
– Andy Oliver
Second Coming Vol. 1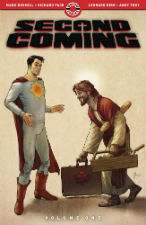 We've loved this series from Ahoy Comics featuring a returned-to-Earth Jesus flat-sharing with the Superman-style super-hero Sunstar. Controversial on announcement, it parted ways with original publisher DC's Vertigo imprint before being taken up by rising genre publisher Ahoy Comics.
Part slapstick sitcom and part scathing social commentary, it's been rightly acclaimed by commentators and was nominated in last year's Broken Frontier Awards. If you missed out on the single issues you have no excuse for not picking up this knowingly witty collection tomorrow!
Mark Russell (W), Richard Pace & Leonard Kirk (A), Andy Troy (C), Rob Steen (L), Amanda Conner (CA), Paul Mounts (CC) • Ahoy Comics, $19.99
– Andy Oliver