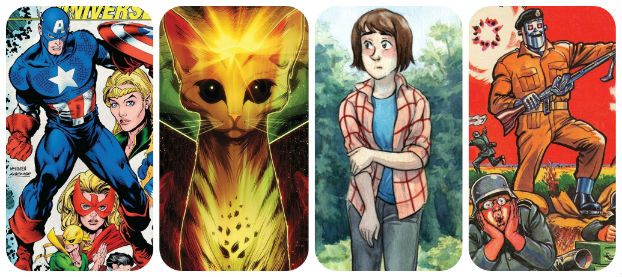 It's nearly Wednesday, and you know what that means: a fresh load of comics and graphic novels! With so many publications hitting your local comics store, comics event or digital storefront, the BF team are here to lead you through the woods with our weekly staff picks. Satisfaction guaranteed!
Comic of the Week
No Ivy League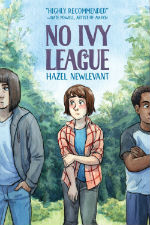 Hazel Newlevant's coming-of-age graphic memoir from Lion Forge explores white privilege from a teen perspective, centring on their summer job as a member of the 'No Ivy League' from which the comic derives its title. Our Holly Raidl recently reviewed No Ivy League so we're going to direct you to her full analysis of this week's BF 'Comic of the Week'.
"No Ivy League explores the idea of checking your privilege through the lens of creator Hazel Newlevant. As made clear in their accompanying author note, the experiences described in the narrative had an impact on the way they viewed themselves in relation to others… Through their summer job Hazel gets introduced to a number of new people and with that follows some new ideas about their position in terms of the group dynamic as well as in society more generally… As well as looking at issues of race and class the comic also touches on sexual harassment and how these frequently intersect. Through the experiences of their summer Newlevant is shown understanding these concepts in a less abstract, more practical sense."
You can read the full review here.
Hazel Newlevant (W/A) • Lion Forge, $14.99
– Holly Raidl
Springtime in Chernobyl
Those who picked up Francisco Sánchez and Natacha Bustos' astonishingly powerful Chernobyl: The Zone from Centrala a couple of years back will be aware that the repercussions of the 1986 nuclear disaster have been explored in comics form in the past. Emmanuel Lepage's approach to the subject in Springtime in Chernobyl is a intriguingly different one however.
Lepage was just 19 when he saw events from Chernobyl unfolding on his television screen. In 1986 he travels to the region to record and draw the testimonies of survivors on what proves to be a very personal journey as well. This looks set to be one of this week's key releases with the photorealism of interior preview pages promising an intense and deeply affecting account of the artist's explorations.
Emmanuel Lepage (W/A) • IDW Publishing, $24.99
– Andy Oliver
Strayed #1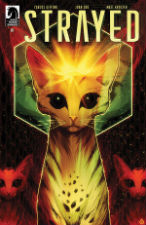 Sci-fi with a feline twist this week in this debut issue from Dark Horse Comics with a dystopian air. In the distant future a military-industrial complex rules humanity and ravages alien worlds and civilisations. The last great hope for reality is Lou, an astral-projecting cat and his owner Kiara, in a revolt described as "a battle for love, friendship, compassion, and the soul of humanity."
Check out the quite stunning preview pages on the Dark Horse Comics website here for an idea of just why we think this gorgeously coloured science fiction series is worth your attention on New Comic Book Day.
Carlos Giffoni (W), Juan Doe (A), Matt Krotzer (L) • Dark Horse Comics, $3.99
– Andy Oliver
History of the Marvel Universe #2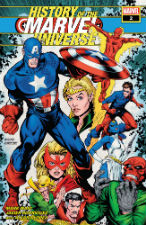 When we reviewed the first issue of this six-part historical overview of the Marvel Universe from its origins to its end we said "If you're a lapsed Marvel reader, a refugee from the corporate comics ethos, or an eager nostalgist, History of the Marvel Universe will remind you of that sense of awe and wonder that first overwhelmed your imagination on discovering the MU." Or perhaps more succinctly for those of you wanting a briefer soundbite "Reading this comic was like being 12-years-old all over again."
In this second issue Mark Waid and Javier Rodriguez take us through the twentieth century, the war years and right up to the first meeting of Reed Richards and Victor Von Doom. The first issue was epic in scope and lavishly illustrated. Certainly the standout super-hero comics offering of 2019 to date and a book not to be missed. And given how few super-hero comics we cover here at BF that's advice not to be taken lightly.
Mark Waid (W), Javier Rodríguez (A/C), Álvaro López (I) • Marvel Comics, $4.99
– Andy Oliver
Hellboy and the B.P.R.D.: Saturn Returns #1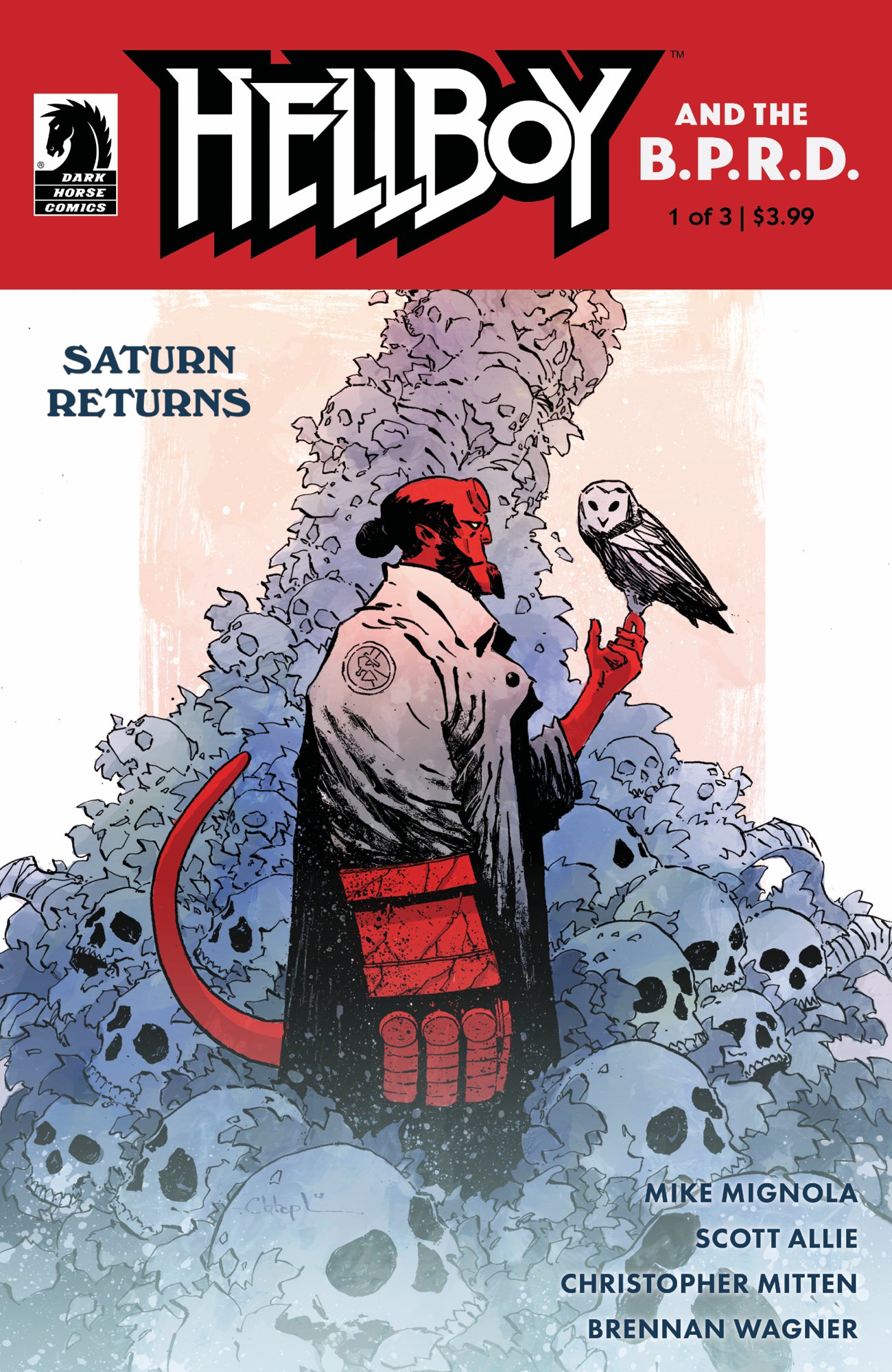 A new three-part Hellboy series launches this week from the wondrously talented creative team of writers Mike Mignola and Scott Allie and artist Christopher Mitten. You may recognize Mitten's previous Mignolaverse efforts on 'Rise of the Black Flame' and 'Rasputin: Voice of the Dragon' as well as an issue of 'The Devil You Know', This series will be a visual treat for sure, and if you've never seen Mitten's work, don't pass up this opportunity. Joining the team and making his debut on colors is Brennan Wagner (son of veteran colorist Matt Wagner) and letterer Clem Robins.
In Hellboy and the B.P.R.D.: Saturn Returns #1, Hellboy and B.P.R.D. agent Kinsley are dispatched to a small town in New Hampshire to solve a string of disappearances. When a local resident discovers a pile of corpses that date back decades, Hellboy and Kinsley are inundated with a fantastic array of supernatural theories for the ritualistic killings. Hellboy fans are in for a treat, and if you've never dipped your toes in the Mignolaverse, this is a great introduction.
Mike Mignola and Scott Allie (W), Christopher Mitten (A) • Dark Horse Comics, $3.99
– Karen O'Brien
The Best of Steel Commando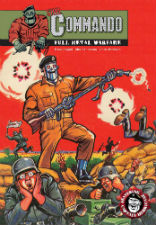 Debuting circa 1970 in the pages of Thunder before moving on to both Lion and Valiant, the Steel Commando was a robot built to fight the Nazis in World War II. But an error in his programming meant he only obeyed the orders of Ernie Bates, the laziest soldier in the British army!
For this release in the Treasury of British Comics range Rebellion have opted to play with the format and reprint a 'Best of' selection in a digest-sized format (including a crossover story with Captain Hurricane). While this may not necessarily please the purists the digest size does give them the opportunity to present work at a very affordable and accessible price point and the 'Best of' approach may provide the possibility of circumventing some of the now more problematic strips of the era as time goes on. This range remains an absolute treasure trove of comics history!
Frank Pepper (W), Alex Henderson & Vince Wernham (A) • Rebellion/Treasury of British Comics, £6.99
– Andy Oliver
Meet the Skrulls TPB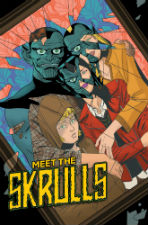 Robbie Thompson and Niko Henrichon's five-issue miniseries Meet the Skrulls is collected this week, giving readers who missed the monthly issues an opportunity to pick up one of this year's sleeper hits. The Warners are your average American family. Dad works at Stark Industries, Mom is employed in the Senator's office, and the kids are in high school. And they're also part of an infiltrating Skrull alien invasion force…
You can read our review of the first issue of the series here. An issue of which we said "Readers can enjoy Meet the Skrulls as either a suburban twist on the theme of alien invasion or as a super-heroic exploration of morality in regards to ages-old questions of nature versus nurture. What is not in doubt is that Thompson and Henrichon have given us a compelling twist on the Skrulls in an intense, bleak drama with an ironically human heart."
Robbie Thompson (W), Niko Henrichon (A), Laurent Grossat (Colour Assistant), VC's Travis Lanham (L), Marcos Martin (CA) • Marvel Comics, $15.99
– Andy Oliver
Sky in Stereo Vol. 2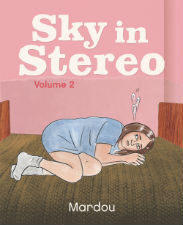 The second volume of Mardou's Sky in Stereo was reviewed this week by our Robin Enrico. So again we're going to direct you to that article for a fuller look at the book.
"Sky In Stereo Vol. 2 proves an interesting follow-up to the grounded exploration of teenage adventure and romance of Mardou's first volume. Picking up where the story left off with the protagonist Iris being committed to a psychiatric ward following an extended acid trip, almost the entirety of this volume is spent on her recovery… Over the course of the series Mardou achieves that perfect synchronicity of fiction where the reader genuinely cares about even the smallest struggles of the character because we feel like they are happening to someone we know."
You can read the full review here.
Mardou (W/A) • Revival House Press/Uncivilized Books, $13.99
– Robin Enrico