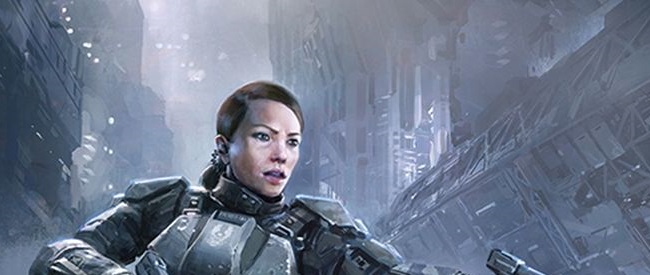 Halo: Initiation is an action-heavy tie-in with style and substance in equal measure.
Dark Horse's Halo: Initiation is, as you might have guessed, a video game tie-in, serving as a prequel to both Halo 4 and the new Spartan Assault release for the Windows phone. Scripted by Brian Reed, a writer for the forthcoming Halo sequel, the comic introduces us to the character of Commander Sarah Palmer, an elite Orbital Drop Shock Trooper for the United Nations Space Command.
While the Covenant may be on the run, other groups are on the rise, threatening the future security of both Earth and her colonies. To combat them, the leadership of the UNSC are looking to recruit a new generation of Spartan warriors. Having just saved the life of a high-ranking officer, along with the artificial intelligence system he was tasked with protecting, Sarah Palmer is at the top of their list.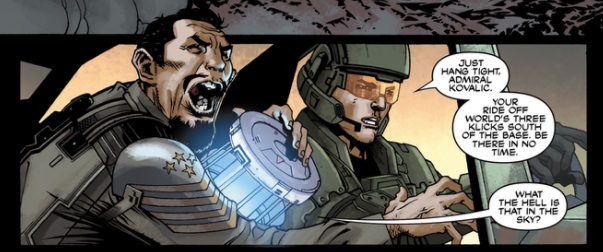 In some ways, the story here is a little predictable, and Palmer's recruitment in the third act feels a little anticlimactic as a result. But that's not necessarily a bad thing for something like a prequel, where the primary purpose of the narrative is to provide build-up for a larger event. The fight scenes are a little drawn-out, and arguably take up a bit more of the book than they should have, to the detriment of a fleshed-out plot, but again, for an action-heavy franchise this is to be expected. At any rate, it certainly can't be said that artist Marco Castiello ever allows the reader to get bored. The action sequences are beautifully choreographed, and Castiello's pencils provide a sense of motion too often lacking in many comics.
Despite its pacing issues, the first issue of Halo: Initiation is a nice read, and longtime fans of the games will no doubt find it enjoyable. Even for those unfamiliar with the franchise, it shouldn't feel too foreign; for a tie-in, this is a book that feels remarkably unlike a tie-in, and the backstory is woven into the dialogue in a non-obtrusive way. While the story may have been better served for the action to be condensed in favor of more thorough character development, for a first installment it works just fine, and with two issues to go, there's plenty of opportunity for the creative team to make up for lost time.
Brian Reed (W), Marco Castiello (A) • Dark Horse Comics, $3.99, August 14, 2013