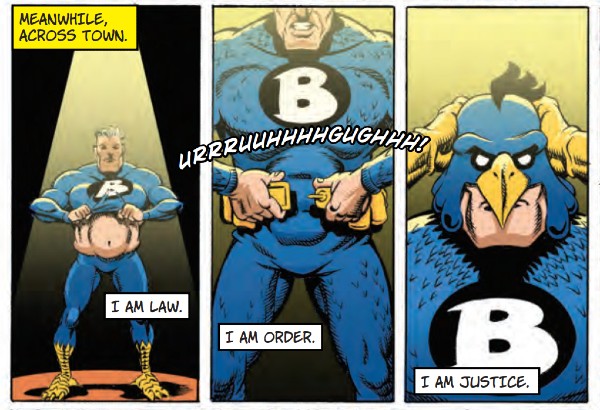 If keeping the kids occupied is something of a priority at the moment then, of course, there are plenty of UK comics distractions out there that fit the bill perfectly from Bog-Eyed Books and The Beano to The Phoenix and their many collections. Published last week, the seasonal Cor!! Buster Easter Special is another comic publication which fits that bill; one which has the added benefits of also being a wonderful nostalgia rush for the more seasoned British comics enthusiast. Crucially, it's also available in a digital format.
For the newer readers Cor!! was a fondly remembered weekly humour anthology with a relatively short run on British newsagent's shelves in the early 1970s while Buster, starring the titular cheeky schoolboy, was one of the longest-running IPC/Fleetway weeklies, lasting for the best part of 40 years between 1960 and 2000. Both are among the vast catalogue of classic properties acquired by 2000 AD publisher Rebellion in recent years.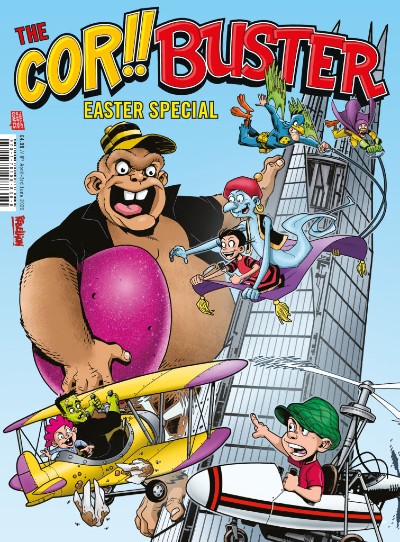 Following last year's well-received Cor!! & Buster Humour Special, this latest anthology offering in Rebellion's series of revival specials, similarly brings together veteran creators with emerging stars of the UK scene in a collection of short strips that range from faithful continuations of fondly remembered characters to contemporary updates.
When I reviewed the recent Action 2020 Special from Rebellion I was of the view that although it was an entertaining read for the long-time fan it felt confused in its attempts to appeal to a wider readership. There was a lack of context to the project that worked against it. That is not a problem with the features in the Cor!! Buster Easter Special, though admittedly it's a far easier prospect to communicate the premise of a humour strip when it's essentially encapsulated in each feature's title.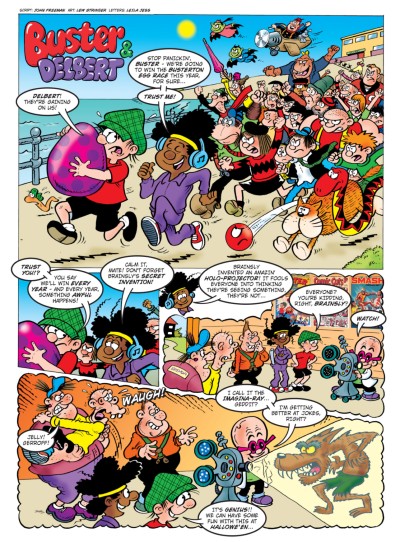 This special's ability to cross the generational divide is perfectly summed up in the opening story written by John Freeman and illustrated by Lew Stringer. These two authorities on the history of British comics give us a strip set at the annual Busterton Egg Race. For younger fans this will be a fun misadventure featuring characters Buster and Delbert (above) but it is also absolutely crammed full of characters from (and references to) comics including Buster, Whizzer and Chips, Krazy, Cheeky, Monster Fun, Knockout, Oink!, Whoopee! and Shiver and Shake. The meta qualities of a strip about hunting for literal Easter Eggs being so full of another form of Easter Eggs will no doubt not go unnoticed by many.
Some of the highlights include the return of child-like giant gorilla Kid Kong and his gran. Their museum trip coincides with the reckless experiments of a mad professor who has been bringing dinosaurs back to life in the most bizarre ways. Alec Worley captures the spirit of the original with relish while Hilary Barta's art brings some cracking visual gags and frantic slapstick to energetic life.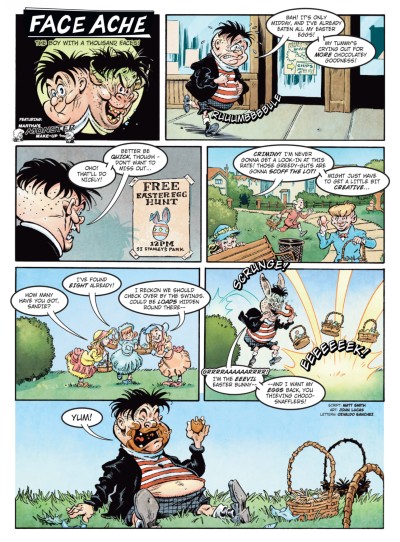 The early classic entries in Ken Reid's Faceache comics – featuring a boy with the ability to "scrounge" himself into the most horrific and grotesque forms –  have already been collected in a Treasury of British Comics volume. Matt Smith and John Lucas's take (above, also featuring the similarly themed Martha's Monster Make-Up as co-star) seems a little subdued in comparison to Reid's epic imagination but that's probably for the best. Attempting to ape Reid's singular style would be a fruitless exercise and in building up an adversarial relationship between Faceache and Martha they give both characters something new to bounce off.
Other standouts include the class war between Ivor Lott & Tony Broke with Milly O'Naire & Penny Less (below) with writer Ned Hartley bringing the kid-friendly combination of dinosaurs and poo into the proceedings, and artist Mick Cassidy providing a vibrant two pages on the art front full of busy, involved panels. Keith Richardson's revamp of super-hero comedy Birdman and Chicken (top banner image, originally from Krazy Comic) is a delight, pastiching The Dark Knight Returns with a meta flourish. Artist Edward Whatley's newsprint-tinged flashback scenes being a particularly neat touch here.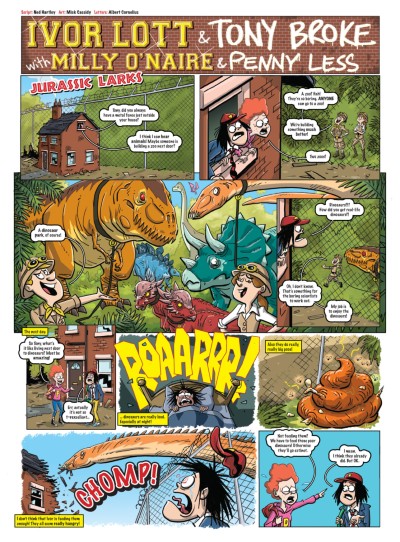 Cavan Scott and Steve Mannion bring the long-running Frankie Stein horror parody (which ran in a number of IPC comics over the decades) back to life giving the monster who just wants to impress his creator "father" a new adversary in the shape of "brother" Frankie Star. A return for the hideous Creature Teacher by Lee Langford and Brett Parson is given an added comedy edge by PetiteCreme's lettering choices while avian highwayman Duck Turpin by Robin Etherington and David Follett is involved in a time-travel tale with a twist that may be obvious in one sense but still makes for a corker of a punchline.
It's Tom Paterson who proves to the unarguable star of the show however. Paterson returns to the misadventures of terrifying infant Sweeny Toddler – a character he worked on extensively decades ago – and gives us a triumphant object lesson in how to construct a humour comic strip. Each panel is full of invention and detail with so much going on around the main narrative, with Bili Rubin's lettering adding to the anarchic feel of the strip. Every gurning character, every extra sight gag, every scatological joke… it all combines to create three pages that will entrance kids and transport adults back to their childhoods. Paterson also teams with writer Ned Hartley on a similarly frenetic Grimly Feendish outing herein (below).
While there are a number of activity-style pages that do admittedly feel like obvious padding this Cor!! Buster Easter Special is one of the strongest of the revival one-shots that Rebellion have published to date. As ever, we can only live in hope and dream that one day they'll be able to put these out in a more regular format than an annual special. In the meantime, though, this is deserving of your support as a comic that can genuinely be enjoyed by the whole family. Preferably together.
John Freeman, Alec Worley, Matt Smith, Lizzie Boyle, Ned Hartley, Lee Langford, Paul Goodenough, Keith Richardson, Cavan Scott, Olivia Hicks, Robin Etherington (W), Lew Stringer, Hilary Barta, John Lucas, Mick Cassidy, Pye Parr, Rositsa Vangelova, Edward Whatley, Steve Mannion, Shelli Paroline, Braden Lamb, Brett Parson, David Follett (A), Wesley Wong (C), Leila Jess, Simia Magma, Ozvaldo Sanchez, Squalo Azzurro, Albert Cornelius, Bili Rubin, Oz Osbourne, Ward West, Chris P. Bacon, Amber Cee, Momma Millar (L) • Rebellion, £4.99
Review by Andy Oliver