It's been quite some time now since we learned that Rebellion had acquired the rights to much of the old IPC back catalogue, but the 2000 AD publishers continue to surprise and delight with their choice of reprint material, confounding the sceptics who early on feared that most of that vintage material would be ignored. In the past few months, they've unleashed The Leopard from Lime Street, One Eyed Jack and Ken Reid's Faceache on the world, as well as collected editions from some classic girls' comics, material which a few years ago I doubt any of us would ever have expected to see reprinted anywhere.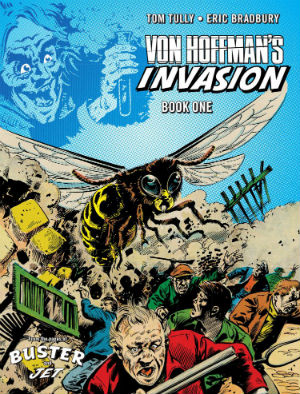 They have also, in a move welcomed by the majority, begun including some of the shorter series unlikely to warrant a full scale collected edition, strips such as The Lawless Touch and Wagner's Walk from Tornado and Lofty's One Man Luftwaffe from Battle, in the "floppies" given away free with Judge Dredd Megazine, allowing some of this vintage stuff to make a welcome return to Britain's high street newsagents as well as the bookstores and comic shops. And now, in yet another surprising turn of events, we get volume one of… Von Hoffman's Invasion!
For the uninitiated (which, let's face it, is likely to be pretty much everyone under 50) Von Hoffman's Invasion is a strip which first appeared in the short-lived title Jet from May to September 1971 before continuing on in Buster from October '71 to February 1972, and like a lot of the series which sprang from the fevered minds of IPC's writers back then, it is utterly bonkers… but in a very good way. Written in a wonderfully deadpan style – which only serves to highlight the insanity of it all – by the legendary Tom Tully (better known for my high-profile strips like Roy of the Rovers, The Steel Claw and the 2000 AD version of Dan Dare) and beautifully drawn by the amazing Eric Bradbury (Hook Jaw, The Leopard from Lime Street, and too many others to mention), it is the story of Doktor Von Hoffman, a wonderfully stereotypical mad scientist who, upon being released from prison after 25 years, immediately seeks revenge on Britain for the defeat of the Nazi fatherland.
Eschewing such tried, tested and tedious methods as bombing campaigns or germ warfare, and obviously mindful of the fact that when he last allied himself with others he was jailed for a quarter of a century, Von Hoffman adopts a less conventional method of taking his revenge; he decides to single-handedly invade the country, armed with a gas of his own invention which can turn animals, birds and insects into giants slaved to the sound of his voice!
If this whole premise sounds distinctly dodgy to you, it's because it is. Let's face it, one man is unlikely to mount a serious threat to the country on his own, no matter how many hedgehogs he enlarges along the way (yes, I did say hedgehogs.  Von Hoffman's other unwilling allies include a mole, a battalion of woodlice, and a budgie – that's how desperate this man is) and his chances are not improved by having no base of operations or local currency. But that isn't even Von Hoffman's biggest problem; his enlarging gas has a flaw which causes it to wear off after more or less random periods of time!
He is also thwarted at every turn by Barry and Joey Drake, two kids whose absent scientist father has coincidentally invented a pesticide which can counteract Von Hoffman's gas, though they themselves are slightly hampered by the fact that to start with nobody will believe their wild tales of giant dogs destroying villages even when it is blindingly obvious that the village has, in fact, been destroyed by giant dogs (the boys are in the care of their Auntie Jean when we first see them, but she inexplicably disappears off to the shops after a couple of panels and is never seen again, so following the burning down of their home the kids are rather randomly placed in foster care by officials who seem determined to ignore their dire warnings).
Still, Von Hoffman perseveres and so do his two underage pursuers, who successfully prevent him from using his giant "cheese logs" (a slang term for woodlice which I haven't heard in decades, but which Tully delights in slipping in at every opportunity) to kill "England's greatest military genius", and later from destroying the country's morale by kidnapping England's finest football player, Bobby Dare, and thereby preventing the country from winning a tournament which is very definitely not the World Cup because they're evidently not allowed to say that it is.
Very little of the plot stands up to close scrutiny (it's noteworthy, for a start, that in that grand old comics tradition, Von Hoffman being "a scientist" seems to mean he can turn his hand to engineering, biochemistry, or anything else he requires to suit the situation) but that really doesn't matter; the engagingly mad story moves along at such a pace that you can barely keep track of it anyway. And Bradbury's art, predictably, is both beautiful and incredibly detailed (my fiancée, glancing at a panel in which Von Hoffman rides a giant wasp, remarked "that wasp has its legs tucked up underneath it to improve its aerodynamics. This man has taken the time to study how wasps fly").  This is a true gem of British comics, and it left me craving the second and final volume, which we are assured will follow. I, for one, can't wait!
And yes, this is indeed the same Von Hoffman who recently resurfaced as one of the principal villains in Rebellion's recent Scream! & Misty Special, the first of what will hopefully be many new, original outings for these classic characters. Y'know, it's starting to look worryingly like we've slipped into a new British comics golden age…
Tom Tully (W), Eric Bradbury (A) • Rebellion/Treasury of British Comics, £12.99
Von Hoffman's Invasion is released in August. You cab pre-order it online here.
Review by Tony Ingram