FRONTIER FRIGHTS!
When coming up with concepts for strips in the fondly remembered 1980s British comic Scream! a Dracula-led serial may not have been the most original idea but it was one that gave the short-lived weekly a certain level of brand recognition. Writer Gerry Finley-Day – renowned for Rogue Trooper, The V.C.s and Fiends of the Eastern Front at 2000 AD – brought the character into a then contemporary era with Cold War overtones. The Lord of the Vampires had essentially defected from the Eastern Bloc to the UK where he would leave a trail of carnage in his wake…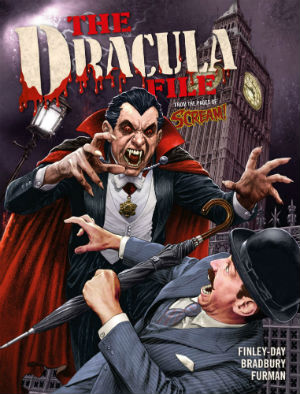 Whether there was an added layer of intentional allegory or whether it was simply a topical twist is unclear but Finley-Day's Dracula was portrayed as a fugitive, always staying one step ahead of his pursuers – mainly ex-KGB officer Colonel Stakis who stalks him throughout much of the feature's run – and aided only by a small group of allies he supernaturally bends to his will along the way. With splendidly nightmarish visuals from Eric Bradbury, Dracula roams the city streets of the UK, always on the look-out for his next human meal as he slaughters innocents and opponents alike.
Reprinted in hardcover this month as part of Rebellion's Treasury of British Comics, The Dracula File is something of a patchwork read in one sitting. That, of course, is hardly surprising given the nature and delivery of the series in its original incarnation. Told in largely 4-page chunks on a weekly basis the strip was designed to be consumed as an episodic experience with a constant narrative rhythm to it that was largely about resolving the previous week's cliffhanger before moving on to setting up the next one. The pacing in a compilation unsurprisingly seems a little awkward as a result. "Writing for the trade", as we know, was obviously not the prime consideration in 1984!
Infamously, Scream! only lasted for fifteen issues which means The Dracula File comes to an abrupt halt with plotlines unresolved and an intriguing flashback tale to the Count's life in 1892 only getting the chance to hint at the story's wider-ranging potential had it continued. By this stage in its run it had been taken over by fan-favourite writer Simon Furman who gives the series a welcome injection of occasional dark humour, including an unlikely resting place for the vampire and a rather memorable death by post-box for one of his victims.
To a degree The Dracula File is mostly one long extended chase scene and the central character's villainy feels occasionally diluted by the very fact that he is mostly reacting to events rather than instigating them. But there's no denying that a huge part of the enduring popularity of the strip is very much in Eric Bradbury's visuals. His odd mix of realism and almost caricatured grotesqueness brings this very urban horror to undead life with busy, packed panels and moody visual characterisation, and his Dracula is inhumanity incarnate. A truly demonic presence simply inhabiting a human shell as a vehicle for his malevolent spirit.
The Dracula File never had the benefit of a continuation in the pages of Eagle when Scream! merged with that title so subplots remain unresolved and Stakis's mission unfulfilled. A number of lesser complete-in-one stories from various Scream! Holiday Specials round out this collection. What's of particular note though is the extras included that really underline the lengths Rebellion are going to in making these books absolutely definitive editions of vintage material. Unseen Bradbury pages, a foreword from Scream! editor Ian Rimmer, colour reproductions of cover art and pin-up pages and a neat, scene-setting piece on Scream!'s place in horror comics by David McDonald all give this the feeling of a carefully curated labour of love for those involved.

While The Dracula File as a narrative has a nagging sense of incompleteness to it there's no arguing that Rebellion have put together a very handsome package of a story that is nonetheless a good old-fashioned piece of escapist comfort reading. With Monster already collected from the pages of Scream! it's pleasing to know that The Thirteenth Floor is not long in coming from this highly commendable range.
Gerry Finley-Day, Simon Furman (W), Eric Bradbury (A) • Rebellion, £15.99
Check out the rest of our Frontier Frights coverage here. Promo art by EdieOP.