FRONTIER FRIGHTS!
Just like its parent TV show counterpart in its heyday Bongo Comics' annual The Simpsons' Treehouse of Horror comic has often provided something of a venue over the years for more experimental tales and off-centre interpretations of our favourite animated sitcom family.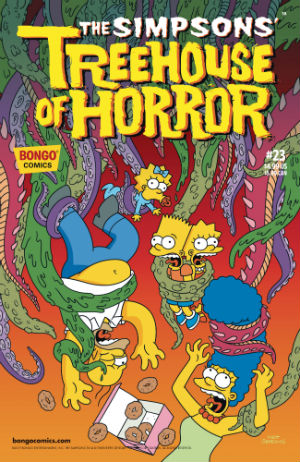 Creators from the worlds of indie comics, alt comics and even other fields of popular culture to turn their hands to a Simpsons Halloween-style tale have included Sammy Harkham, Jeffrey Brown, Jon Vermilyea, Kelley Jones, Dan Brereton, Gene Simmons, Alice Cooper, Gary Spencer Millidge, Gilbert Hernandez and Glenn Fabry.
In recent years that unpredictable line-up for this yearly collection has largely disappeared. Treehouse of Horror stories have come mostly from the reliable in-house stable of Bongo regulars but the book has lost the slightly dangerous edge it had as a result. It's a shame. But it's also perhaps indicative of the diminishing Bongo print output over the last couple of years.
This year's Treehouse of Horror features three tales of a more standard nature in content. 'It Happens' is written by Bongo stalwart Ian Boothby and casts Krusty the Clown in the role of Pennywise in a Simpsons-esque parody of the current Stephen King movie revival. Jumping between timeframes from a period when The Simpsons adults were teens themselves to the current day it has some neat jokes involving a young Stephen King and a very unlikely cameo towards the end that wittily retcons a seminal moment in comics. Visually, Tone Rodriguez and Andrew Pepoy's Krusty also goes full-on Jim Aparo Spectre in a memorable two-page sequence that seems very fitting for the season.
The back-ups see, firstly, Marge taking on an alien fungal spore invasion that resembles her own hairstyle by Carol Lay and, secondly, give us Dean Rankine's account of Comic Book Guy's feline transformation after he's cursed by the gypsy cousin of the Cat Lady. Both have a number of effective visual gags and humorous twist endings (particularly Rankine's offering) but their premises are fairly standard clichés of their sci-fi and horror genres.
Despite some knowing winks at the reader in terms of pop cultural references in the first story The Simpsons' Treehouse of Horror #23 works best as a collection for a slightly younger reader and perhaps that's their target audience now rather than a genuinely "all-ages" one. While it seems the days of this book being a showcase for radical takes on the Simpsons universe from a surprising array of indie names are long behind us it remains a solid, if undemanding, staple of the Halloween comics tradition.
Ian Boothby, Carol Lay and Dean Rankine (W) • Tone Rodriguez & Andrew Pepoy, Carol Lay and Dean Rankine (A) Bongo Comics, $4.99
Check out the rest of our Frontier Frights coverage here. Promo art by EdieOP.