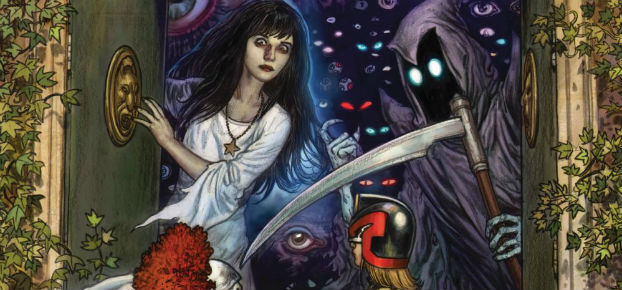 FRONTIER FRIGHTS!
Way back in 1984 a new British weekly comic hit the newsagent shelves that, despite lasting just fifteen issues, would go on to attain major cult status. While the UK industry had long embraced themed serial anthologies that covered everything from science fiction to football, war to adventure and more, horror was one genre that had been largely ignored outside of light-hearted humour publications like Monster Fun and Shiver and Shake. Scream! promised a more serious approach to its subject matter with stories pitched at a slightly older, more 2000 AD-centric audience. After just over three months or so the title would fold and merge into another IPC comic Eagle. Popular legend has it that it was banned, though the actual reasons were a mix of circumstance and hesitancy. But sometimes popular legend makes for a far better story…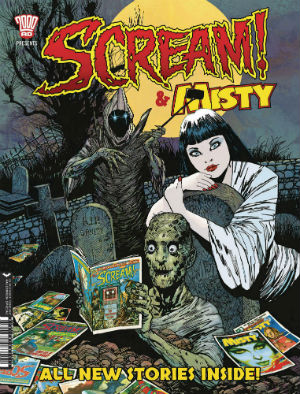 The key word in that preceding paragraph is, of course, "largely" because pre-dating Scream! there was another cult favourite comic aimed at the girls market. Misty would run for around two years with its supernaturally charged tales of sinister boarding schools, telekinetic children, bizarre scientific experiments, vengeful ghosts and alternative realities. Ready for Halloween, and as part of their recent acquisition of a ripe chunk of old IPC comics properties, 2000 AD publisher Rebellion have brought out a Scream! and Misty Halloween Special giving contemporary (and the odd veteran!) creators a chance to re-imagine some of these classic characters.
There's a feel of a bygone age of British comics from the very outset here with the inclusion of the original hosts of both titles – Scream!'s Ghastly McNasty and the eponymous Misty – as our introductory guides to the haunting worlds within its pages. That continues as the first strip The Thirteenth Floor returns to Maxwell Tower, run by the vengeful Artificial Intelligence Max. In the pages of the original Scream! Max would punish anyone who threatened his residents by taking them to the supposedly non-existent thirteenth floor in his elevators and inflicting poetic revenge on them. Reawakening in 2017 his modus operandi has got even more chilling in its execution.
Classic IPC artist of the '60s/'70s John Stokes (Marney the Fox) illustrates Guy Adams's story for the opening and closing sequences (below left) rooting it in a real world sensibility that Frazer Irving completely subverts when he presents a most horrifying new take on the thirteenth floor itself, as a group of bullies must face up to the consequences of their actions. A pitch perfect embracing of everything that made this feature so memorable in its original incarnation with an added modern vibe, it certainly whets our appetites for next year's first collection of the classic The Thirteenth Floor in Rebellion's Treasury of British Comics series.
Grainne McEntee and Tristan Jones (above right) give us a look at what the Lord of the Vampires has been up to since the abrupt end of The Dracula File in Scream! in 1984 in a disquietingly atmospheric tale (with a sprinkling of social commentary) that makes moody thematic use of black and white artwork with just the occasional splash of blood reds. It's the coda to the original strip we never had the first time around with some Easter Egg winks at the reader, and yet it also sets up a potential future follow-up series.
Those hoping for more nods to a classic era of UK comics will be delighted to see that last year's character Death-Man from the 2000 AD Free Comic Book Day edition makes a return, resuming his role of hunting down those who have escaped Death's clutches (below left). He's back alongside characters from ten strips from the vaults – some fondly remembered, some utterly obscure – including faces from the pages of Thunder, Buster, Speed and Jet. There's an IPC Crisis on Infinite Earths feel to this one from Feek and Henry Flint and it underlines Rebellion's commitment to bringing these characters to new audiences outside of simply reprinting their classic adventures.
By the time we get to the Black Max (above right) story it's obvious there's something brewing for the characters in these pages beyond a one-shot special. Kek-W and Simon Coleby's short makes sure the reader is aware that events herein are occurring in a shared universe. Black Max appeared in neither Scream! nor Misty but was a war/horror hybrid involving giant bats, a mad German scientist and aerial warfare in World War I that was published in Thunder and Lion. Kek-W gives us a legacy version of the character in an ominous prologue that surely signals more appearances for the character on the horizon. Coleby's visuals are claustrophobic and unsettling and there are some neat lettering effects from Jim Campbell to capture the chilling evil of a character thought long gone…
If there's one strip from Misty that sticks in most readers' minds it's the notorious The Sentinels about an abandoned block of flats that was actually a gateway to an Earth where the Nazis won the war. Hannah Berry and Ben Willsher revisit that scenario in Return of the Sentinels in a story that is all the more horrifying for its contemporary real world parallels. Willsher's visual updating of the world beyond the dimensional portal only underlines the sense that what was an outlandish tale of fascist fantasy in the 1970s is now far too uncomfortably the world outside our window. Notably, Berry's script is unafraid to emphasise how the two realities that had once diverged in the original Misty comic are now converging instead. This is the standout offering of the special and Rebellion simply have to give this creative team further opportunities to explore this storyline.
It seems only fitting that there should be at least one complete-in-one story in this edition given that Scream! and Misty were both so fond of them. Alec Worley and Dani's 'Fate of the Fairy Hunter' travels the well-trod Future Shock-style route but, again, there's something about this four-pager of revenge from another realm of existence that simply begs for a follow-up, despite its ostensibly self-contained nature. Especially given Dani's memorably malevolent villainess…
While it's perhaps not entirely as accessible to new readers as some may hope for – a working knowledge of British comics history certainly makes for a much fuller reading experience – the Scream! and Misty Halloween Special does act as a gateway into the various collected editions it either serves as a tease for (The Thirteenth Floor, Black Max, Misty Volume 2) or a reminder of (The Dracula File, Misty Volume 1). It's also chock full of retro-style features and text pages that enhance that nostalgic feeling but never lose sight of a contemporary audience.
If this is only acting as a supplementary publication for the reprint series it's a lovely piece of respectful re-envisioning in its own right. But there's just too much potential in these short revisitations for it to end there. While one would imagine a Scream! weekly volume 2 is a very unlikely prospect at the moment let's hope that some of these strips turn up in either 2000 AD or further occasional IPC property-based Specials in future. Editor Keith Richardson has done a cracking job in putting this anthology together and it would be an incredible shame if work like this, that rises above mere nostalgia, doesn't get a follow-up.
Guy Adams, Grainne McEntee, Feek, Kek-W, Hannah Berry and Alec Worley (W), John Stokes, Frazer Irving, Tristan Jones, Henry Flint, Simon Coleby, Ben Willsher, Dani, Warwick Fraser-Coombe and Mike Hoffman (A), Len O'Grady (C), Simon Bowland, SG, Jim Campbell, Annie Parkhouse, Maz Smith (L) • Rebellion, £3.99
Check out the rest of our Frontier Frights coverage here. Promo art by EdieOP.