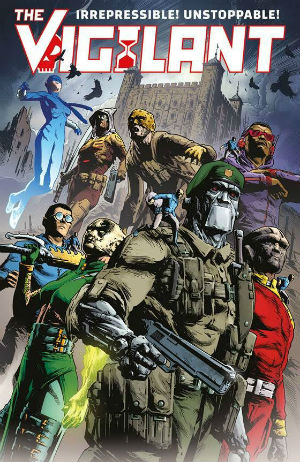 TREASURY OF BRITISH COMICS WEEK! When Rebellion acquired their rich library of vintage IPC/Fleetway British comics characters a few years back it was very clear from the outset that celebrating past glories was only part of the plans for that vast back catalogue of concepts. Popular heroes of the past like Roy of the Rovers have been completely re-imagined and rebooted (serendipitous pun not intended) for a contemporary audience while Rebellion's annual output of one-shot Specials (including today's subject The Vigilant) have reintroduced a new audience to characters from the pages of such diverse '70s comics as Cor!!, Action, Misty, Smash and Battle.
But perhaps one of the most ambitious projects in that time has been the introduction of a Rebellion "shared universe" (outside of the many tangential links between their 2000 AD strips) bringing together characters from fondly remembered (and in some cases now largely forgotten) British weekly comics of decades past. The Vigilant was the product of that – a "super-team" of headliners and associated villains from multiple UK comics of yesteryear including Jet, Thunder, Pow, Buster Lion, Speed, Scream! and more.
First appearing very briefly in the first Scream! and Misty Halloween Special in 2017 before going on to their own Specials and a Judge Dredd Megazine appearance, the Vigilant consist of horribly scarred stuntman Blake Edmonds (from Death Wish reviewed here), Billy Farmer the "Leopard from Lime Street", legacy hero Thunderbolt the Avenger, the robotic Steel Commando (mechanical veteran of World War II), self-doubting Pete Parker and his gang of miniature alien pals (from Buster's Pete's Pocket Army), club DJ and mystic Doctor Sin, agent of death Death-Man, and the demon-hunting Yao.
All of the Vigilant material to date was published last month in one trade paperback edition, giving readers the opportunity to read the entire arc in one sitting. It's a far more satisfying format than the previous annual chapter instalments, bringing a cohesiveness to writer Simon Furman's epic storyline that was arguably lost in its previous sporadic mode of publication. Twenty years ago a previous incarnation of The Vigilant valiantly fought back a demonic incursion of Earth known as the Blood Rapture. But those heroes' sacrifice only delayed the inevitable. Two decades later it's up to a new generation of the team to again put their lives on the line for the planet. But this time the opposition includes a number of villainous figures from classic British comics history including Von Hoffman (from Von Hoffman's Invasion, reviewed here at BF), Dr. Mesmer and the Dwarf…
What's such a delight about The Vigilant is the way that so many favourite names return with a 21st century twist, relaunched and updated but without losing sight of why we all fell in love with those strips in the first place. Indeed for all its hectic pacing and busy action sequences, Furman (and some of the writers on the solo back-up strips) still find time to give us quieter moments that remind us of the characters' pasts. Blake Edmonds despondently reflecting on his lonely existence, for example, or the tragic sight of Billy Farmer caring for the abusive uncle who brought him up, now in his latter years and suffering with dementia.
It's an incredibly difficult line to walk in appealing to the nostalgists wanting those nods to the past and the new audience discovering these characters for the first time, but Furman largely navigates it with a careful balance of due reverence and accessibility. Indeed, both the main storyline and the side-strips are crammed full of Easter Eggs and references for those who will pick up on them without, for the main part, feeling intrusive or forced. Popular 1970s hero Adam Eterno (soon to get his own Treasury of British Comics reprint volume) is a key element, and there's a fan-pleasing moment in a Death Wish solo strip by Karl Stock, Henrik Sahlstrom and Simon Bowland that revisits one of the most contentious British strips of the '70s, providing a continuity thrill and emphasising the shared universe aspect all in one go.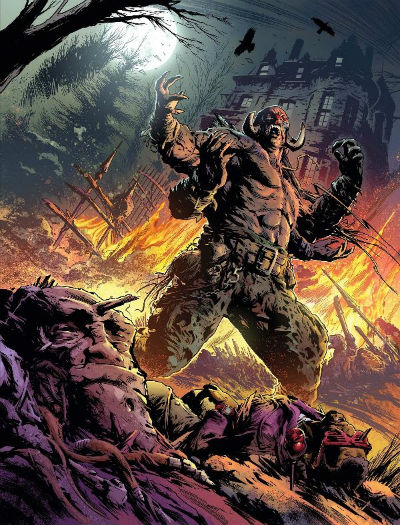 Simon Coleby's visuals are a perfect mix of dynamic action, brooding tension, and deft character interplay. Coleby updates many of the characters' looks to underline the passing of time since we last saw them (and in the legacy heroes' cases reimagines them for a post-millennial audience) but still retains the spirit of their original incarnations. He has an unenviable George Perez/Crisis On Infinite Earths-style job on his hands here which makes visual characterisation all the more important in adding extra layers to the sprawling cast's personae. Similarly Len O'Grady's colouring plays a vital role in accentuating the tense atmosphere of the narrative while Simon Bowland's ever reliable lettering intuitively guides the reader's eye around the busy character interaction, with supernatural/non-human voices given their own unique identities.
The finale to The Vigilant hints at new adventures to come but whether that's an imminent prospect or not presumably depends on the sales of this collection. If you're a fan of the Treasury reprints The Vigilant is a glorious celebration of an era of British publishing; one that updates and revamps with a loving eye to the past. For new readers it's an introduction to the vibrant history of UK comics and a perfect starting point for investigating these wonderful creations further in the Treasury of British Comics range.
Simon Furman with Keith Richardson, Rob Williams, Bruce Leslie and Karl Stock (W), Simon Coleby with Warwick Fraser-Coombe, Staz Johnson, Henry Flint, Luca Pizzari, DaNi, Henrik Sahlstrom, Will Sliney and Jake Lynch (A), Len O'Grady with John Charles (C), Simon Bowland with Sam Gretton, Pye Parr and Oz Osbourne (L) • Rebellion, £12.99
Also available from Gosh! Comics here
Review by Andy Oliver