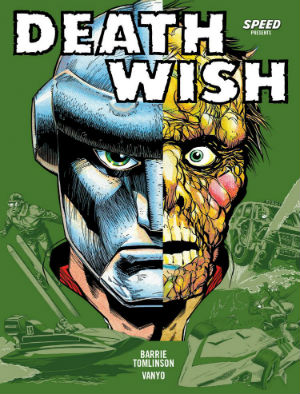 Debuting in the short-lived British weekly comics anthology Speed in 1980, Death Wish would go on to be featured in both Tiger and Eagle as the various weekly comics that hosted it merged into each other; a common practice of the era. Featuring racing driver Blake Edmonds, the strip charted the former handsome motor star's life after a terrible plane crash left him horribly disfigured.
Embarking on a new life as a risk-taking stuntman who no longer cared about his mortality, Edmonds' story is one of the darker entries in the IPC line of the time. Written by British comics stalwart (and now legendary Twitter presence!) Barrie Tomlinson and drawn by Vanyo (in reality a fraternal artistic duo!), this first volume collects the initial Death Wish stories from Speed in another eagerly anticipated Treasury of British Comics album.
Death Wish in this early incarnation is a deliberately formulaic strip with Tomlinson finding Edmonds ever more outrageously dangerous escapades to be involved in. Determined to go out in a blaze of glory, Edmonds' self-destructive showmanship sees him crashing steam trains on a film set as a stuntman, going blindfolded parachuting and taking part in the most reckless motor boat racing, among many other precarious activities. As befits the theme of the comic many of the challenges initially have a speed element to them. A multi-part story towards the end shakes things up with Edmonds' particular skillset seeing him blackmailed into involvement in a criminal heist.
Each "episode" lasts generally three pages (there are a number of covers also reprinted in gorgeous full colour) with Tomlinson proving masterful in the punchy weekly rhythm of resolution/set-up/cliffhanger that characterises most of these instalments. It's an ostentatiously melodramatic series with Edmonds' trademark mask falling off pretty much every other episode to reveal his scarred features to the horror of those around him, as he regularly reminds the audience of exactly why he has the death wish that spurs him on.
In contemporary terms, of course, a series like Death Wish would perhaps raise question marks over its almost nihilistic approach to its protagonist's disfigurement but this is a collection that genuinely needs to be read within the context of the time it was published. The art from Vanyo is an absolutely inspired fit for the uncompromising drama of Tomlinson's scripts, perfectly capturing both the dynamism of Edmonds' world alongside the moody and bleak tone of the series.
This volume is rounded out with the short stories from the hardback Speed Annuals. Blake Edmonds remains one of the most memorable non-2000 AD characters of his era. Nostalgists – myself included – will positively wallow in this opportunity to revisit a classic of its time. Let's hope sales warrant a second collection and a chance to see the Tiger incarnation of the Death Wish strips in print.
Barrie Tomlinson (W), Vanyo (A) • Rebellion/Treasury of British Comics, £14.99
Review by Andy Oliver