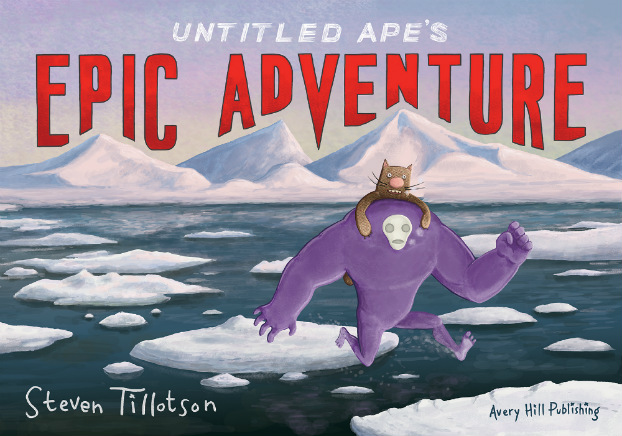 I will come back to this point towards the end of this review but for all its bizarre situations, colourful characters and surreal sequences of events there's something very human and very recognisable about the thematic heart of Steven Tillotson's Untitled Ape's Epic Adventure. The book marks Tillotson's second offering from Broken Frontier Award-nominated Avery Hill Publishing after his acclaimed collaboration with Gareth Brookes on 2014's Manly Boys and Comely Girls Annuals.
Summarising Tillotson's deliberately rambling, episodic and meanderingly paced graphic novel is not an easy task. On a surface level its plot involves the return to the world of the supernaturally powered, skull-faced, ghost creature Untitled Ape after an undetermined time away in an (initially) unrevealed locale. On his re-emergence he falls into the company of Cat (a cat, rather unsurprisingly) and the two begin a journey across the planet so that Untitled Ape can reunite with his family once again.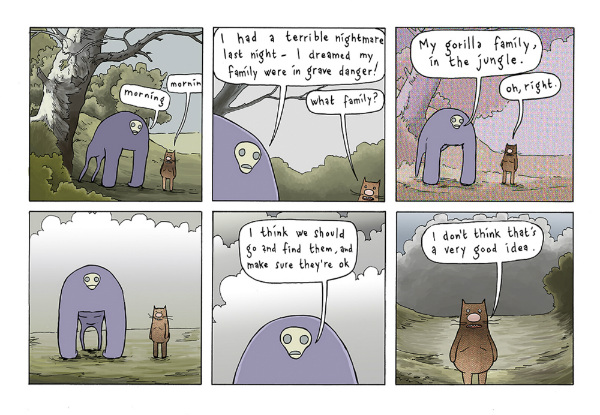 These travels see them dealing with flooded urban terrains, lonely sea voyages, a frozen mountain environment and an avian society in the clouds. In that time they meet an oddball collection of the inhabitants of this strangely familiar yet very different plane of existence including, among others, a mischievous mammoth, a solitary yeti and a philosopher stork. Throughout their misadventures, however, they are being stalked by netherworldly forces as the true nature of Untitled Ape and the horrifying secrets of his recent past slowly come to light…
Untitled Ape's Epic Adventure is the most curious of narrative beasts. It's the most adult of tales – all dark metaphor and wry observation – masked in the whimsy of the traditional standards of children's book storytelling. Tillotson has a habit, though, of suddenly upturning these moments of the magical by injecting the mundane horrors of the real world into events. There's nothing twee or comfortable about Untitled Ape's Epic Adventure.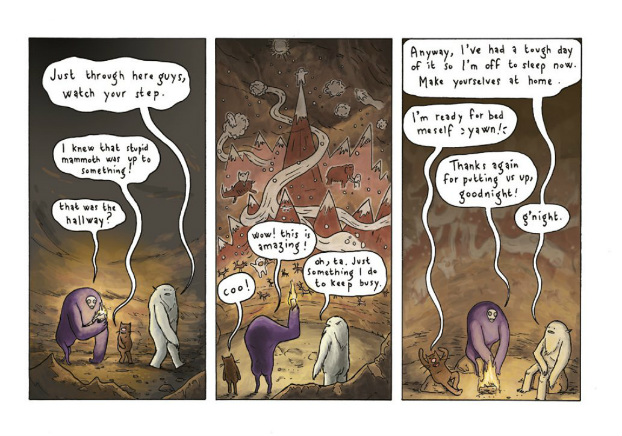 A happy parental reunion for anthropomorphised dogs, for example, takes a sudden nihilistic turn. Chummy, obliging sea creatures are rewarded for their helpful nature with domestic ruin. Just two examples of a bleakness running throughout the book that constantly chips away at the veneer of its superficially fantastic furnishings to underline the inescapable reality of the harsh caprices of existence.
But there's also a thin thread of hope to hang on to as Untitled Ape and Cat endeavour to complete their quest. Because, for all the melancholic despair that seems to permeate the pages of the book, Untitled Ape's Epic Adventure is also a reminder of the importance of belonging, the value of family, the vitality of the bonds of friendship and companionship that we forge, and how they can survive even the most adverse conditions. Something every reader should be able to relate to.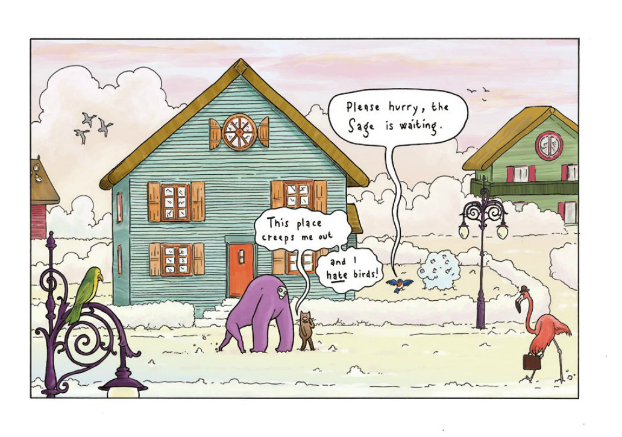 Tillotson's mini-epic has been a number of years in the planning and it's evolved in that time from its originally proposed webcomic method of delivery into a handsome landscape format print edition. Visually it's magnificent in its carefully constructed presentation. Tillotson constantly plays with perspective giving a sense of both movement and discovery as his characters progress across this strange world.
The varying panel structures he adopts throughout (they shift across 1, 3, 4, 6 or 24 panels to a page) are cleverly used with longer panels being especially effective in creating a sense of scope. The 24-panel scene below that hints at Ape's terrifying past is one of the book's most memorable giving a feeling of fractured, fragmented but all too understandable horror. Lettering is also cleverly utilised to add layers to scenes whether that be to emphasise the peculiarities of space in a sequence or as an added character commentary.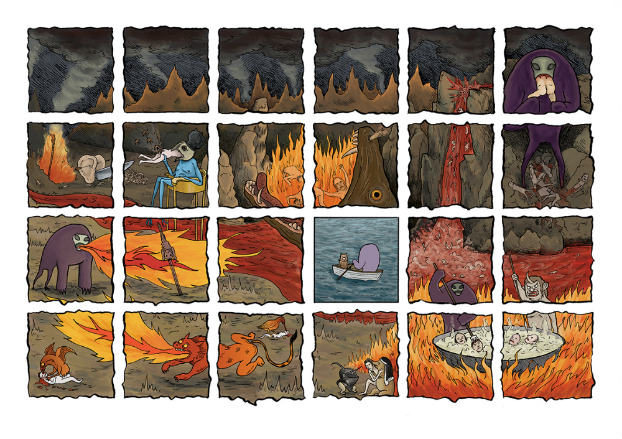 If the book's subject matter all sounds a little grim it should be emphasised that this is also a very funny comic. It's acutely dry in delivery – to the point of being positively morbid in places – but the black humour that followers of Tillotson's work have come to expect from the man behind Banal Pig is in full flow thoughout. Untitled Ape's Epic Adventure is a graphic novel that is entirely at ease with its own cynical wit and one that will undoubtedly propel Tillotson – perhaps one of the UK small press scene's most undervalued mainstays – to a whole new level of deserved recognition.
For more on the work of Steven Tillotson visit his site here and follow him on Twitter here. You can order Untitled Ape's Epic Adventure from Avery Hill Publishing's online store here priced £12.99. 
Read a creator's commentary on the book by Steven Tillotson here. 
For regular updates on all things small press follow Andy Oliver on Twitter here.