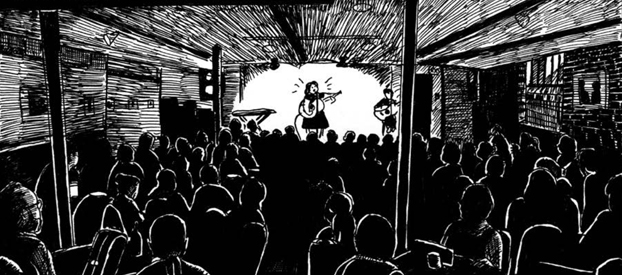 It's a bit of a truism to point out that comics isn't the most obvious medium for dealing with music – and I'm certainly not going to dig out that overworked quote of dubious origin. But while music is at the heart of Summer Pierre's memoir, All the Sad Songs, the book's power goes far beyond the minutiae of chord changes and track listings to deliver an accessible and powerful meditation on the more universal power of creativity and culture to affect our lives.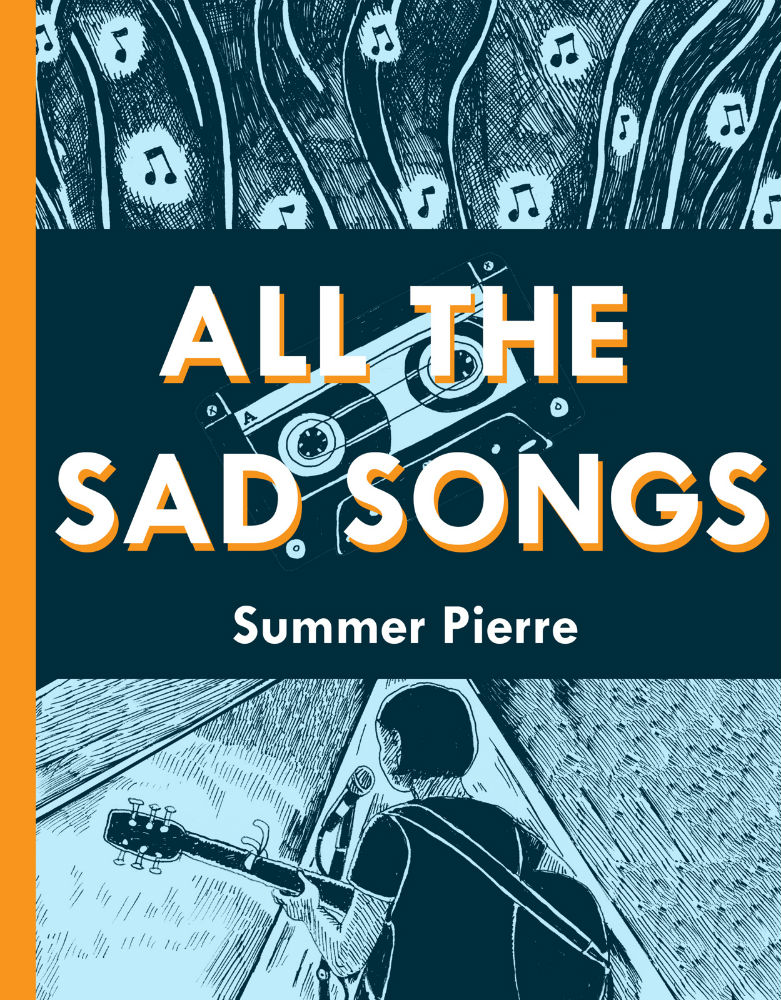 Pierre's book is a pithy memoir of her relationship with music, largely mapped out through the mixtapes she made in her early life for herself and those close to her (and the tapes they made for her). Looking back from the present, she sees the tapes as "holy relics that once had the power to narrate my life. In a way they still do – just in the past tense".
Pierre uses the tapes to mark out her development as a young woman and an artist. Like a lot of young people, her shifting musical preferences let her try out new identities. Developing her own musical tastes meant breaking away from some of her early bonds – reflected in her physical journey from the Californian coast of her childhood to Boston.
Not unnaturally, as she buys a guitar and starts writing songs, her passion for music turns into an avenue for creative expression. Before long she's a fixture on the Boston open mic scene. Present-day Pierre expresses with great clarity the shift from being a passive listener to becoming part of something bigger and more profound: "I could listen or play a song and feel my life changing as I heard it. But how?" She also draws power from the lineage of female artists she joins, and feels the strength of "being found, being known, being heard".
However, her time on the folk scene also brings its fair share of dysfunctional relationships. It's during one of these that Pierre feels something 'break' inside her, marking the sudden onset of post-traumatic stress disorder. Music suddenly becomes more of a prison than a liberation; rather than self-expression, it's a hotline to the pain of trauma and loss. She subsequently makes a monumental decision that leads – eventually – to a degree of resolution.
But folk music's loss is very much comics' gain. Summer Pierre's confident and discursive cartooning style reflects the book's very natural, conversational tone. It's also as effective at dealing with some of the work's more abstract concerns as it is with the vividly depicted cast. Pierre is an easy and persuasive raconteur with whom you could easily find yourself propping up the bar, chewing the fat and blowing the froth.
And to keep the boozy metaphors flowing, her insights benefit from having been left to mature in the oak casks of time; they offer a incredible depth of flavour, presenting notes of delicate spice, sweet treacle toffee and caramel– [That'll do. Ed.] It's hard not to laugh out loud in uneasy recognition as she looks back at some of the 'truth bomb' certainties she used to drop when she was younger. Huge and distressing stuff happens to Summer Pierre over the course of this book, but she presents it with an objectivity and sharp self-awareness that takes us to the heart of the experience.
A bit of scheduling congestion means that we've been suddenly blitzed by Retrofit/Big Planet. With books in the latest batch as strong as All the Sad Songs, John, Dear (Laura Lannes) and The Prince (Liam Cobb), they remain a powerhouse of great comics.
Summer Pierre (W/A) • Big Planet Comics/Retrofit Comics, $10.00 (Order online here)
Review by Tom Murphy