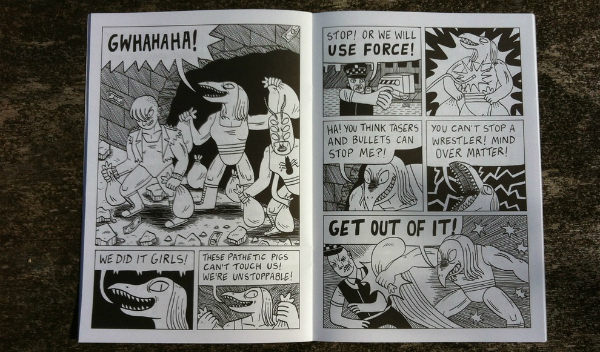 I say this practically every time I review one of his comics but it always bears repeating. There are few reading experiences in contemporary comics quite as joyous as a Jack Teagle offering. There's also a sad truth inherent in that statement, however, because there was a time when we were positively swamped by the kind of jolly capers of which The Unmentionables is a pastiche of. For those looking for evidential back-up to my opening statement Teagle's work has been covered in this column a few times this past year, either in anthology reviews or discussions of his solo projects like Teagle Comics and Diamond Defenders.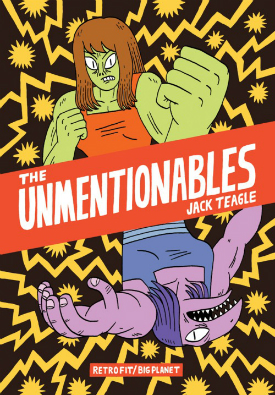 The Unmentionables is officially distributed to comic shops this week, although Retrofit subscribers and committed small press fans will have already seen the book back in 2015. Taking two familiar themes of Teagle's oeuvre – wrestling and Silver Age-style narratives – it tells of two implacable rivals in the wrestling ring, Lizard Woman and Vulturella. Outside of the pantomime posturing of the ring, though, Lizard Woman is simply single mother Lizz, stuggling to make a living and support her family.
At one bout between the two their carefully choreographed sporting theatrics are disrupted by Vulturella dragging the conflict out with unexpected levels of violence. Why is she taking the fight to Lizard Woman with such vigour? What menacing plans are being exacted in the background that could tarnish the whole wrestling world? And who are the group of champions who will rise from the aftermath of these sinister schemings?
As ever, Teagle's accessible cartooning style and the chunky dynamism of his art are an instant visual draw. The kinetic panel-to-panel energy of the early wrestling scenes and the violent slapstick of the action sequences are given extra impact by the A4 size of the book which emphasises a rapid sense of motion and brutal conflict in those sequences (see below for one example).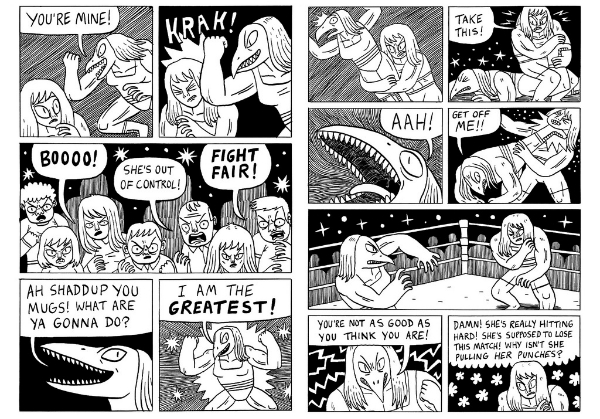 The focus of the issue is less on the intricacies of plotting and more about the thrill of the ride but there are some subtler character touches here surrounding Lizard Woman's domestic life (including a great sight gag concerning her child) which are ripe for following up in any potential sequel. The Unmentionables, however, is essentially a super-hero team origin story; one that you can either take as a set-up for possible future adventures or as a distinct "one-and-done" homage entity in its own right.
Let us hope it's the former case because alongside Snakeman, The Crying Cat, Catheadarmman, the Diamond Defenders and company, the Unmentionables are a wonderful addition to the ever engaging "Teagle-verse"!
UK readers can buy The Unmentionables for £4.50 from Jack Teagle's online store here or if you're in the US you can buy it from Retrofit Comics here priced $6.00 for print or $2.99 for a digital copy. You can follow Jack Teagle on Twitter here.
For regular updates on all things small press follow Andy Oliver on Twitter here.