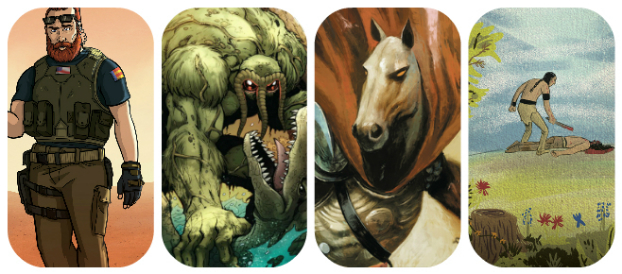 It's nearly Wednesday, and you know what that means: a fresh load of comics and graphic novels! With so many publications hitting your local comics store or digital storefront, the BF team are here to lead you through the woods with our weekly staff picks. Satisfaction guaranteed!
Comic of the Week
Katzine: The Factory Issue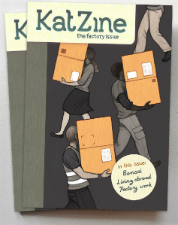 Over the last year or so there's been a growing and noticeable buzz around Katriona Chapman's work. That's not to say Chapman's beautifully rendered comics weren't already much admired and respected but it was as if 2016 was the pivotal point when people sat up and realised there was also something very, very special going on here.
Of course we've been telling you that at Broken Frontier since 2012…
Chapman's autobiographical Katzine with its idiosyncratic mix of open personal reflection, everyday minutiae and down-to-earth gentle humour has been one of the absolute gems of the UK small press scene over the last couple of years. It's an amiable and rather comforting read with Chapman's affable authorial voice proving welcoming and inviting as the reader browses her mini-essays, illustrated shorts and comic strips.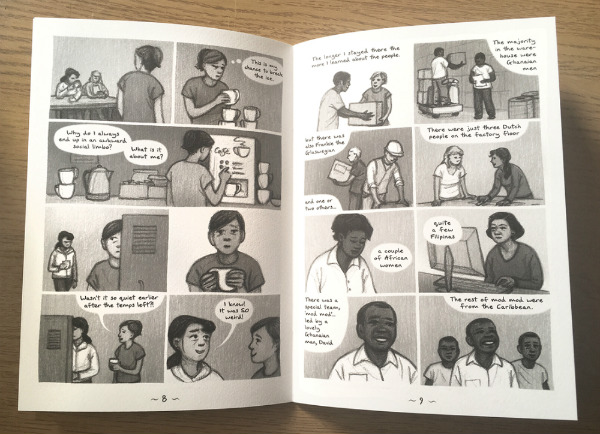 This latest issue acts almost as a standalone prologue to the graphic novel she is currently working on and marks a departure for Katzine with a much longer-form comic story making up the bulk of the issue. The Factory Issue details her experiences working in an Amsterdam factory in 2003-2004 as she saved the money that would pay for a trip to Central America and Mexico (the subject of that graphic-novel-in-progress).
Those familiar with Chapman's work will no doubt have already pre-ordered a copy here. If you haven't experienced her gorgeously shaded work to date then grab this opportunity to do so. Katriona Chapman's star is rising and you're going to be hearing her name a lot more in the next year or two.
Katriona Chapman (W/A) • Tomatito Press, £6.50
– Andy Oliver
Grass Kings #1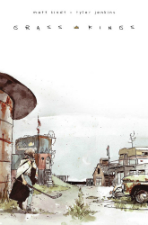 This week, BOOM! Studios launches the latest creator-owned series from Matt Kindt (Dept. H) and Tyler Jenkins (Peter Panzerfaust). A "rural mystery" set in a squatters' paradise called the Grass Kingdom, Grass Kings is a tale of murder on the prairie revolving around the disappearance of a woman from the nearby town of Cargill.
Ruled by three brothers, whose forefathers claimed the land generations earlier, the Grass Kingdom is essentially a glorified trailer park that exists totally off the grid. A self-sustaining community with many a dark secret, the surrounding towns look upon the Kingdom with disdain and suspicion. Visitors of course, are strongly discouraged.
This first issue sets the stage succinctly, hinting at the troubling pasts of the Grass Kingdom's ruling clan as they thumb their noses at Cargill's dastardly sheriff, while hiding a tragic secret that threatens to uproot their community. Kindt and Jenkins tap into the simmering cauldron of resourceful independence that is characteristic of many rural communities, while providing a sympathetic villain, who only wants to see his particular brand of justice served.
A moody, atmospheric tale that eschews the shadows for the sunny, wide open spaces of the North American prairie, Grass Kings is a beautifully crafted introduction to a world that most city-dwellers don't even realize exists.
Matt Kindt (W), Tyler Jenkins (A), • BOOM! Studios, $3.99
– Jason Wilkins
I Thought YOU Hated ME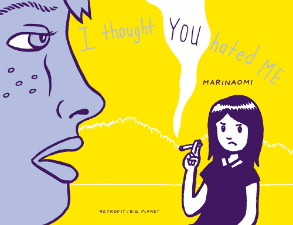 The latest book from the most recent (and excellent) batch of Retrofit Comics to hit comic shops, I Thought YOU Hated ME is a collection of inter-related autobio from MariNaomi whose incisively observed shorts in 2dcloud/Uncivilized's Dragon's Breath and Other Stories got such a positive response here at Broken Frontier a couple of years back.
I Thought YOU Hated ME  is the story of the artist's relationship with her grade school classmate Mirabai over the course of three decades, from not-so-carefree childhood through to the reconnecting bonds of adult life. A study of interweaving existences,  I Thought YOU Hated ME uses a fragmentary narrative approach to slowly build up a nuanced portrayal of the complexities of friendship and is yet another highly recommended release from Broken Frontier Award-nominated Retrofit.
MariNaomi (W/A) • Retrofit Comics, $9.00
– Andy Oliver
Hellboy and the B.P.R.D. 1954: Ghost Moon #1
Double-oh-Hellboy? It's time for a bit of international espionage as our horned hero links up with the burgeoning British intelligence network while demon-hunting in the Far East. Dark Horse promises a "heavily researched" adventure from co-writers Mignola and Roberson, adding yet another interesting wrinkle to the intricate Mignolaverse.
Artist Brian Churilla and colorist Dave Stewart imbue this period adventure with explosive action and moody ambiance that will appeal to both new and longtime fans.
Mike Mignola & Chris Roberson (W), Brian Churilla (A), Dave Stewart (C) • Dark Horse Comics, $3.99
– Paul Mirek
Man-Thing #1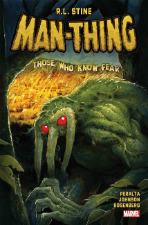 Marvel's cult classic swamp monster returns this week with a new #1 issue that marks the fifth volume of the character's numerous series. A pivotal creation of the Marvel horror books of the 1970s, the barely sentient being's misadventures as he stumbled through his own narratives marked some of the legendary Steve Gerber's most loved classic work.
Novelist R.L. Stine's take appears to be a radically different one with a starting premise of a talking Man-Thing becoming a Hollywood hit. But when an ancient danger reappears the muck monster is forced to choose between his new life and the swamp that was once his home.
Recent attempts to rob Man-Thing of his uniquely unknowable status quo and imbue him with a personality have largely missed the entire point of the character so it remains to be seen whether this re-imagining will fall into a similar trap. However, with a name of Stine's renown associated with the project this fresh start for Ted Sallis's alter-ego will, at least, certainly be worth investigating…
R.L Stine (W), German Peralta, Daniel Johnson (A) • Marve Comics, $3.99
– Andy Oliver
Redline #1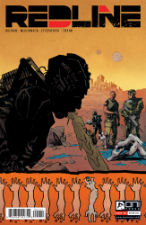 As Art Director for hilarious (and award-winning) adult cartoons like Sealab 2021 and Archer, Neal Holman has made a big mark on the world of animation. This week, Holman takes a detour into the world of comic books with the launch of Redline, his new sci-fi series for Oni Press.
On Mars, Colonial Marines maintain a shaky cease-fire with the local alien population when a bomb explodes. As protagonist Denton Coyle moves deeper into his investigation of the bombing, the answers he finds are not what he expects and lead to more questions – was it an act of alien terrorism or an inside job?
While cheeky comedy is rife throughout Redline, Holman wants to give readers a more dramatic, noir-ish detective story with a sci-fi bent. With art by up-and-comer Clayton McCormack and colors by Kelly Fitzpatrick, this genre-blending series is sure to scratch your itch for gritty sci-fi, and it'll likely make you laugh out loud in the process.
Neal Holman (W), Clayton McCormack (A), Kelly Fitzpatrick (C) • Oni Press, $3.99
– Matthew Box
Commando #5000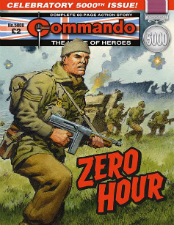 Since 1961 DC Thomson's Commando comic has been providing wartime tales of valour and heroism in digest-sized, black and white one-shot editions. While its audience has almost certainly largely aged with it, and its approach to its subject matter seems quaintly dated now, there's no denying the accomplishment of remaining in consistent publication for 56 years.
Still released several times a month with a mix of new and reprint material, Commando reaches an astonishing 5000th landmark number this week. This anniversary issue promises 'Zero Hour' – the tale of Joe Hartley, a Second World War soldier looking to avenge the murder of his brother by the SS as the war draws to a close. Look out for a classic Ian Kennedy cover as this UK institution hits a record-breaking milestone.
Ferg Handley (W), Carlos Pina (A) • DC Thomson, £2.00
– Andy Oliver