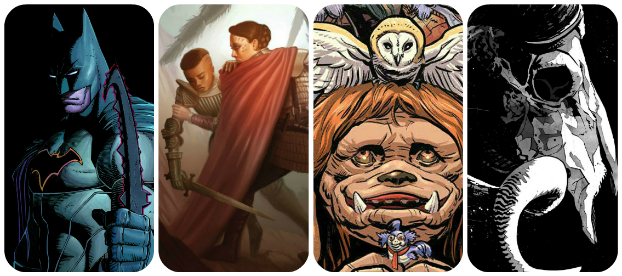 It's nearly Wednesday, and you know what that means: a fresh load of comics and graphic novels! With so many publications hitting your local comics store or digital storefront, the BF staff is here to lead you through the woods with our weekly staff picks. Satisfaction guaranteed!
Comic of the Week
Hellbound Lifestyle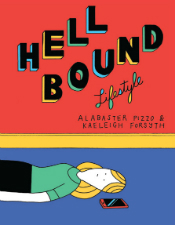 Of late, the crowdfunded subscription model of distribution has become a popular and effective tool for micropublishers with outfits like Peow!, 2dcloud and others all utilising it to bring their books to a wider audience. For Retrofit subscribers, this month has seen a bumper crop of material arriving from their last Kickstarter campaign including Hellbound Lifestyle, also distributed to shops this week.
This 70-page softcover sees artist Alabaster Pizzo bring to life the already amusingly observed secret notes her friend Kaeleigh Forsyth wrote on her phone with an added dryly witty flourish. Forsyth's struggles with social media, her decades-early funeral pre-planning, imaginary stand-up routines and the social etiquette of acceptable soda flavours are just some of the pointers on contemporary living to be found here. A fine example of the diverse array of work to be discovered in the latest outstanding set of Retrofit releases.
Kaeleigh Forsyth (W), Alabaster Pizzo (A) • Retrofit Comics, $10.00
– Andy Oliver
Study Group Magazine #4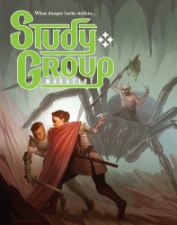 Study Group Comic Books, the indie publisher and webcomics collective, brings you the fourth installment of their comics/journalism hybrid with cover art from Levon Jihanian (Over the Garden Wall).
This 100-page mega-size edition is a tribute to all things fearless and fantastic, including comics, art, articles interviews and even a playable board game! Some of the amazing creators featured here include Farel Dalrymple, Ed Wheelan, Lark Pien, Noah Van Sciver, Adrea Kalfas, Benjamin Marra, Ian Chachere, and Dylan Horrocks.
In addition to the regular edition available in stores, SGM #4 is also available as an oversized deluxe edition. If your retailer doesn't have the version you're looking for, either one can be ordered directly from Study Group's online store.
Zack Soto, Milo George (W) Farel Dalrymple, Levon Jihanian, Various (A) • Alternative Comics, $15.95
– Tyler Chin-Tanner
Katzine: The Boat Issue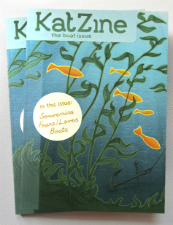 Given that a sequential ordering can give a sense of inaccessibility to the casual browser, numbering small press comics is always something of a risk. Each issue of Katriona Chapman's gorgeously rendered Katzine is a self-contained read in and of itself so it made perfect sense when, with the title's last issue, she began differentiating editions thematically rather than numerically.
'The Boat Issue' contains a short story 'Darkness Falls Again', a piece on her obsession with boats, an advance look at her graphic-novel-in-progress, and regular features 'Sergio Talk' (recording her boyfriend's idiosyncratic sayings) and another look at one of her favourite local businesses.
Likeable, down-to-earth and imbued with the ever amiable personality of its creator, Katzine is always an essential small press buy.  This acclaimed series of gently observed autobiographical comics was also one of my 2015 picks of 'Ten UK Small Press Comics You Need to Own!'.You can order copies online here.
Katriona Chapman (W/A) • Self-published, £6.50
– Andy Oliver
Jim Henson's Labyrinth 30th Anniversary Special #1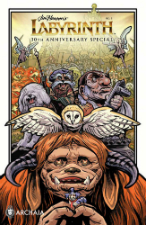 There's a reason that Jim Henson's Labyrinth has remained such a beloved work of art for 30 years – and it's not (just) David Bowie's gargantuan codpiece. More importantly, the film's mixture of traditional fairy tale magic, coming-of-age tropes, and a powerful metaphysical subtext have cemented it as a defining experience for children (and parents) across the world.
This one-shot collects all of the Labyrinth stories from the various Archaia and Boom! Free Comic Book Day anthologies, plus new tales from Jonathan Case, Gustavo Duarte, and more. This beautiful compilation is a fitting celebration of a movie that remains one of a kind after three decades, made more moving by the loss of its similarly unequalled star earlier this year.
Various (W/A) • Boom! Studios, $9.99
– Paul Mirek
Ody-C Adult Coloring and Activity Book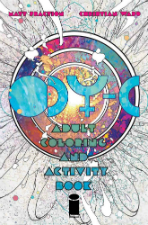 Whether you think the adult colouring book is a phenomenon that provides a relaxing cathartic release or, conversely, if it's one that makes you scratch your head in bemusement there's no denying its current popularity or just how quickly it's caught on over the last year or two.
Comics have jumped onto the wave of late with a number of the bigger companies putting out their own versions based on their characters and franchises. This week, though, sees perhaps the most appropriate piece of pure comics getting the colouring book treatment. On Wednesday eager amateur colourists get the chance to tackle Christian Ward's breathtaking pages from his and Matt Fraction's sci-fi/mythology Ody-C series from Image Comics.
Those wanting the opportunity to add their own hues to Christian's art in a public arena (with a relaxing beverage or two!) should look no further than this week's Gosh! Comics Ody-C Adult Coloring and Activity Book signing and "Drink and Colouring" with Christian himself. Full details here.
Matt Fraction (W), Christian Ward (A) • Image Comics, $14.99
– Andy Oliver
The Black Monday Murders #1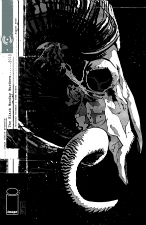 This week Image Comics continues its exciting run of new offerings with The Black Monday Murders, hailed as a genre-bending "crypto-noir" story from the extremely talented creative team of writer Jonathan Hickman (East of West, The Manhattan Projects) and illustrator Tomm Coker (Undying Love).
TBMM intends to take readers into the dark world of global finance banking, which is also a world rife with occultism and esoteric magic. And, yes… murder. Hickman claims, however, that this will not be the usual man-gets-corrupted-by-wealth-and-does-bad-stuff type of tale; rather, the creators are interested in portraying capital-M Money as a "force of nature", a thing capable of wielding awesome dark power with a will of its own.
Coming on the heels of socially-relevant Image titles like Kaare Andrews' anti-One-Percent shoot-em-up Renato Jones and Ed Brubaker's vigilante-noir of Kill or Be Killed, both of which deal with issues of morality, wealth and privilege, the arrival of TBMM seems very timely in this current climate of hyper-wealth, political corruption, and civil unrest. And, weaving in the layer of magic of the black sort definitely puts this series in a class all its own. Knowing the high quality work of which this creative team is capable, The Black Monday Murders will undoubtedly pay excellent returns on your investment!
Jonathan Hickman (W), Tomm Coker (A) • Image Comics, $4.99
– Matthew Box
All-Star Batman #1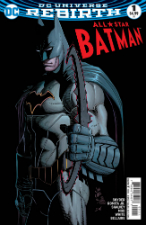 In one of the most anticipated moments of the summer, Scott Snyder returns to Gotham with this week's launch of All-Star Batman #1. 'My Own Worst Enemy' is the first arc and finds Batman squaring off against Two-Face. Batman offers to fix the damage to Two-Face's face, and the two embark on a cross-country trek that might evoke memories of the film, Midnight Run.
Two-Face isn't going quietly, however, and has placed a bounty on the Caped Crusader's head. Every assassin, bounty hunter, and money-hungry jerk in the country is on their trail and out for blood. In the June Previews, Snyder commented, "This is Two-Face like you've never seen him. I want to make him really scary, a modern Jekyll and Hyde."
The stellar lineup of artists producing the title reads like a wish list come true, and in addition to Romita Jr. (Superman, Kick-Ass), it includes Jock (Batman, Wolverine), Declan Shalvey (Moon Knight, Injection), Tula Lotay (Supreme: Blue Rose), and Sean Murphy (Tokyo Ghost, Punk Rock Jesus). With all that indie talent in the mix, I hope we'll be treated to a Batman with a darker and less standardized look.
Scott Snyder (W), John Romita Jr. (A) •  DC Comics, $4.99
– Karen O'Brien