The Fuse, Antony Johnston and Justin Greenwood's new series from Image Comics, is a murder mystery set 22,000 miles up – but does it have the attitude to go with the altitude?
As someone with plenty to say about the state of the comics market, it's no surprise that British writer Antony Johnston is at the vanguard of creator-owned publishing. After launching his well-received fantasy series Umbral (with artist Christopher Mitten) at the end of 2013, his latest project through Image, with sometime Wasteland collaborator Justin Greenwood, is another poke into familiar generic territory.
The Fuse follows the under-resourced homicide squad of the Midway City Police Department, whose beat is an orbital power station with a population of half a million people: in Johnston's words, "a pressure-cooker where everything is one bad day away from falling to pieces". In the debut issue – part one of 'The Russian Shift' – we meet old sweat Klementina Ristovych as she welcomes fresh meat 'Marlene' Dietrich to his new posting.
As Dietrich arrives in orbit, he's pitched straight into his first case: the murder of one of the satellite's homeless (known as 'cablers', as they dwell in the station's cable ducts). With only a couple of clues – a spaceport locker key and a used phonecard – Klem and Dietrich get to work.
This is a fairly low-key start to the series, establishing the setting and the characters rather than pushing up the adrenalin levels. Nevertheless, it's very competent storytelling; Johnston's sure-footed script is clear and punchy as required (and mercifully free of extraneous first-person narration), while Greenwood's stylish art – backed up by the unfussy colouring of Shari Chankhamma and lettering of Ed Brisson – delivers the story perfectly; his character work and crowd scenes are especially effective.
However, the 'cop-show' side of the mash-up definitely eclipses the 'sci-fi' element. As attractive as it is, Greenwood's art doesn't have the strong design signature that makes the pages sing in work like Runberg and Pellé's Orbital (available in English from Cinebook), with which The Fuse shares at least some DNA. Despite the promise of the "lived-in sci-fi" setting, there's not much to distinguish Midway City from any other tired and over-crowded urban milieu.
Johnston and Greenwood also work their cop-show tropes hard. As well as having a hard-ass boss, Klem and Dietrich also slip easily into the 'mismatched partners' template: she's bloodlessly pale, old, garrulous and has seen it all before, while he's black, young, taciturn and seemingly callow.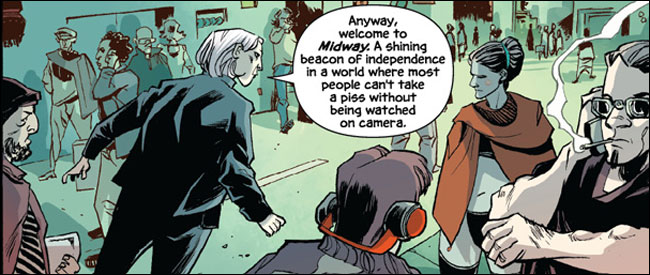 The choice of Ristovych as an atypical comics protagonist is an interesting one that got me thinking of Ed Brubaker and Steve Epting's current Image series Velvet. That looked initially like it was going to offer some interesting use of a mature female character, but it soon slipped back into the generic normality of 'stealth suits', car chases and ultra-competence. However, at this early stage, it looks hopeful that character will remain at the heart of Johnston and Greenwood's series.
The Fuse might not offer much that's dazzlingly innovative or thrilling, but its execution and the pedigree of its creators contain a great deal of promise. While the first issue never quite hits escape velocity, there's enough here to make it one to watch.
Antony Johnston (W), Justin Greenwood (A) • Image Comics, $3.50, February 12, 2014