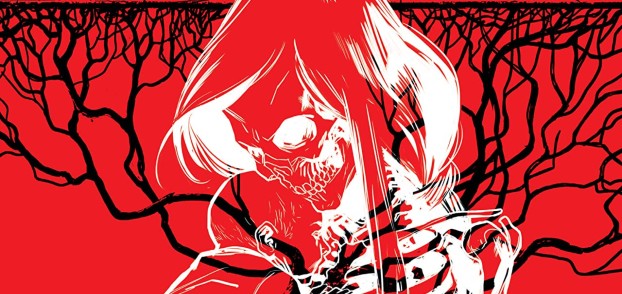 It's an unfortunate reality in serial comics publishing that the necessity of providing enticing pre-publication hooks means that plot twists that should have been the readers to discover in their own time become instead selling points for advance orders. Chip Zdarsky and Ramón K. Pérez's Stillwater is a case in point, carefully and tensely building up in its first issue to a startling reveal that was already spoilt months ago in advance solicitations. That is, of course, the nature of the beast with monthly comics. But, regardless, this new Image Comics series still ultimately delivers on the horror front with a supernatural mystery that is all the more disturbing for it being rooted firmly in the everyday realities of small town life.
Daniel West is a young man with an anger management problem. Recently fired from his job for assaulting a fellow employee his future prospects are looking poor. Recovering from an excessive night out, Daniel receives legal notification that he is the beneficiary in the will of a recently deceased relative. Accompanied by his friend Tony the two travel to the tiny town of Stillwater for a meeting with the lawyer overseeing the case. But on arrival they discover he hasn't lived there in 15 years. After witnessing two children involved in what appeared to be a fatal accident they discover that within the boundaries of the town no local resident can die. As unlikely truths are revealed, and the strange nature of their new environs becomes more pronounced, the duo discover just how far the townsfolk are prepared to go to protect their secrets…
Chip Zdarsky loads Stillwater with an abundance of appropriate horror cliches – a town no one has heard of with no phone reception, a repressive curfew and an An American Werewolf in London-style locals-only vibe for example – but does so without it ever deteriorating to the point of self-referential parody. Rather Stillwater is all the more chilling for its everytown mundanity, a quality that is underlined by the nuanced realism of Ramón K. Pérez's rendition of its streets and locales. There's no stylised grotesqueness to his pages, no exaggerated terror for overblown dramatic effect, no visual hyperbole… just the simple but highly effective reminder that the world outside our window is just as terrifying as any unlikely supernatural terrors our minds may conjure up. Mike Spicer's colours perfectly complement and shift between this pairing of the quotidian and the brooding.
Stillwater is a quietly brutal place then. One where an apparent blessing has become an oppressive curse. There's still much to discover about Daniel's connections to the town and the mysteries behind its origins but Stillwater looks set to be far more than fright-filled character study. There's also an intriguing exploration of society in microcosm here – of the lengths a community will go to in protecting its own interests, and the sacrifices to its freedoms it will be willing to make. That's where the deepest horrors of this promising new series truly lie.
Chip Zdarsky (W), Ramón K. Pérez (A), Mike Spicer (C), Rus Wooton (L) • Image Comics/Skybound, $3.99
Review by Andy Oliver