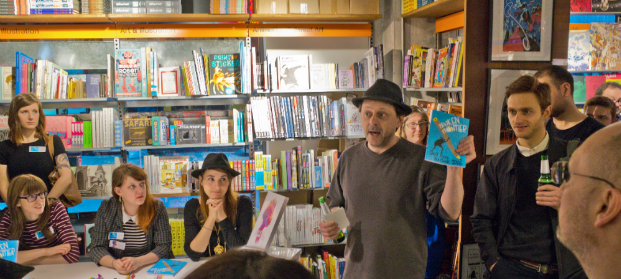 Traditionally this point in the year is when the great and the good of British comics gears up for the final big blow-out and hits Leeds for the grand finale to the comics calendar at Thought Bubble. This year though, with the festival's (admittedly hugely successful) move to September, there's a feeling that the events season came to something of a premature end in 2017 and a sense that we're in something of a limbo now for major happenings until the Spring.
The truth is, however, that in reality we're actually spoilt for comics-based activities all year round in the UK. Fairs, exhibitions, meet-ups, talks and panels are in abundance, often to the point where they clash with each other. So today I want to take the opportunity to think about those smaller – but no less important – events and the role they play on a local level in fostering a sense of comics community. I'm going to do that with reference to two London stores – Gosh! Comics in Soho and Orbital Comics at Leicester Square – that do an incredibly good job of bringing customers together through their extracurricular programming.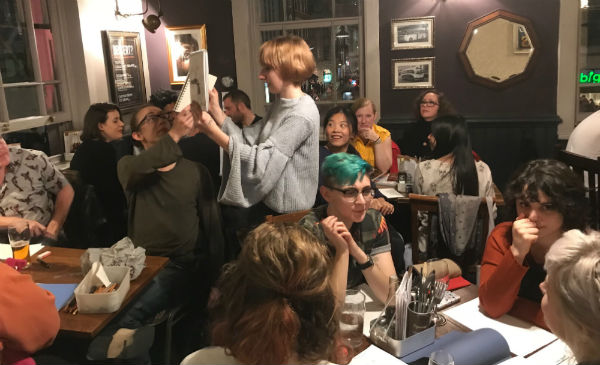 Of course, we've been collaborating with Gosh! Comics since June 2015 on the Gosh/Broken Frontier monthly Drink and Draws (above) which serve a dual purpose of not just giving attendees an opportunity to interact with the guest artists but also allow us to put a spotlight on newer talent as we mix up pro and self-published creators on our monthly line-up. But the Drink and Draw is just one of a number of regular evenings that Gosh! have been putting on over the last few years.
Gosh! have held an after-hours reading group in a number of incarnations as well as a super-hero discussion group on a monthly basis and their semi-regular 'Let's Talk Intersectionality' events. Their 'Process' event, giving regulars the chance to hear about the working practices and approaches of guest artists, was one that we featured in a number of reports from its "showrunner" and former Gosh! employee Steve Walsh a few years back. Those evenings, in particular, seem to have opened up opportunities for those attending and have resulted in small press anthologies like To Arms!, introduced would-be creators to potential publishers at evenings like the Unbound talk, and provided helpful panel discussions like the Small Press Symposium.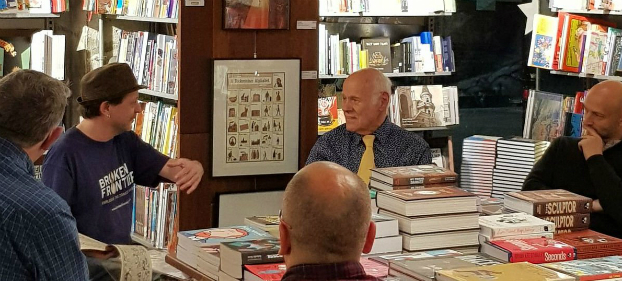 And that's without even mentioning all the regular signings, panels, workshops and event days arranged by Events Manager Tom Oldham and my Drink and Draw co-host Nora Goldberg – the Image 25th anniversary panel, the fantastic Free Comic Book Day programme and the John Stokes/Marney the Fox discussion I chaired recently (above) are just a few notable examples we've covered this year on the site.
Window painting fun! – 2016 Broken Frontier 'Six to Watch' artist Rebecca Bagley (left) and Dan White's Teenage Mutant Ninja Turtle (right) from the Gosh! Comics Free Comic Book Day event this year
Similarly, Orbital Comics are constantly showcasing the wider world of comics – something that was recognised last year with their Eisner Award win in the 'Spirit of Retail' category. Just over a week ago I chaired a panel there on Scream! and Misty with Simon Furman and Keith Richardson but outside of its own podcasts, discussion evenings, drawing nights and masterclasses Orbital also has its own gallery for exhibitions.
What's so special about that unique feature is that it's used as a showcase space for such a notably diverse range of material. It would be an easy choice indeed to cater solely for the populist end of the market but that's never been the case at Orbital. Exhibitions have included such wide-ranging subject matter as Medieval Comics, Image Duplicator: Take Back the Art (a counter-attack to the work of Roy Lichtenstein), the history of micropublishing favourites Avery Hill Publishing, solo shows for new talent like Jessica Martin, the graphic journalism of David Ziggy Greene, and the Portland indie scene.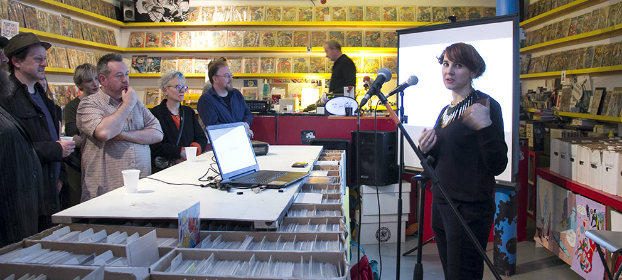 Karrie Fransman speaking at the Medieval Comics exhibition opening at Orbital
And as one of the co-organisers of the UK's national Small Press Day I can also attest to the commitment of both shops to the ethos and spirit of the day. You only have to look at their extensive small press sections to see their dedication to encouraging the next generation of creators.
Tillie Walden's poster for the Avery Hill exhibition and Rian Hughes's cover logo mash-up for Image Duplicator, both held in the gallery space at Orbital
This may appear to be one big plug for two shops that I use and that BF has links with, but this isn't simply a fawning back-slapping post for the benefit of people we've collaborated with. There are shops up and down the UK and across the globe doing exactky the same after all. I'm using Gosh! and Orbital as examples because they're the institutions I'm most familiar with. The wider point I'm wanting to make here is about the role of forward-thinking stores as community hubs for the customer base they serve.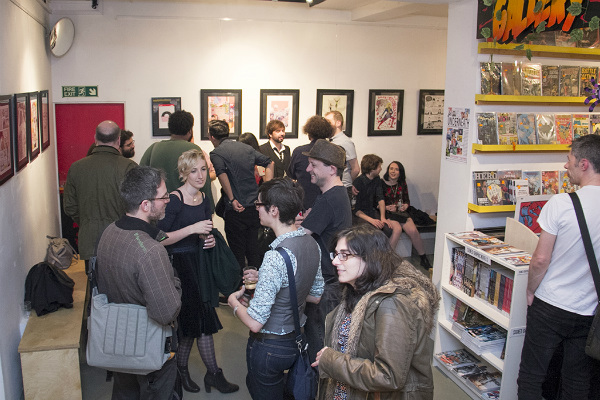 The 'Underneath' exhibition opening at Orbital Comics
Promoting the medium beyond the wider public perception of it as limited in scope and juvenile in approach is, of course, a vital one. But these shops are doing more than that. They're creating an essential sense of community, a foundation of interaction and co-operation that brings people together in celebration of the form and one that encourages investigation and creativity. In a world of cheap online pricing and digital delivery that is, of course, a canny move but it's also a recognition that all of us – individuals, institutions and the scene itself – benefit from coming together and acknowledging and pushing the broader potential of the form. And that starts at the grassroots.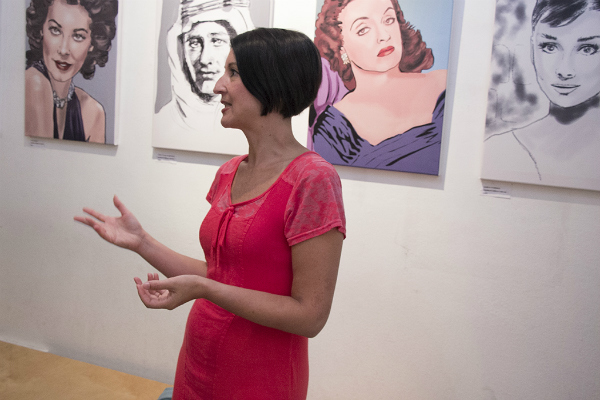 Jessica Martin at the opening of her exhibition at Orbital 
The Comic Book Guy stereotype is one I didn't want to fall back on in this piece (even if I'm fortunate enough not to experience it myself it's one that still undoubtedly exists out there) but it's hardly the most perceptive of observations to make to say both that attitude and that model of business is an evolutionary dead end. Those stores that put themselves at the very heart of the community they serve, and are as much activists for the medium as they are retailers, are the way of the future.
Let us know about your experiences at your own local stores in the comments below and give a shout-out to similar good practice!
– Andy Oliver, Broken Frontier Editor-in-Chief, November 6th, 2017
Find out more about events at Gosh! Comics here.
Find out more about events at Orbital Comics here.
(Thanks to Camila Barboza at Orbital and Nora Goldberg at Gosh for photo assists).
For regular updates on all things small press and Broken Frontier follow Andy Oliver on Twitter here.