It's been a rather busy week at Broken Frontier Towers and with no let-up in our ever packed schedule in sight over the next month or so either. Let's catch up with what we've been up to and what's coming next…
Firstly, thank you to everyone who came to our Broken Frontier Panel on 'Comics and the Micropublishing Revolution' at ELCAF on Saturday. And our thanks also to all those many people who wanted to attend but couldn't because the room reached capacity so quickly! The feedback so far has been tremendously positive and it's pleasing to know that the discussion proved both interesting and helpful to the audience. We're slowly tweeting out about some of the prime players discussed at the panel over on Twitter using the #BFELCAF hashtag for those wanting to follow them.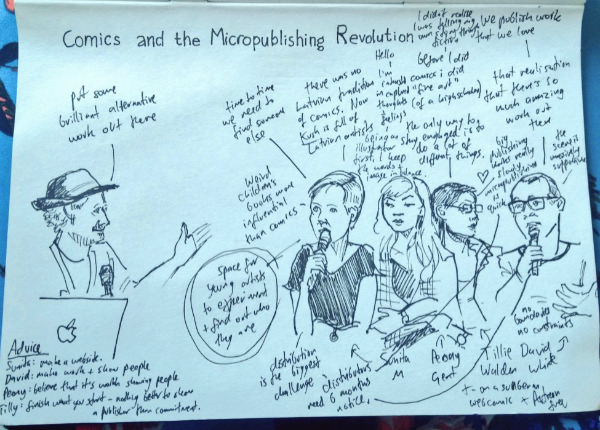 Broken Frontier's very own Jenny Robins captures the panel perfectly in sketch form…
Of course, when you get to chair a panel of guests of the quality of comics phenomenon Tillie Walden, micropublisher kuš! Comics's Sanita Muižniece, Avery Hill Publishing's David White and BF 'Six to Watch' creator Peony Gent you know you're on to a winner from the outset. We'll be reporting back from ELCAF later in the week as a team so we'll save our commentary on the festival until then but, suffice to say, we'll have lots of positive thoughts on another excellent weekend of comics entertainment in East London.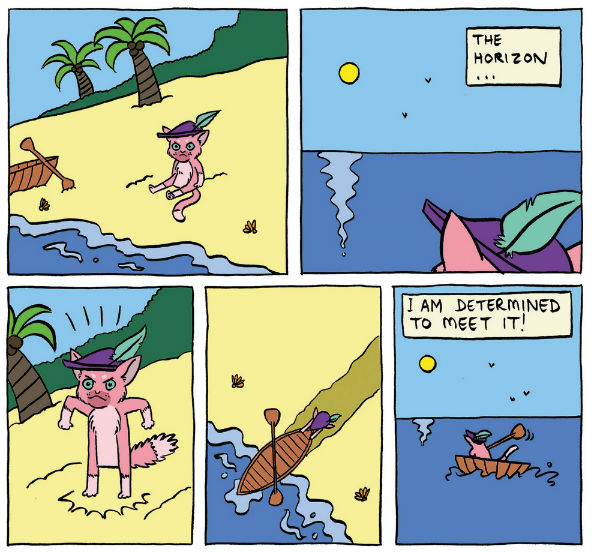 This has also been a busy few days as we got this year's Broken Frontier Small Press Yearbook ready for print. We already revealed a number of preview pages here at BF recently from Jey Levang, Ellice Weaver, Rebecca Bagley, EdieOP, Emily Rose Lambert and Kim Clements. Joining that number will be fellow 2016 'Six to Watch'-er Brigid Deacon alongside some of the original 'Six to Watch' Danny Noble, Emma Raby and Rozi Hathaway. The other supplementary stories are from Grace Wilson (Saving Grace), Rachael Smith (Artificial Flowers – a sample from 'Adventure Cat' above), Steven Tillotson (Untitled Ape's Epic Adventure), Tim Bird (Grey Area) and John Riordan (Hitsville UK).
A cracking line-up of small pressers (and those who started in the small press) we're sure you'll agree! Don't forget the launch party for the book is on Small Press Day at London's Gosh! Comics and starts at 7pm. Come along, meet some of the artists involved, get a book signed and have a drink on us!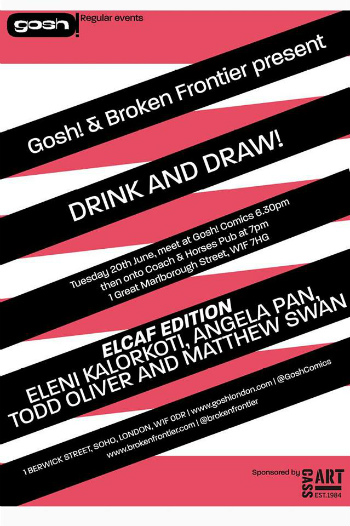 Which is an opportune moment to remind you all that the next Gosh! Comics and Broken Frontier Drink and Draw is tomorrow Tuesday June 20th and is themed as a post-ELCAF Special! We'll have two creators in attendance who were reviewed just last week at BF (Todd Oliver of Boxes and Angela Pan of Dear Diary fame) alongside two old favourites in the shape of Eleni Kalorkoti (Reads and Greasy's Guide to Nookie) and Matthew D. Swan (Parsley Girl). More details on the Facebook page here but if you're looking to recapture some of the weekend's ELCAF magic come along and meet four very talented festival exhibitors.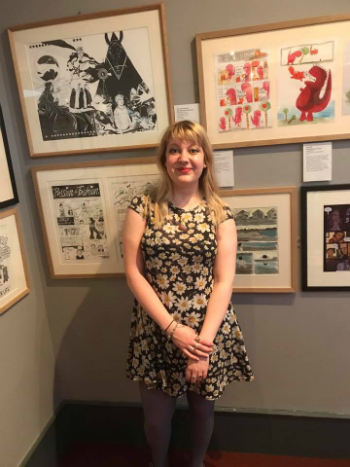 And, finally, a quick mention for the next event I'll be speaking at. On June 28th at London's Cartoon Museum I will be on the 'Inking Women: Getting Published Panel Discussion' to tie in with the museum's current exhibition. We've been running a number of tie-in 'The Inking Woman' artist profiles on the site over the last few weeks with more to come and I was there at the museum on Saturday with Broken Frontier's very own EdieOP (above – whose work features in the exhibition) when she recorded a quick video interview about her work. The event is free but must be pre-booked. More details on the site here.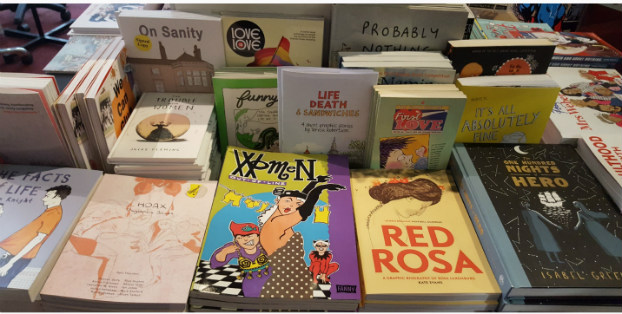 A quick snapshot of some of our extra-curricular activities here at BF of late then. But there's lots more to come with Small Press Day, SLCZF and Safari Festival all looming on the horizon!
– Andy Oliver, Broken Frontier Editor-in-Chief, June 19th, 2017
For regular updates on all things small press and Broken Frontier follow Andy Oliver on Twitter here.