A few weeks ago at the special Broken Frontier edition of the London Laydeez do Comics meet-up we announced our very first Broken Frontier Small Press Yearbook – a near 100-page project that is the culmination of 2015's ongoing coverage of our original 'Six UK Small Press Creators to Watch', and one that spotlights the talents of Rozi Hathaway, Jess Milton, Danny Noble, Emma Raby, Alice Urbino and Adam Vian.
You can read all about the anthology and see sample pages of those six artists' stories (on the vague theme of "breaking frontiers") plus one from our very special guest creator Rebecca Bagley here at Broken Frontier. We also gave you a first look a couple of weeks ago at Danny Noble's amazing cover (right) that captures the spirit of the book with great aplomb.
Today we have our final "reveal" about the contents of the #BFSPYearbook as we disclose the identities of those contributors kindly supporting this initiative by providing short back-up strips for the project. In some cases they're people who got their very first reviews in 'Small Pressganged' here at Broken Frontier. What all of them have in common though is that they have followed a route from self-publishing to homes with larger publishers. A path our 'Six to Watch' are doubtless destined to tread as well!
Below are the names of those final nine contributors and preview teasers from some of their stories. The Broken Frontier Small Press Yearbook also features a foreword by Simon Moreton (Plans We Made, Smoo Comics) and spot illustration by Broken Frontier Award-nominated Kim Clements (Rabbit Thoughts). Our next Yearbook announcement will give you full details of how and when you can obtain a copy…
Gareth Brookes – The Black Project (Myriad Editions)
Gill Hatcher – The Beginner's Guide to Being Outside (Avery Hill Publishing)
Jessica Martin – Elsie Harris Picture Palace (MIWK Publishing)
Mike Medaglia – One Year Wiser (SelfMadeHero)
EdieOP – Maleficium (Avery Hill Publishing)
Owen D. Pomery – Between the Billboards & The Authoring of Architecture (Avery Hill Publishing)
Alex Potts – A Quiet Disaster (Avery Hill Publishing)
Paul B. Rainey – There's No Time Like the Present (Escape Books)
Donya Todd – Death & the Girls (Blank Slate Books), Buttertubs (Avery Hill Publishing)
'The First Frontier' by Jessica Martin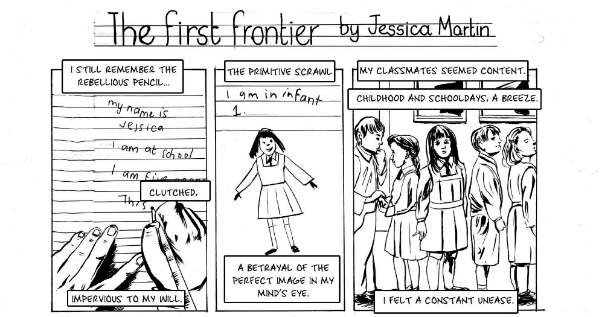 'Pretty' by Donya Todd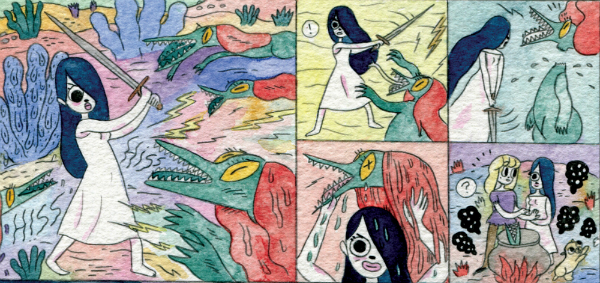 'Inner Space' by Mike Medaglia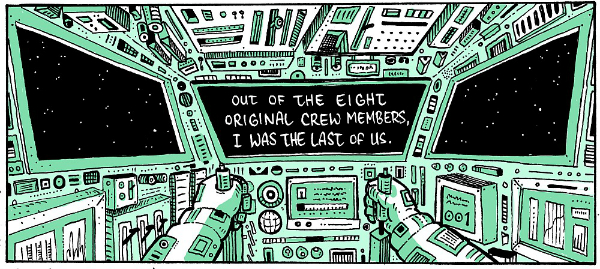 'The Pigglewitch' by EdieOP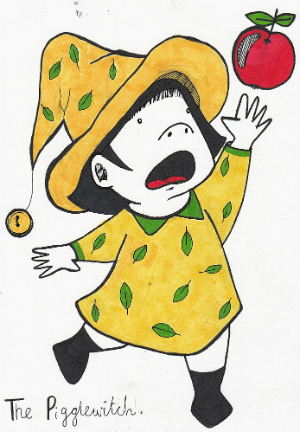 'Urgent Business' by Alex Potts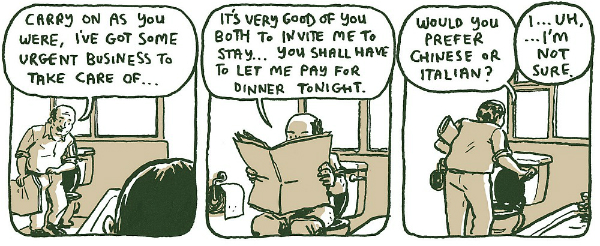 For regular updates on all things small press follow Andy Oliver on Twitter here.