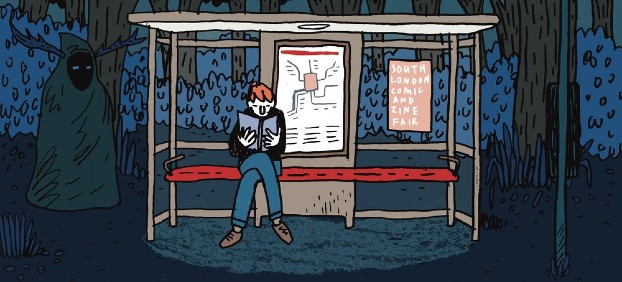 Continuing our new feature for Fridays today at Broken Frontier!
At the end of each week we run an extensive spotlight profile on an artist we believe deserves far more attention, alongside links to their social media accounts so you can follow their practice further. Today it's the turn of Tim Bird, a creator whose work fits into the psychogeographical strand of comics narrative. We've been covering Bird since his comics appeared in the early Avery Hill Publishing anthologies, and here we look back on the comics of one of the UK's most underappreciated talents. Make sure to give him a follow via the social media links at the end of this article.
Bird's role in UK small press history has been pivotal for a reason that many readers will be unaware of. When I interviewed Avery Hill back in 2015 about the first days of the publisher's history, co-founder Dave White spoke about Tim Bird's early role in their evolution from self-publishing collective to micropublisher actively bringing in new talent to their expanding operations.
In White's words: We'd been working together on a self-published 'zine called Tiny Dancing – collecting together our own work and that from some of our friends – and out of the blue I got an e-mail from a guy calling himself Tim Bird, asking if we wanted to include his comics in future issues. That led to more people submitting work, a lot of it comics, which we split out into an anthology title called Reads… And at about the same time we realised with more than one title we needed to call ourselves something as well, which is when AHP started in earnest.  Then this Tim Bird guy got in touch with us again saying he had a twenty-four page comic completed, and would we like to do anything with it – that was the first issue of Grey Area, and we haven't looked back since!
That first issue of Grey Area was the foundation for much of what was to come in Bird's association with AHP. Subtitled 'While the City Sleeps' it felt at the time like a very experimental piece – a narrative without protagonists that toured London at night, from the phantoms of the past that linger in the underground network to a nocturnal tour of the city's street and thoroughfares, and concluding with a study of London's nightlife from a more social angle. Using architecture and environment to reflect mood and emotion, I said of Grey Area #1 here at BF "atmospheric and enticing, this twisting tour of the city at night is a very promising start to what looks to be a very distinctive series."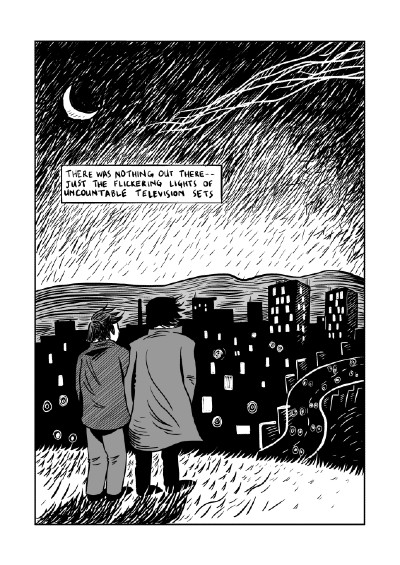 As Bird's place as the first inductee in what would become a small repertory company of Avery Hill artists became quickly established he would continue to contribute shorts to their comics anthology Reads. These included stories of nostalgia and memory, like 'Darkness on the Edge of Town' in Reads #3 (above) looking at our relationship with our childhood hometowns, and 'Mixtapes' in Reads #4 that was similarly evocative but with a musical twist (another frequent theme in Bird's repertoire as seen in his self-published Rock & Pop and its extended life).
The second issue of Grey Area (subtitled 'The Old Grey Track') continued that psychogreographical slant, exploring our relationships with motorways and the multiple ways they intersect with our lives. I said when I reviewed it here at BF: Bird overlays the vast sprawling motorway network of Great Britain with a mystical and arcane pseudo-reality, transforming it into a kind of sprawling entity in and of itself. Separate journeys become parallels to human existence while individual voyagers along these roadways weave in and out of each other's stories, becoming footnotes in the continuity of other lives.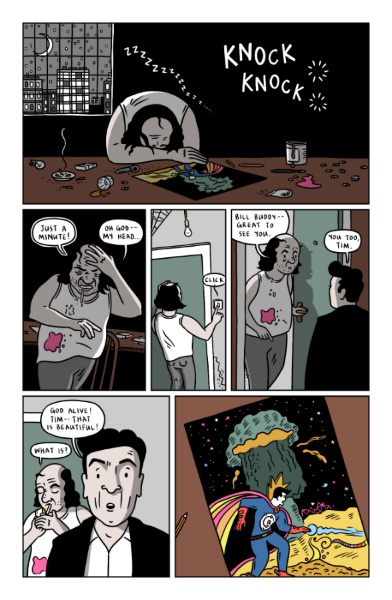 In 2014, Bird's growing stock at Avery Hill was evident with the publication of the illustration-based Infrastructure documenting "elements of the capital's transport infrastructure, as informed by [Bird's] own explorations and travels within the M25". It was also the year that he embraced new directions at AHP in the second volume of Reads which would run over the next couple of years. Therein he illustrated Luke Halsall's stories for 'The Bullpen' (above), a thinly veiled satirical take on the internal politics of Marvel Comics in the Silver Age, and with writer Ricky Miller created the biographical 'Hitchcock & Film' detailing the life of the legendary film director.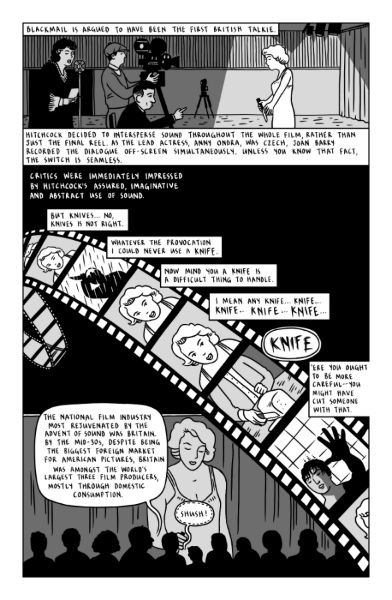 All Reads creators spoke of their strips in the anthology in this 'Inside Look' creator commentary a few years back with Bird saying of the page from 'Hitchcock & Film' (above): I designed the layout of the page to make the image of the roll of film the main focus – cutting the page in half and overlaying the panel at the bottom. The dialogue becomes more intense across this sequence of frames, so I tried made the roll of film pop out of the page, with the images becoming larger, to reflect this. There's a lot of text on this page, so it was a challenge to make sure there was space for the artwork to communicate ideas too. For example, I wanted to show how slightly different sequential images of the actress Anny Ondra in the roll of film would build up a moving image – an interesting point of contrast with comics.
It was the third issue of Grey Area, released that year ('From the City to the Sea'), that would finally give Bird the much deserved exposure to a far wider audience he deserved. In this volume Bird took a journey outwards from London in an easterly direction along the capital's District Line train service, through the county of Essex and towards the North Sea with "urban sprawl devolving into wide, open, untameable wilderness along the way… landscape disappearing into a watery, near spiritual, abyss."
It was Bird's finest offering to date and one I said of here at BF: From the oppressive claustrophobia of the cityscape to the emerging freedom of the countryside through to the timeless, unceasing constant of the sea, this third Grey Area is a pensive reminder of how our own personal stories both impact on our environments and yet simultaneously are swallowed up by them, like intangible dreams dissipating through history.  It's Bird's most striking material to date and an obligatory entry point to his comics for those unfamiliar with his work. 
It was also Bird's most accomplished story yet in terms of his visual storytelling (as detailed in the pages above). Of  Bird's art, I said that it was: A fusion of evocative wordplay and imagery that complement each other rather than describe each other. It's mirrored by the on-page relationship between rhythm of language and panel pacing which results in each separate "chapter" of the book becoming akin to an individual visual stanza of a greater work. 
The British Comic Award for Best Comic for Grey Area: From the City to the Sea the following year (the year I sat on the British Comic Awards Committee) was much deserved.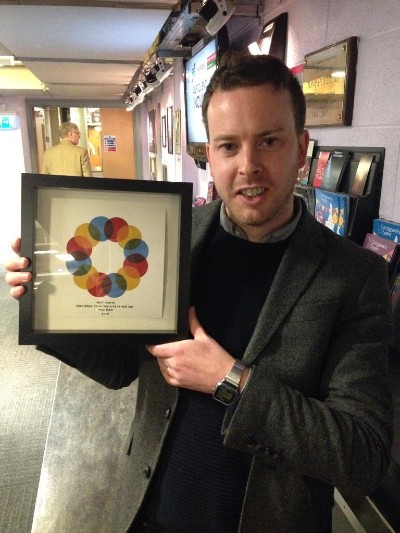 At the same time Bird was contributing to a number of anthologies including poetry collection Over the Line, Dirty Rotten Comics, Dead Singers Society and latterly our own Broken Frontier Small Press Yearbook. He was also continuing to self-publish with ventures like 2017 minicomic The Rocket, depicting snooker player Ronnie O'Sullivan's career-defining 147 break in 1997. The final Grey Area (in terms of branding at least, though Bird's investigations of our relationship with place, space, time and memory would continue) was 2016's 'Our Town' (below) which examined the connection between one couple and their environment.
From my 2016 review: There's a delicacy, almost a fragility, to the pages of Our Town but also a corresponding potency and evocative intensity. It's a beautifully paced and a gorgeously touching tale in its own right but its true power is in the poignant connection it makes with its readership, reminding us of the places that shaped us, the emotional investment we make in them and those who share those feelings with us. Bird's lyrical. mellifluous narration carefully underscores that link.
Bird spoke to us extensively about the comic and its inspirations in a 2017 artist's commentary here.
Two years ago Avery Hill published what is arguably Bird's finest achievement in the medium (to date) in the form of The Great North Wood (above and below), a centuries-jumping account of the ancient woodland that once covered the south east of London and of which only remnants still exist. I was quoted on the back of this book saying "The echoes of the past permeate the present in Tim Bird's latest powerful exploration of how time and place intersect. With its lyrical cadence and haunting imagery this is, without a doubt, Bird's finest work to date."
Our Tom Murphy also reviewed it at Broken Frontier here saying: Bird's art style seems to me to be a little more relaxed and gestural than it was in his early work, and his use of a limited colour palette and cool, rhythmic layouts guide the eye through his pages with a lovely flow. The strong visual aspect of his work also eases the temptation to ape the sesquipedalian prose style of Sinclair, Self et al that often comes with this territory. 
Bird  spoke in detail with us about the book in 2018 telling us that it was "less a personal reflection on the area than an attempt to capture the spirit of the place." And in that regard he achieves his aims perfectly with a narrative that is both immersive and intuitive, asking us to experience its pages more than it asks us to read them.
Over the last year we've continued to feature Tim Bird self-published fare at BF including last year's Asleep in the Back (above) which contrasted his childhood memories of long car journeys with similar contemporary experiences with his own young family. Reviewed here on the site, I spoke of how: Perspective and panel positioning initially recreate that time when our parents were giants to us in every sense and the world was a huge and daunting place, while the journey home itself becomes a series of geographical increments for the young Tim with a feeling not so much of the family car moving through the world but of the world moving around it.
Just this last week we also covered Midwinter (1982-1998) which depicts the winter solstice on December 21st through the time period of 1982-1998. Each page is a single illustration showing the exterior of a suburban-style house or local feature alongside the top 20 music chart for that week. More graphic narrative than comic, nevertheless Midwinter is set firmly in the Bird oeuvre in terms of its thematic meditations: Though there may be no ostensible protagonists the cast of characters here is limited only by print run, readership and our imaginations. The quiet power of Midwinter is that in interacting with its pages we become its cast of players, nostalgically immersing ourselves in the memories its playlists evoke.
As I've said before at Broken Frontier, Tim Bird's work reminds us of how our own personal stories both impact on our environments and yet simultaneously are swallowed up by them, with his haunting and poetic comics inviting us to lose ourselves in their mellifluous, lyrical, and often stream-of-consciousness reflections. With Avery Hill Publishing bringing the out of print early Grey Area issues back to digital life this week there's never been a better time to investigate this vitally important British creator's work.
You can find out more about Tim's work on his website here and visit his online store here. You can also follow Tim on Twitter here and on Instagram here.
You can also buy Tim's work from Avery Hill online here, now including out of print early Grey Area material and the Reads series available for the first time digitally via Gumroad here. 
Feature by Andy Oliver