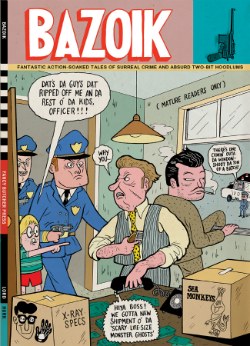 Bazoik. You need to say it a few times while adopting the distinctive twang of Clyde from the Ant Hill Mob to get yourself in just the right frame of mind for Lord Hurk's latest collection of gangster-related slapstick and tongue-in-cheek crime comics send-ups. Nine short stories make up this anthology from Fancy Butcher Press ranging from punchline-led one-pagers to longer form spoofs that purport to explore "fantastic action-soaked tales of surreal crime and absurd two-bit hoodlums" as the magnificently sensationalist tagline puts it.
From the outset in 'Bronx Cheer', Bazoik's opening strip, Hurk leaves the reader in no doubt as to the level of frenetically paced insanity we're about to be subjected to. This tale sees genre clichés fused with Hurk's deliciously ludicrous sense of humour as gangster Mikey is forced to go on the run under an assumed identity after causing the big boss Don Luigi Berlusco to lose face with the ill-judged placement of a whoopee cushion. Similarly taking its cue from the melodrama of yesteryear 'He Was a Dope-Crazy Killer Cartoonist' mimics the exploitation style titles of the '50s/'60s B-movie era with a contemporary twist in a skit that sees a slice-of-life webcomics creator becoming ever more desperate to feed his all-consuming addiction. It's a story that borders on the metafictional and also gives a cutting commentary on the online world, proving that some things can never truly move beyond parody.
If you're imagining. though, that Bazoik is just a piece of fun but probably largely disposable satire you'd be very wrong. When I reviewed the most recent issue of The Comix Reader last November I singled out Hurk's one-page strip therein saying it "toys with the traditional panel structure of the page, teasing its form to delightful effect" and it's that very same deft mastery of the form that is on fine display in 'Crime No Pay' – a cleverly constructed story of a disastrous heist wherein words are replaced within speech balloons by pictograms to move the narrative forward. Hurk's playful use of panel structure here to accentuate a sense of the frantic and the violently farcical is inspired. Indeed, throughout Bazoik his splendidly grotesque caricaturing underscores the self-indulgently tongue-in-cheek wonder of the exercise in all its OTT glory.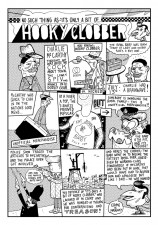 From ridiculing the portentous delivery of a certain era of super-hero comics in vigilante lampoon 'The Crime Strangler' ("Crime smells – smells bad… …and I can smell it everywhere!") to the Daily Mail-style "Broken Britain" extremes that gentleman crime fighter Mr. Wilmington-Chives goes to in order to apprehend a gum-spitter, Hurk aims his caustic wit at targets that may be obvious but are always eminently deserving. Sometimes it's dispensed with a razor-sharp incisiveness, and sometimes with fond mockery – as in the case of the twist-in-the-tale entry 'O'Killagin' with its 'Screwy Crime' references and EC Comics subtext.
A gleefully, wilfully, wonderfully silly romp through every hackneyed crime comic motif you can think of, Bazoik's crafty mix of visual gags, satire, wordplay and clever manipulation of the comics form is the perfect entry point for those looking to investigate the idiosyncratic comic stylings of Lord Hurk further.
Bazoik is published by Fancy Butcher Press priced £5.00 and available to buy online via Impossible Books here. For more on Lord Hurk check out his website here.
For regular updates on all things small press follow Andy Oliver on Twitter here.