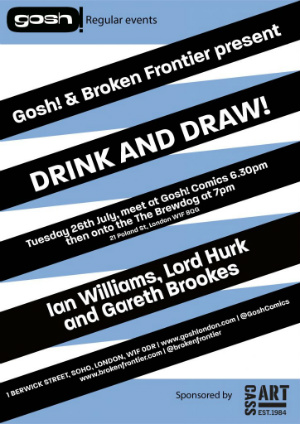 It's nearly Gosh! Comics/Broken Frontier Drink and Draw time again as our popular collaborative event returns next week on July 26th. We're back at our new home – the BrewDog pub on Soho's Poland Street – for our latest 2016 meet-up with another triumvirate of tippling talent as our contributing creative line-up.
Next Tuesday it's the turn of Ian Williams (The Bad Doctor), Gareth Brookes (The Black Project) and Lord Hurk (Ready for Pop) to be our guest artists as we embark on an evening of themed drawing, communal comic strips and friendly chat.
As ever, your co-hosts for the night are myself (Broken Frontier Editor-in-Chief Andy Oliver) and Gosh's very own Nora Goldberg.
The evening begins at 6.30pm at Gosh on Berwick Street before we head down to the pub at 7pm. You can join the official Facebook group here.  In the meantime we take a look today at BF at the work of our three creators below…
Ian Williams
Ian Williams began his journey into comics in the small press arena under the nom de plume Thom Ferrier; his brutally honest shorter autobio strips capturing the harsh realities of working as a GP. Those active on the self-publishing scene at the time will remember that examples of that earlier work were compiled in the 2010 collection Disrepute (example below).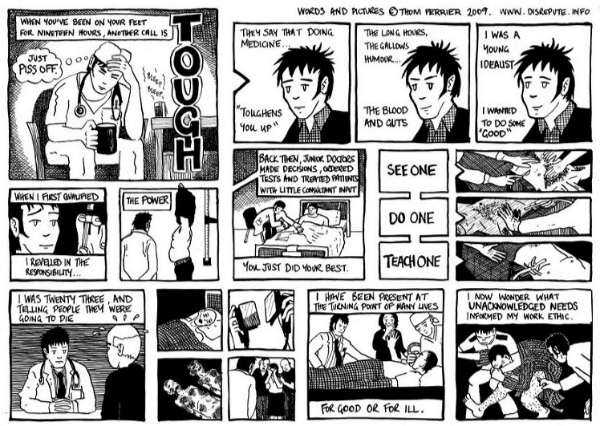 Williams was the originator of the term "graphic medicine", a phrase in our comics lexicon that has become common currency in recent years. He is also the founder of the influential Graphic Medicine website and part of the organising committee of the Graphic Medicine conferences, the most recent of which took place in Dundee earlier this month.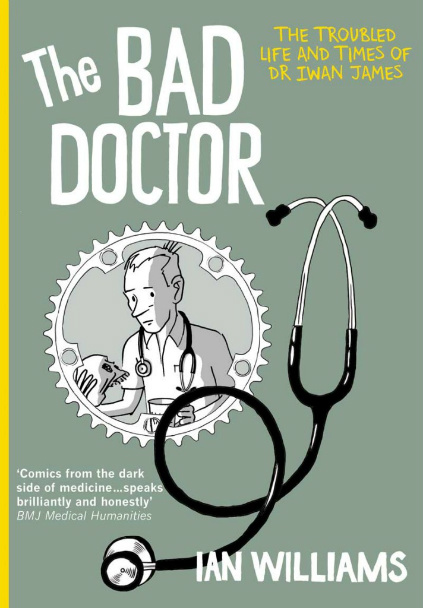 In 2012 he was shortlisted for the prestigious Myriad First Graphic Novel competition with his first full-length graphic novel The Bad Doctor being published in 2014 under his real name of Ian Williams. The story of country doctor Iwan James struggling with a mid-life crisis, often challenging patients, and a lifetime battle with Obsessive Compulsive Disorder, the book garnered instant critical acclaim on its release. Check out Williams's brilliant use of the language of the medium below to communicate the experience of living with OCD with his readership.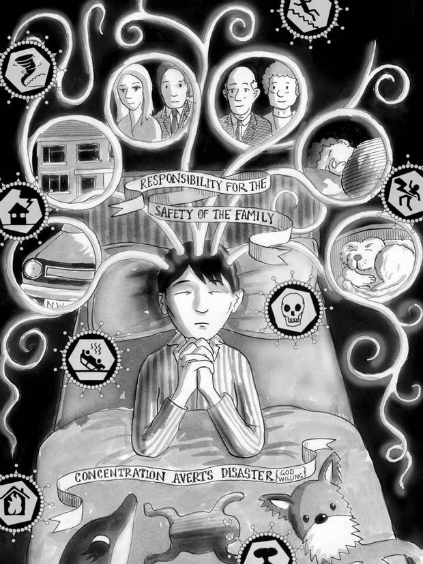 When I reviewed it here at BF I said of The Bad Doctor: "Graphic medicine with true heart, this is a testament to the value of the Myriad First Graphic Novel Competition in nurturing exciting new creative voices, and a most impressively crafted long form debut from Ian Williams." Earlier this year Myriad announced the sequel The Lady Doctor. He currently creates Sick Notes – a regular strip on the state of the NHS – for The Guardian.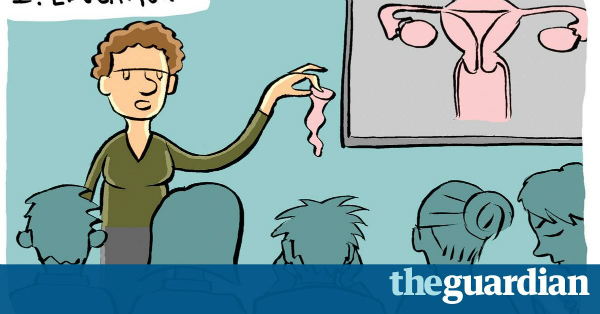 For more on the work of Ian Williams visit his website here and follow him on Twitter here. 
Gareth Brookes
Gareth Brookes has a long pedigree in the UK small press scene having been a member of the Alternative Press and a contributor to such pivotal publications as The Comix Reader and various Banal Pig offerings with Steve Tillotson. In 2012 his previously self-published The Black Project (below) won the Myriad First Graphic Novel Competition going on to be published by them in 2013.
Fashioned in embroidery and linocut, the book details the misadventures of Richard, a youngster who started constructing his first girlfriends from household and found objects. It won the 2013 Broken Frontier Award for Best Original Graphic Novel. I said of it here at BF: "More than simply a bleakly amusing comedy about a gauche pre-pubescent Geppetto, The Black Project is a visual essay on that most secret world of sexuality we enter into when we first discover the unfamiliar urgings of oncoming adulthood."
Brookes' dark wit knows no boundaries or genre limitations and his self-published offerings include the disquieting observational humour of Can I Borrow Your Toilet? (above left), the "psychedelic, semi-pornographic" sci-fi of The Land of My Heart Chokes on Its Abundance (above right), and the spoof illustrated poetry of The Smell of the Wild.
He is also a regular contributor to UK small press anthologies including Tiny Pencil, A Bit of Undigested Potato (for which he also provided the cover, above left) and the Broken Frontier Small Press Yearbook (above right). In 2014 Avery Hill Publishing brought his and Steve Tillotson's satirical Manly Boys Annual back into print alongside a new sister publication Comely Girls Annual.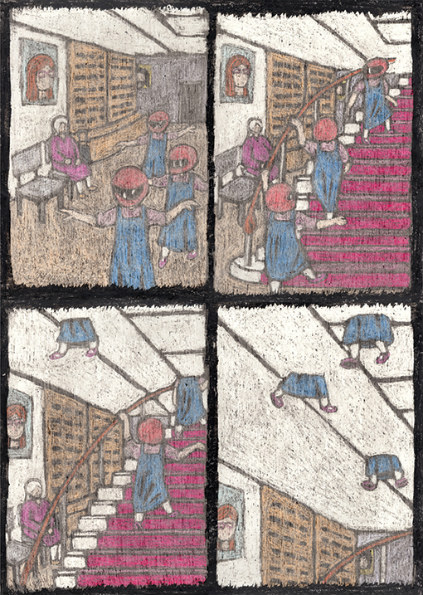 Brookes is currently working on A Thousand Coloured Castles, his second full-length graphic novel for Myriad (above).
For more on the work of Gareth Brookes visit his website here and follow him on Twitter here.
Lord Hurk
Co-founder of the small press collective The Fancy Butcher, Lord Hurk's work has been covered here at BF on a number of occasions over the years whether that be his  contributions to anthologies like The Comix Reader (sample below from #6) or his own self-published work in books like Bazoik.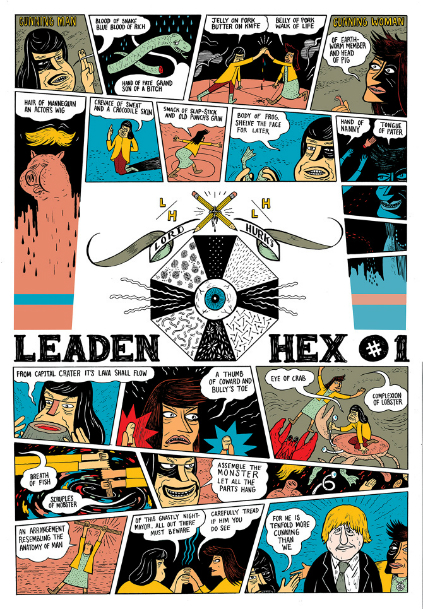 Hurk's work is notable for his outlandish humour and for his carefully crafted manipulation of the full narrative potential of the comics page. When I reviewed his weird crime collection Bazoik (sample pages below) here at BF I said that it was "A gleefully, wilfully, wonderfully silly romp through every hackneyed crime comic motif you can think of, Bazoik's crafty mix of visual gags, satire, wordplay and clever manipulation of the comics form is the perfect entry point for those looking to investigate the idiosyncratic comic stylings of Lord Hurk further."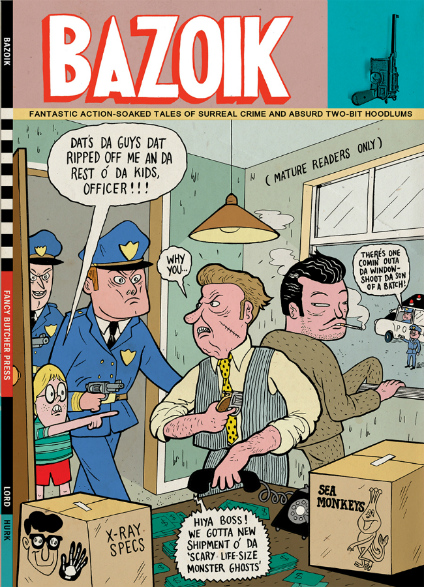 This Friday July 22nd, Hurk's first full-length graphic novel Ready for Pop is launched at Gosh. We chose it as one of this week's Staff Picks of new releases on Tuesday. Set in the '60s, Ready for Pop follows the misadventures of Detective Chief Inspector Ladyshoe and his Scotland Yard team as they investigate who used a shrink ray on pop sensation Vic Vox and seek to reverse his predicament before his headlining turn on Britain's top music show.
For more on Lord Hurk check out his website here and follow him on Twitter here. 
Join us next Tuesday night for another fun evening of drinking, drawing and comics camaraderie. We kick off at 6.30pm in Gosh with a chance to get hold of signed comics and books from our featured creators before moving over to The BrewDog for 7. Look forward to seeing you then!
You can find the Facebook event group here.