It's hardly the most astute of observations to make that the major part of artist Tim Bird's comics output has focused on the inter-relationship of place and memories, whether that be from historical perspective (The Great North Wood) or a far more personal viewpoint (Grey Area: Our Town). But, while Bird may often explore related territory, his approach to those forays shows a constant desire to toy with narrative technique in order to best evoke the sensations of nostalgia or shared experience he looks to elicit from his readers. Recent examples of this have included his pop chart-inspired trip through the years in Midwinter (1982-1998) or his graphic ode to childhood motorway journeys in Asleep in the Back.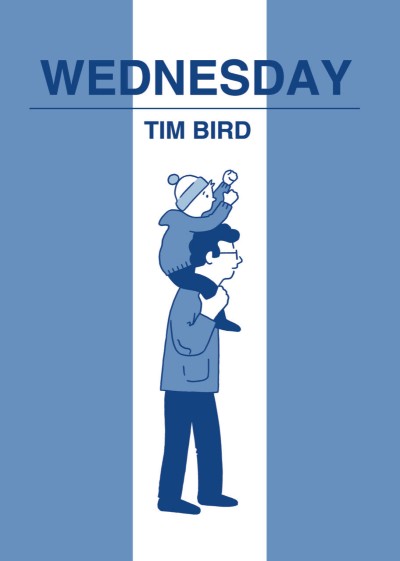 Bird's latest comics short Wednesday is a mix of comics, illustrated prose and photographs of associated artefacts that echoes a creator's commentary piece he wrote for us at Broken Frontier a few years back. Wednesday is Bird's love letter to his childhood football team Sheffield Wednesday and his enduring support for them over the years. It's a one-shot that hones in on the most positive sides of the game – the sense of community, the shared passion and, in this case, the familial bonds it often involves.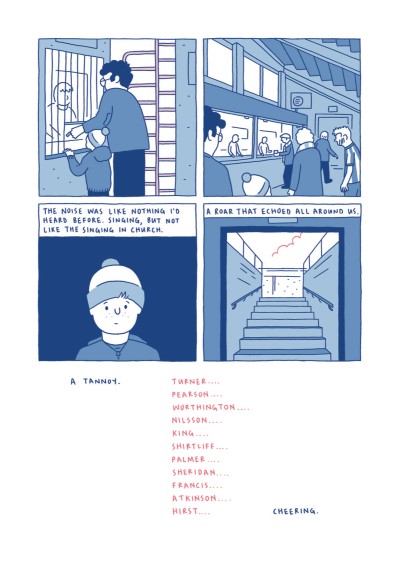 Initially, season by season, Bird traces his Wednesday affiliation from his schooldays to his first trips to the Hillsborough ground with his father to see them play, through to the high and lows of an FA Cup win and lost major finals. There's a child's eye view of the world that is beautifully captured in those early sequences and a reminder of the thrill of spending quality time with a parent and being invited into an aspect of their adult world for the first time. Football becomes as much a focal point for shared experience with not just family but friends, as the young Tim becomes more invested in this new world.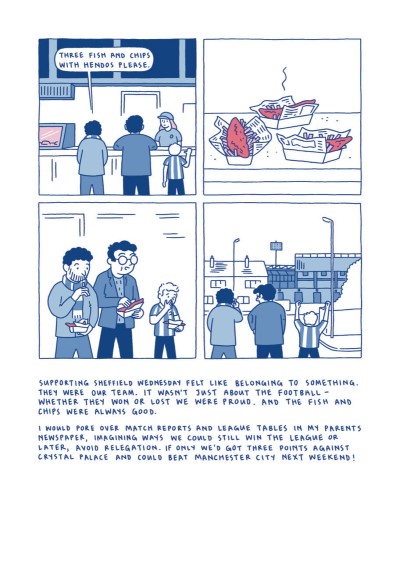 Interspersed throughout the pages of Wednesday are the real ephemera of the football supporter's life – match tickets, Panini football stickers and more personal photographs of Bird's childhood sporting love. They're an effective "real world" contrast to Bird's memories which, as he notes on occasion, can be prone to conflation or misremembrance. Bird is also unafraid to break into longer prose sections which gives Wednesday a more anecdotal feel, fitting in connection with its subject matter.
At its heart though, and like so much of Bird's practice, Wednesday is about memory and the way in which we are shaped by our pasts and our environments. A beautiful coda to the comic touches on the quiet intimacies of the father-son relationship and the ways in which years later those shared joys of our younger years continue to connect us to those we love in unexpected but comforting ways.
You don't need to be an ardent football fan to appreciate that message.
Tim Bird (W/A) • Self-published, £4.00
You can find out more about Tim's work on his website here and visit his online store here. You can also follow Tim on Twitter here and on Instagram here.
For regular updates on all things small press follow Andy Oliver on Twitter here and on Instagram here.
Review by Andy Oliver