ELCAF FORTNIGHT!
With a poetic, haunting line in the psychogeographical, Tim Bird has established himself as one of the most original voices in UK indie comics over the last several years. His work first came to prominence as part of Avery Hill Publishing's Tiny Dancing and Reads anthologies before being spun off into his own series of Grey Area one-shots from AHP. In 2015 Grey Area: From the City to the Sea won the British Comic Award for Best Comic.
With a new book from Avery Hill, The Great North Wood debuting at ELCAF it seemed a most appropriate time to catch up with Tim about his comics work. Broken Frontier's Tom Murphy has already reviewed The Great North Wood here at BF and if you need a second opinion then I'm quoted on the back of this most recent Bird offering saying "the echoes of the past permeate the present in Tim Bird's latest powerful exploration of how time and place intersect. With its lyrical cadence and haunting imagery this is, without a doubt, Bird's finest work to date."
We talk to Tim today about those early Avery Hill days, his research process and what that British Comic Award win meant to him…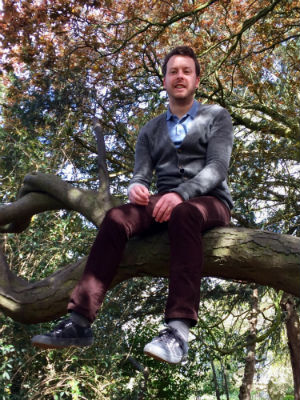 ANDY OLIVER: To begin can you introduce yourself to the BF readership. Tell us about your artistic background and wider practice?
TIM BIRD: Hello – I'm Tim! I'm a stay-at-home dad and draw comics in my spare time. I've always seen my comics work as a hobby since I have no formal artistic training. I've loved reading comics since I was a kid, but only came to drawing them fairly late – it never occurred to me that I could do it until I discovered the world of self-publishing after visiting the Thought Bubble festival in 2010. After that I started drawing diary comics and posting them online – I called them It's A Bird's Life.
AO: You've been a part of the Avery Hill Publishing family since the very early days of their first volume of Reads and zine Tiny Dancing. How did you first become involved with AHP?
BIRD: After a while of posting comics online I started looking for anthologies that might publish my work. I was keen to see my comics in print, but didn't feel I had enough material to self-publish a comic of my own. I'd seen the Tiny Dancing zine in Orbital Comics and thought that might be a good fit. The zine was a mix of comics, prose, poetry and illustration. Luckily Avery Hill Publishing were willing to include my comic (the first one was called 'The Unknowable City') in their next issue. I continued to write short comics for Tiny Dancing, then Reads (which was their anthology that focussed on comics), then decided that I wanted to write a stand-alone comic. At the same time, Avery Hill Publishing were looking to start publishing longer comics. It made sense for us both to continue working together.
Sample pages from Grey Area: From the City to the Sea
AO: You have an extensive back catalogue of small press comics material but it's your Grey Area series that many readers will be most familiar with. What inspired that interest in the psychogeographical and those explorations of the intersections of place, memory and time that are such an integral part of your work?
BIRD: A combination of very little money and quite a lot of free time when I first moved to London meant I explored my new neighbourhood on foot. I was living in Golders Green and enjoyed exploring the north London suburbs – Hampstead Heath, Finchley – the industrial estates in Barnet – following the canal out from the Lea Valley into Essex.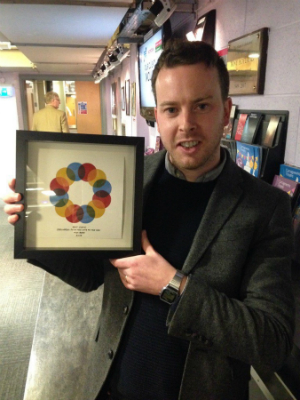 I'd moved from a rural town in Yorkshire where there was one train an hour to the nearest city and I was fascinated by how big London was and how much variety there was between the different districts. I wanted to know how places came to have the qualities they have. I bought Peter Ackroyd's Biography of London. This led me to the local history section of the bookshop, and I read books by Iain Sinclair, Nick Papadimitriou, John Rogers – books where London was a character more than a place. These books, along with the films of Patrick Keiller, have developed an interest in how people interact with place and have been a huge influence on my writing.
AO: Can you give us a rundown of some of the locales you've explored in Grey Area over the years?
BIRD: The first Grey Area explored London at night. The second, the British motorway system. It wasn't until the third Area that it became a lot more specific – tracing a journey David White (Avery Hill co-publisher) and I made from London to Shoeburyness, on the edge of the Thames Estuary.
AO: You won the British Comic Award for Best Comic in 2015 for Grey Area: From the City to the Sea. How much of a boost was that much deserved accolade?
BIRD: It was a massive honour (and surprise!) to win the award. Not that I was thinking of stopping drawing comics, but it gave me a lot of confidence to carry on – that I was on the right track and people were responding to my work.
AO: The last Grey Area, Our Town (below), took a much more personal approach with a strong autobiographical slant. What motivated that change in direction?
BIRD: It took me a while to figure out how to progress after winning the British Comic Award, but it gave me a lot of freedom to try something a bit different with the next issue of Grey Area. I wanted to try and explore how people's memory of places change over time. The comic ended up being quite abstract, but it does contain references to very specific, personal memories from various times of my life.
AO: Your latest ELCAF-debuting book is The Great North Wood from Avery Hill. There's going to be a lot of comics premiering at ELCAF so how would you describe/pitch this project to a potential audience?
BIRD: It's a comic about what is left of the ghost of a forest that used to cover what is now suburban south-east London.
AO: I've spoken of the lyrical cadence of The Great North Wood and that's something that was also very evident in Grey Area where your use of language was often beautifully constructed to complement the rhythm of your page layouts. Do you ever consider your work as falling into the realm of visual poetry (especially given your contribution to the Over the Line poetry comics anthology)?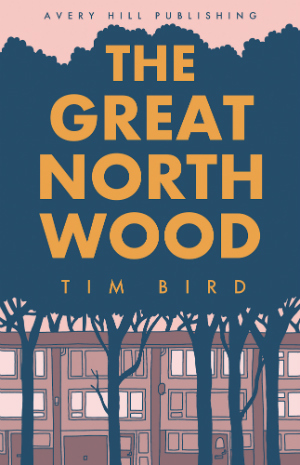 BIRD: Thanks! I put a lot of thought into the words and language I use. I do try and create a rhythm to the pages and a poetic feel to the comics. On the other hand, there are parts of the new book that don't really fit into the idea of poetry comics – there are passages of more straight-forward dialogue for example.
AO: How did you go about researching your psychogeographical comics work including The Great North Wood?
BIRD: I do a lot of reading. The research is my favourite part of creating a new comic. For The Great North Wood, I read books about London folklore, local history, and books about the importance of forests in traditional folktales. For a lot of people creating psychogeographical work, the walking is fundamental, but for me its less important – certainly for The Great North Wood. It's less a personal reflection on the area than an attempt to capture the spirit of the place. Having said that, I moved to south London some time ago and live close to Sydenham Hill Woods. Walking through those woods sewed the seeds of the idea to create the comic.
AO: You've contributed work to a large number of anthologies over the years including Reads, A Bit of Undigested Potato, Off Life, Dirty Rotten Comics and our own Broken Frontier Small Press Yearbook. What are the advantages of being involved in anthology projects not just in raising your own profile but also in terms of being a part of UK small press community?
BIRD: I'm a big fan of comics anthologies. The feedback I received from my first anthology submission for Tiny Dancing (including the review in Broken Frontier!) gave me a real boost to continue and improve my comics. I think it gives creators a great opportunity to reach new audiences and try new things. It also gives readers a great entry into the small press scene and a way to find things they like or explore something a bit different. It's great that there is a community of small press creators, but it's important to keep seeking out new work and new voices.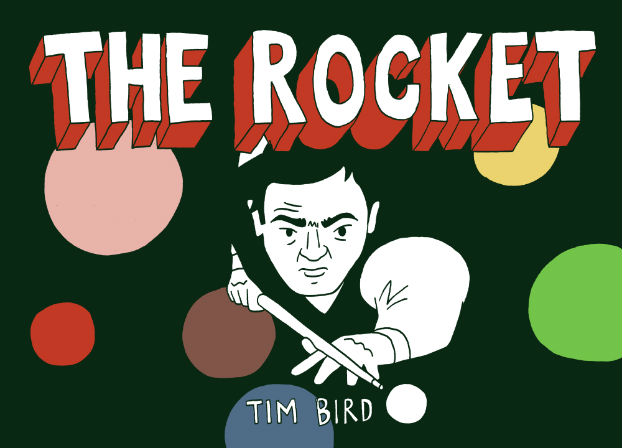 AO: One of the elements of your self-publishing that I love is the passion projects you put out like snooker comic The Rocket, your autobio comics or the different incarnations of the Rock & Pop strips. How vital a platform has self-publishing been to you in terms of the freedom it provides to explore the more esoteric or niche material?
BIRD: I started doing these smaller, self-published comics as a way to have more stuff, and more variety on my stalls when I started applying to comics and zine fairs. Its nice to have a few things that I can sell quite cheaply. I do enjoy the freedom of working on these projects – no deadlines, not having to worry about messy artwork, less pressure to create something that will sell.
AO: A couple of years back you were involved with two very different strips in the last Avery Hill run of Reads – a fictional history of Silver Age comics in 'The Bullpen' with writer Luke Halsall and also Ricky Miller's Hitchcock bio strip (above left and right). How different an experience was it working to someone else's scripts?
BIRD: It was an interesting experience. I don't think I'd do it again! When I write comics I make lots of changes as I go along, so sticking rigidly to a script felt very different. I was aware that I was working on someone else's idea, so I ended up spending a lot of time on each page (more than when I'm working on my own comics). At the time I felt like I wanted to make a career out of being an illustrator which would have meant working to other people's ideas a lot more, but have since decided that I'm happier working on my own projects – working more slowly and trying to enjoy the process more.
Interiors from The Great North Wood
AO: Can you tell us a little about your artistic process and the mediums you work in?
BIRD: It seems to change for each project! For longer projects I bury myself away with reading a lot and making lots of notes until I know what I want to cover. Then I'll write a script, going through a few drafts. I don't do very detailed thumbnails – I tend to just start drawing the final artwork and plan out a few pages at a time as I often end up changing bits of the script as I go. Its probably not how I should do it! For the first three issues of Grey Area I drew everything digitally in Manga Studio, but recently I've changed to more manual methods. I found working digitally made everything a bit too tight. I'm learning to embrace my mistakes. The materials I use change from project to project – The Great North Wood was drawn in pencil and coloured digitally.
AO: And, finally, while you'll no doubt be enjoying a break after the publication of The Great North Wood do you have any thoughts about your next comics project?
BIRD: I think my next project will be a return to self-publishing. I'm a big fan of Simon Moreton's work, and have been really inspired by his attitude to zine-making. I have a few ideas for short comics, but haven't thought about doing another longer book yet.
Tim Bird and Avery Hill Publishing are both exhibiting at ELCAF. You can find out more about Tim's work on his website here and visit his online store here. You can also follow Tim on Twitter here and Avery Hill here. 
For regular updates on all things small press follow Andy Oliver on Twitter here.
Catch up on all our ELCAF Fortnight articles to date here. ELCAF runs from June 22nd-24th. Full details on the ELCAF site here and you can also follow the festival on Twitter here.