It's the tenth Thought Bubble comic art festival at the weekend and this week at Broken Frontier we're taking a tour of just some of the debut book highlights. Up until the weekend we'll be looking at 25 or so of the very best small press comics launching in Leeds with preview images and pages (many exclusive to BF) and the locations of the creators/publishers for you to hunt them down at TB. Don't forget to tell them that Broken Frontier sent you when you do!
Catch up with all of our preview articles as they go up daily here…
Muggy Ebes Volume 3 – Lucie Ebrey
Lucie Ebrey's diary comics have become something of a phenomenon online over the last few years with their warmth, idiosyncratic humour and often raw honesty. When I reviewed the second volume here at Broken Frontier I said "Animated, lively cartooning and vibrant visual characterisation bring the world of Lucie Ebrey to the comics page with a flair and a flourish of which few diary comics can boast. Engaging, amiable and ever so slightly eccentric these are comics that, once followed, will enrich and reward on a daily basis." This third collection of selected strips is one of the festival's most highly recommended new titles.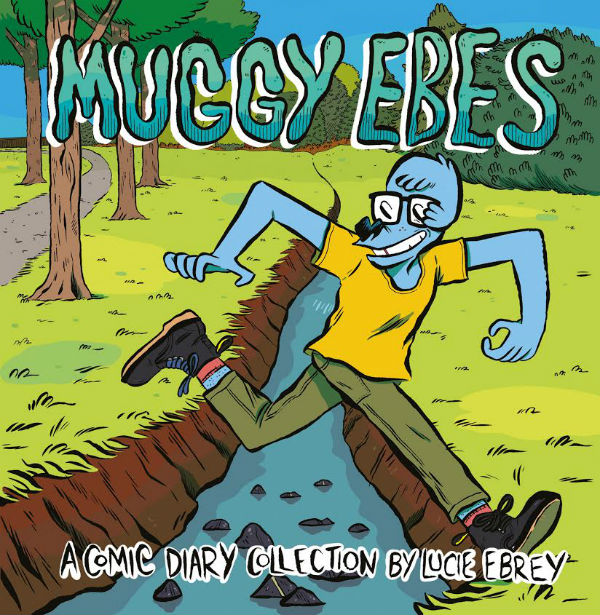 For more on Lucie Ebrey visit her site here and follow her on Twitter here. You can find Lucie Ebrey at Table 170 in the New Dock Hall. Her online store is here. 
Performance – One Beat Zines
Last year's One Beat Zines' Thought Bubble-debuting anthology Identity was such a hit with us here at Broken Frontier that it made not just my annual 'Ten UK Small Press Comics You Need to Own!' list but also gained a 2015 Broken Frontier Award nomination in the Best One-Shot category.
This year's major anthology project from OBZ is titled Performance and examines themes of gender and performativity. With a cover by Broken Frontier 'Six to Watch' artist Brigid Deacon (below left) it includes work from Bethan Mure (below right), Julia Scheele (lower left), Meg-John Barker (lower right), Amneet Johal, Sabba Khan and many more. Of all the books I've had an advance look at prior to TB this is the one that should be at the very top of your buying lists.
For more on One Beat Zines check out their site here and follow them on Twitter here. You can find One Beat Zines at Table 163 in the New Dock Hall. Their online store is here. 
The Rocket – Tim Bird
Tim Bird is best known for his pensive, often haunting psychogeographical Grey Area comics with Grey Area: From the City to the Sea winning the Best Comic category at last year's British Comic Awards. Bird has proven his versatility as an artist, though, with his and Luke Halsall's Silver Age comics send-up The Bullpen and his collaboration with Ricky Miller Hitchcock & Film in Avery Hill's Reads anthology. For Thought Bubble, Bird takes a look at Ronnie O'Sullivan's 1997 career-defining maximum break in what may be one of the world's first ever snooker comics!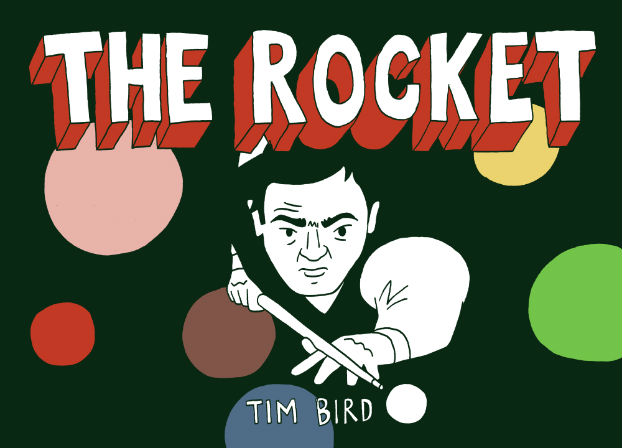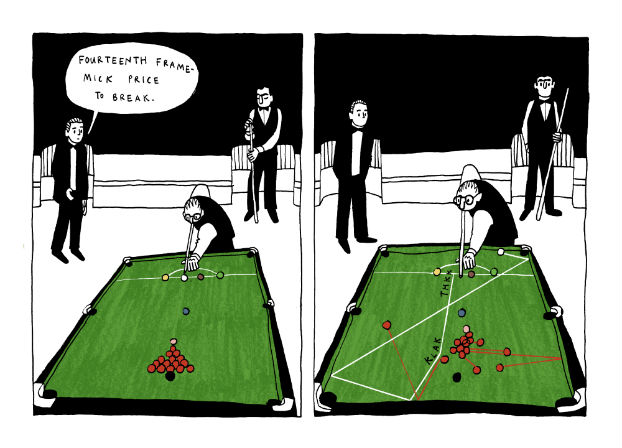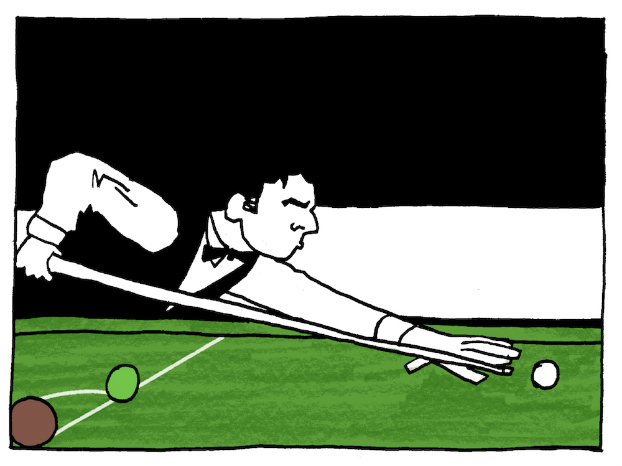 For more on Tim Bird visit his site here and follow him on Twitter here. Tim Bird can be found at Table 70b in the Royal Armouries Hall. His online store is here. 
Myths and Monsters – Big Brown Eyes Collective
2016 Broken Frontier 'Six to Watch' creator Emily Rose Lambert has a proven Thought Bubble track record with an appearance in last year's Thought Bubble Anthology that was reprinted in the Image Comics-published 10th anniversary Thought Bubble collection this year. The Big Brown Eyes Collective consists of Emily and her sisters Karis and Freya who have teamed up again for their second anthology offering Myths and Monsters.
Recreating folklore from around the globe, the book is a perfect showcase for the individual styles of the siblings. Below left has Emily's cover with a page from one of her stories on the Russian legend of Koschei below right. Lower left is a page from Karis on the Chinese myth of the Celestial Stag with one from Freya lower right on the shape-shifting Bakeneko from Japan.
For more on the Big Brown Eyes Collective visit their site here and follow them on Twitter here. You can find them at Table 34a in the Royal Armouries Hall. You can visit their online store here.
Cindy and Biscuit: The Bad Girl – Part 2
One of the great mysteries of the UK indie scene to me is how Dan White's twice British Comic Awards-nominated Cindy and Biscuit – the misadventures of one young girl and her loyal dog as they battle the forces of the supernatural – has never been picked up by a publisher. You can read my thoughts on just why I think this is such an excellent series in more detail here at Broken Frontier.
White has the second part of 'The Bad Girl' story arc launching at Thought Bubble and describes it in the following terms:
Cindy & Biscuit are back with the conclusion to 'The Bad Girl'. After last issues devastating cliffhanger, we catch up with the plucky pair as they continue their epic struggle with the mysterious witch girl that's been haunting the woods, and Cindy's life… It's 56 pages of mayhem, as C&B battle for their life in the strangest environment yet. Wherever it is, it's not the woods any more, that's for sure…it's somewhere darker, weirder and potentially deadly!
With the likes of Kieron Gillen, James Stokoe, Brandon Graham and Si Spurrier counted among its fans, those yet to check out this comic should take the opportunity at TB to catch up with one of comics' most appealing double acts.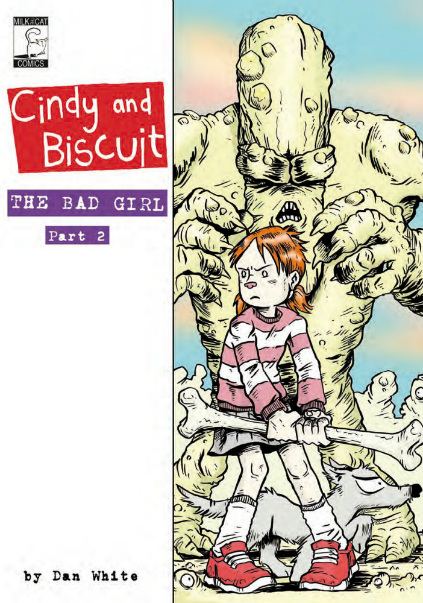 For more on Dan White's work visit his site here and follow him on Twitter here. You can find Dan White/the Mindless Ones at Table 13b-14 in the New Dock Hall. You can visit his online store here.
For more information on Thought Bubble visit the festival site here. 
For regular updates on all things small press follow Andy Oliver on Twitter here.