THOUGHT BUBBLE FORTNIGHT! With just a few days to go, one of the great unexpected treats of this year's Thought Bubble debut books list was my discovery last week that there's a new Dan White Cindy and Biscuit comic on offer in Harrogate. The first outing for the monster-hunting youngster and her faithful canine sidekick in four years, Cindy and Biscuit: Year One also signals another change in approach and format for the strip.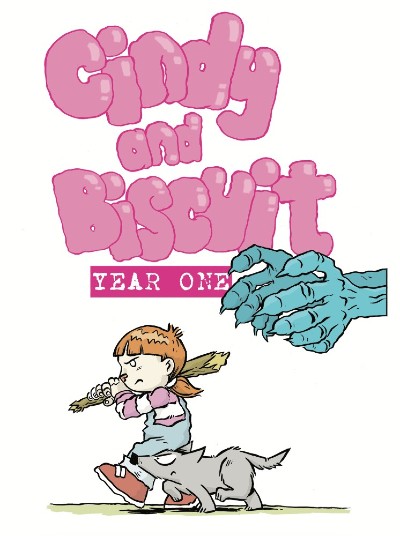 For those not in the know, Cindy and Biscuit follows the adventures of the titular duo in both domestic and school environments, as the plucky pair foil ghosts, aliens and assorted cryptid menaces that may be real or may be simply the product of a child's lively imagination. There's also an often sadder undercurrent to the strip with hints that Cindy's solitary existence comes from another point of emptiness in her life, reflected by the "creatures" she confronts. It's this mix of slapstick exploits and heartfelt poignancy that has made Cindy and Biscuit such a firm fan favourite on the UK small press scene, and leads me to bemoan the fact that no publisher has had the foresight to pick up such a surefire winner every single time I review a new story.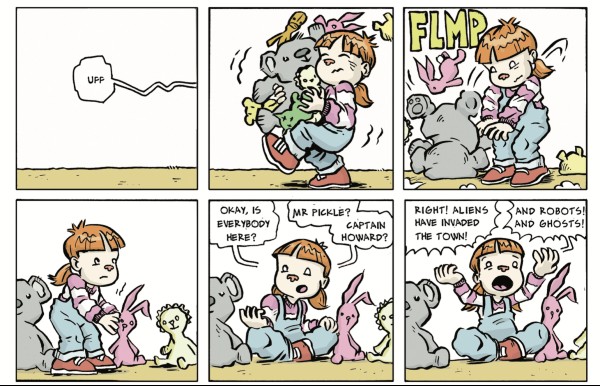 With previous Cindy and Biscuit editions all available digitally, Cindy and Biscuit: Year One is a perfect print edition entry point into their world and is entirely accessible for new readers. This time White has adopted a Sunday Comics broadsheet format to take us back to an earlier point in Cindy's life when she was not much older than a toddler and her relationship with Biscuit was just beginning. As such, these six stories are mostly far more light-hearted in approach, stripped of much of the ever lurking melancholy to be found in her (chronologically) later misadventures and paced more to build up to punchline endings (small excerpts of strips only here!). For those more versed the Cindy and Biscuit universe, though, the foundations for what is to come are very much in evidence in a one-shot that both parodies and celebrates the whole "Year One" comics publishing stunt.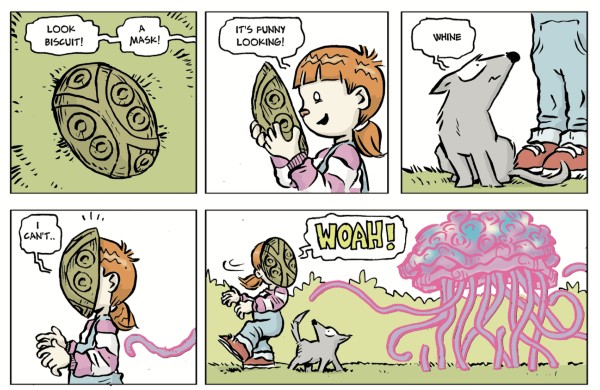 Herein we see Cindy's growing interaction with a fantastic world of menacing toys, paddling pool monsters and otherdimensional entities that only she can perceive, all rounded off with another beautiful coda that hearkens back to the finale of Cindy and Biscuit: Sundays in its touching and affecting simplicity. White's art has the same jaunty energy and vigour that we've come to expect, with his timing across panels working to great comic (and in one piece ominous) effect. If you're not already a C&B fan then here's where you become a lifelong member of the club. Pick this up at Table 27B-28 in the ComiXology Originals Hall at Thought Bubble.
Dan White (W/A) • Self-published
Available on Dan White's online store after Thought Bubble here
Review by Andy Oliver