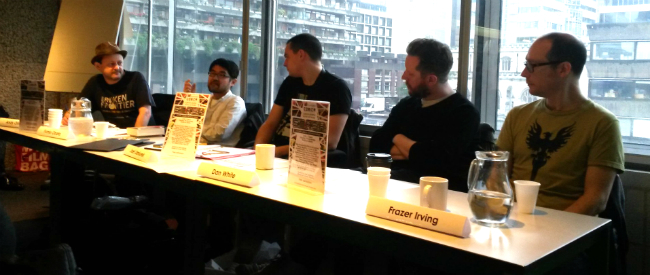 Last Saturday Broken Frontier was honoured to be part of the SMASH event hosted at the Barbican Library by CityRead London, the London Graphic Novel Network and Comica Festival.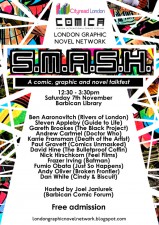 In a packed afternoon, three lively panels – energetically moderated by Joel Janiurek – covered the topics of 'Criticism', 'Story' and 'Adaptation'. Our editor-in-chief Andy Oliver (top left) took part in the first of those, alongside Fumio Obata, Dan White and Frazer Irving.
It generated a sparky debate on the purpose and nature of comics criticism, the general tone of which can be summed up in the 21 points below made by Dan White, who has a foot on each side of the fence as the creator of Cindy and Biscuit (shortlisted for next week's British Comics Awards), a founding member of the Mindless Ones group blog and the co-host of the popular SILENCE! podcast.
Here at Broken Frontier we're not prone to too much navel-gazing about our "critical practice". Our mission, as we see it, is pretty simple: to champion interesting and individual voices in the comics world, and to bring together exciting work and eager readers.
However, there's plenty of food for thought in Dan's playful and provocative list, which he has very kindly allowed us to reproduce.
Got any strong feelings about the way we all talk about the comics we've read? Hit that comments section! As the man said, "Let a hundred flowers bloom! Let a hundred schools of thought contend!"*
*Because that turned out well, didn't it?
21 statements about comics criticism
1. Comics as an art form has the critics it deserves.
2. Comics critics are not as good as critics in other art forms.
3. Comics critics enlighten people about an art form that they might not know about.
4. Comics criticism lacks notable or significant figures in its canon; there are no Pauline Kaels, Harold Blooms or Roland Barthes ['Bartheses', surely?].
5. Comics critics are the best critics of all, because comics is an art form free of decades of critical debate and point-scoring and endless spiralling discussion.
6. Comics criticism is a place for juvenile people to snipe at each other pointlessly whilst keeping out strangers from their precious domain.
7. Comic critics who can't talk about the art in a comic are no good as comics critics.
8. Comics podcasts are a popular avenue for criticism. They are the most ill-informed, badly thought out most lazy form of criticism.
9. Comics podcasts are a popular avenue for criticism. Comics podcasts allow for free-flowing conversation which generates genuinely interesting critical ideas.
10. Most comic criticism is on the internet, and as such often has little or no editorial input, meaning it is littered with mistakes, weak ideas and groundless opinions.
11. A lack of editorial input means that comics critics are free to think in original and interesting ways.
12. The periodical nature of some comics allow for a much quicker turnaround in critical consensus. This means that the debate and discussion about a given series can evolve as the series is being published.
13. Comics criticism is full of people who think that shouting the loudest means you win.
14. Comics critics are open to other opinions, ideas and voices.
15. Describing yourself as a 'comics critic' is simplistic, given the sheer diversity of material that falls under that umbrella term.
16. There is genuine diversity and representation in the make up of those who call themselves comics critics.
17. Comics critics are, by and large, white, male, privileged and don't want to share their critical space with anyone who doesn't fit that bill.
18. A good comic critic should be able to talk about mainstream comics, small-press comics and comics from cultures outside of that with which they are most familiar.
19. Comics critics should focus on one area that they truly care about and refine their knowledge and understanding of that area in order to bring genuine value to the overarching critical debate.
20. The worst thing a critic can do is act as though anyone who doesn't have the vast knowledge that they do is somehow inferior to them.
21. There is no point in being a critic: you might as well just make something yourself.