It's been one of the great unanswered questions in UK indie comics for many years now: How has Dan White's singularly brilliant Cindy and Biscuit all-ages series not been picked up by a publisher? Finally this great publishing injustice has been rectified with US publisher Oni about to unleash the darkly delightful adventures of the titular monster-hunting duo on an all-new audience of readers. We caught up with Dan White to chat about that long road to deserved recognition for his much loved characters, the UK self-publishing scene, and his wider work in the comics community…
ANDY OLIVER: We have been championing Cindy and Biscuit here at Broken Frontier for what must be more than a decade now but this new Oni collection will be first time a far wider readership will have encountered the fearless duo. For that new audience what's the premise of the strip and how would you describe its two stars?
DAN WHITE: Cindy and Biscuit is a comic about a girl, her dog, the monsters they fight, and the quiet moments where the real terrors lie. It's action-packed, scary, weird, funny, sweet, sad, and occasionally devastating. It's a comic that uses clear and expressive cartooning to tell simple stories in deceptively complex ways. It's an all-ages comic that is inclusive for young readers but has rich depths for older readers.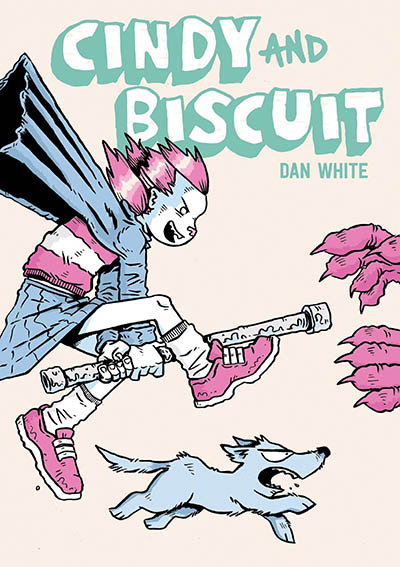 Cindy is an irrepressible, terrifying one-girl army, an adept in the art of kicking the butts of aliens, monsters and assorted weirdies in the woods behind her house. Usually with nothing more than a good stick! She's also the weird kid at school who doesn't quite fit, who the other kids exclude for reasons even they aren't sure of. Her domestic life is full of countless tiny losses and heartbreak, but she might also be our last line of defence against the seemingly endless hordes of nasties lurking just out of sight. She doesn't trust anyone in this, or any other, world…except Biscuit of course.
Biscuit is Cindy's best friend and loyal conspirator in every hare-brained scheme, and high-stakes fight. He's an expressive ball of pure cartoon energy with a bark that matches his bite. He's the emotional heart of the team and the silent voice of reason, and no matter what, he has Cindy's back. He's the best dog a girl could have.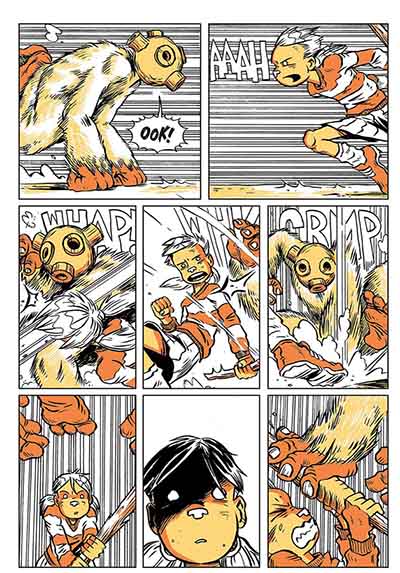 AO: What was the inspiration for Cindy and Biscuit? And how do you feel the characters and concept have developed in your years of self-publishing them?
WHITE: I drew a weekly one-panel comic called Terminus, where I used the format to explore all sorts of weird worlds and twisted versions of reality. Cindy and Biscuit first appeared there, just one of a hundred other cartoons. But the idea of a little girl and her tiny dog seeing off alien invasions on a regular basis armed with little more than a stick and a lot of pluck just tickled me and I found myself drawn back to them. I produced their first strip for an anthology called New British Comics and then I was just off and running. It sounds so cliched, but they came to life in a way I'd never experienced – I just knew exactly how they'd react to every event, and their chemistry together was innate. Right from that first strip, the simple tension of her wild world-saving antics contrasted with a slightly crushing domestic reality was in place, and that gave the strip a thematic spine to hang further stories on.
Once I started, the stories just kept coming and as I did more the themes of the strip started to reveal themselves. Using an almost 'monster of the week' structure, I found a way to do a comic strip about the highs and lows of childhood that just seemed to strike a chord with people of all ages.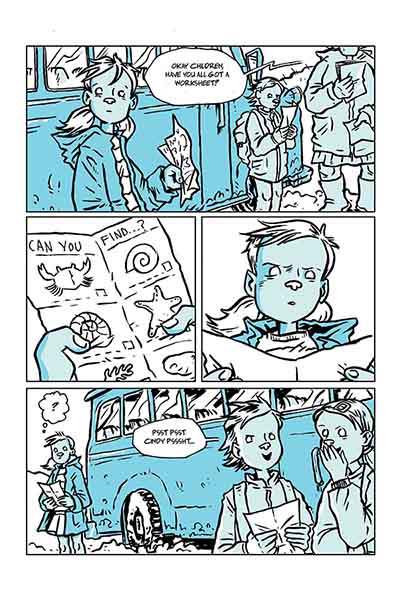 By self-publishing, I was my own editor which meant I could take the strip wherever I wanted once I had established some basic parameters and ground rules for myself. So I started to get more playful and experimental and really use the potential of the comic form to tell these simple, effective stories in interesting ways.
AO: Yes, one of the most appealing features of Cindy and Biscuit is that it is a genuinely all-ages strip in that younger readers can embrace it on its adventurous face value but for older readers there are deeper interpretive layers. Did you ever have a target audience in mind? And what has been some of the most rewarding feedback you've had from all parts of your readership?
WHITE: When I started doing C&B I knew that I wanted to do an all-ages comic as it appealed to my love of pure cartooning. There was a lot of id-spewing, confessional stuff being self-published at the time. I wanted to do something a bit different and thought it would be interesting to do stories that could be read by everyone but would also indulge my specific interests. I also knew that I never wanted to write down to kids, and as such never had a particular 'age group' that I was writing for. I just kept the stories from being too grotesque or violent, or putting anything in that might truly disturb a young audience. I loathe work that patronises children and I think to do successful all-ages work you just need to create from the heart and assume kids are smart and can handle stuff.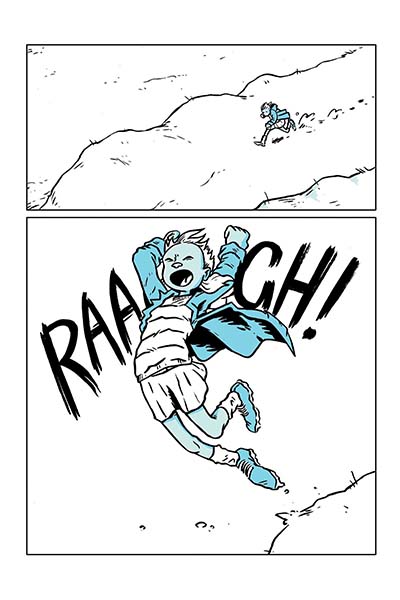 There's a proud lineage of vibrant and exciting work aimed at kids that has a healthy seam of weirdness or scariness running through it, from Dr Seuss to Hayao Miyazaki. I wanted to make a comic that would hook into young minds with an engaging and simple style, whilst providing plenty of freaky and cool visual stuff to look at.
I also wanted to do a comic that spoke to the experience of being young in a truthful way. It's a strange time, full of exuberance, excitement, fear and uncertainty and I wanted Cindy's adventures to reflect that.
I got to indulge my love of the elastic, slapstick styles of Chuck Jones and Tex Avery in making the comic fun for the audienc. Simultaneously I made sure to pack it with as many references to horror films, weird fiction, and music as I could, while never alienating people with post-modern knowingness. I think Cindy and Biscuit might be the only kids' comic that nods to Stuart Gordon's From Beyond for example, but I never let it get in the way of the story!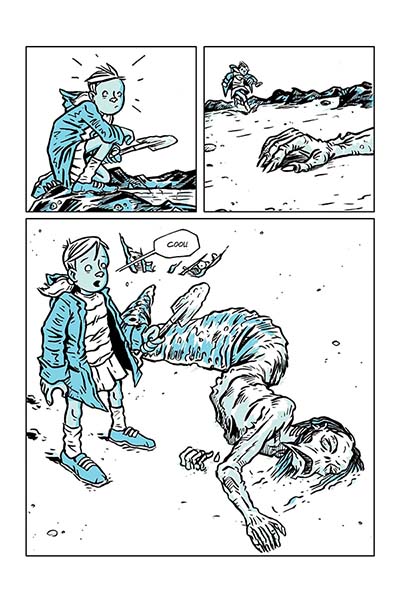 I've had some fantastic feedback from kids who come up to me at conventions, and its so rewarding to know that stuff is landing with them. One kid said to me 'We like Cindy because she's one of us'. Who could ask for more than that?
AO: It's been long overdue but Cindy and Biscuit have finally been picked up by a publisher with a volume of their adventures coming from Oni Press this month. How did Oni become the new home for Cindy and Biscuit?
WHITE: I was approached by them and asked if I wanted to pitch C&B – to say I was flattered is an understatement! I think the fact that there is already a decent chunk of material in existence helped, but I was honoured that they thought Oni would make a good home for my babies.
I'm super lucky in that my editor Zack Soto is someone I was already a fan of as a fellow creator and is a proper force for good in comics. He understood the appeal of the characters and assembled a fantastic team including Jim Campbell (letters) and Sarah Rockwell (design) to bring the book to life.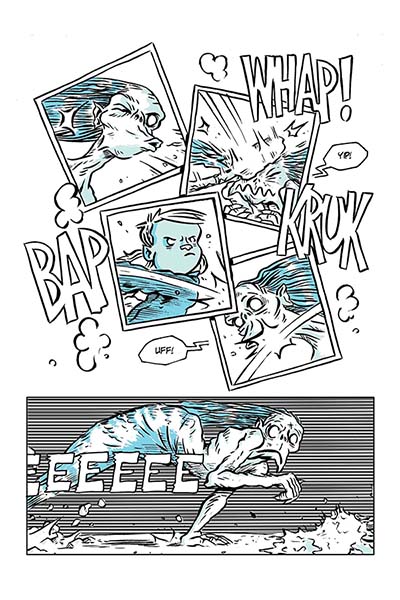 Oni is a fantastic publisher of all-ages material and has a great presence in the market; I couldn't be happier and am in amongst some truly outstanding comics company. The book looks gorgeous, and I can't wait for it to be in people's hands.
Also Andy, you've been one of the longest-standing loudest cheerleaders for C&B and have bemoaned their lack of a publishing deal for years, so I'm so pleased someone heard you!
AO: For the longer-term fans what material is compiled in the new Oni collection?
WHITE: The book is made up of a selection of stories from the first four issues I self-published, as well as the entirety of 'The Bad Girl' (which is the longest single C&B story, originally self-published across two volumes). I worked with Zack to choose which stories should be included, and we wanted to get a mix that introduces new readers to the world, whilst also having a definite narrative progression.
'The Bad Girl' was the culmination of some foreshadowing in the early issues, and so we've kept some of those key stories that lead into it. As much as I adore the short story form, 'The Bad Girl' was a chance to flex some storytelling muscles and features some of my best cartooning and some truly dynamic action sequences. It also packs an emotional punch that is at the core of Cindy's story, so we wanted to be sure to include it. But we also wanted some stories that show the fun and creativity of the strip, as well as the formal playfulness. I've made sure some of my very favourite strips are in there. That said, there are some fantastic stories that remain in the bank for whatever comes next.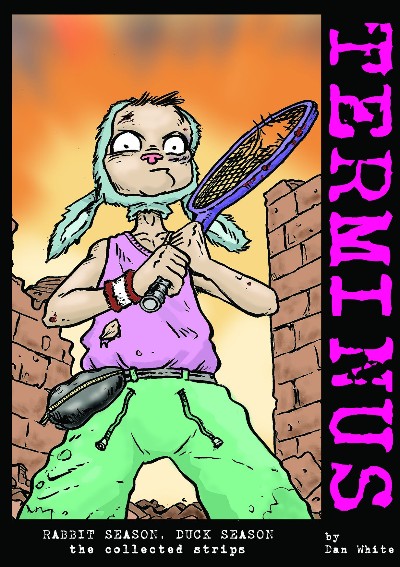 Above and below – Dan White's Terminus collection
AO: Can you give us some insights into the creative choices and changes you made in terms of aspects like colouring and lettering for this new presentation?
WHITE: The main thing is that the strips are being presented in colour for the first time. I do love black and white art, but there's no denying the strip totally pops now. We used a two-tone colour scheme for each story, with an alternating palette. The closest comparison I can think of is how strips were presented in the UK comics annuals of my youth. Once we agreed the colour scheme, I handled the colouring myself and I love how vibrant the strips look now. I think people are going to love it.
The other significant factor is that the strips have been re-lettered wonderfully by Jim Campbell. I was a bit nervous at handing responsibility over, having been a one-man band for so long, but Jim instantly got the vibe of the strip and has crafted some beautiful lettering that completely complements the art. He also designed some gorgeous new title logos for each strip. I honestly couldn't be happier, especially since no-one has to interpret my spider-scrawl now!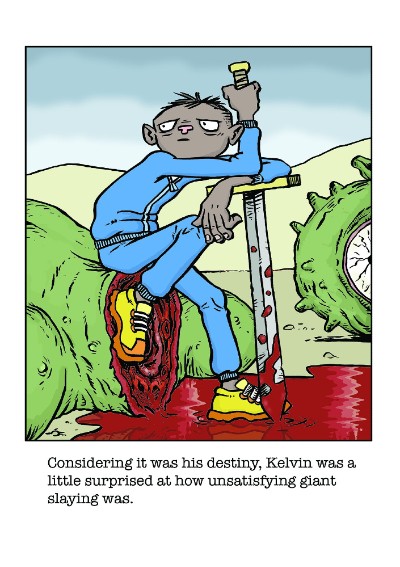 AO: What are your future plans for Cindy and Biscuit? Can we still expect to see new stories on a semi-regular basis at Thought Bubble for example?
WHITE: Definitely. I've got some big new story ideas, including a sort-of sequel to 'the Bad Girl' and some strips exploring the challenges of progressing into 'big school'. The ideas keep coming, and I'm itching to get going with them. But I'm also still doing the annual one-shots that debut at TB each year. I love trying out new formats and storytelling methods with these, from the tabloid 'Sunday Funnies' style of 'Year One' to the continuous fight scene of 'End of Level'. This year is no different and I am looking forward to seeing people's reaction.
AO: As a long-term fixture on the UK indie scene what have been some of the major changes and developments in self-publishing and small press comics in your time?
WHITE: Well, the main thing is, it's got a lot bigger! When I first started out in self-publishing, with my comic Beau & Me in the early 2000s (crumbles into dust in horror) it was a lot more home-made and lo-fi. There was some incredible work back then – I've stated before how inspirational Paul O'Connell's Sound of Drowning and Danny Noble's Hangover Farm were to me getting started. My early comics were cheap photocopies, with single colour card covers, stapled at home. There was a small but fun scene, and it was a thrill to sell 5 copies of a comic at the local comic shop over a few months!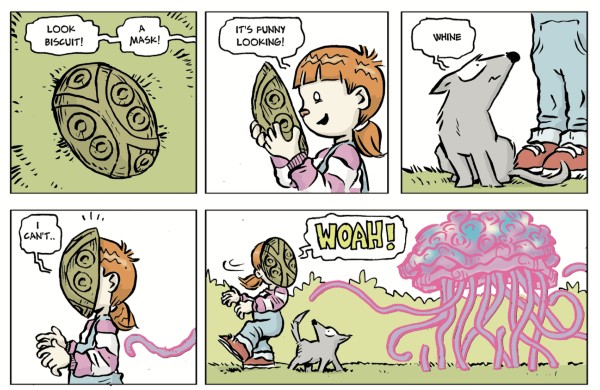 From Dan White's self-published Cindy and Biscuit: Year One
Since then the scene has just grown, and the quality, diversity and production values of the work have skyrocketed. I think in some ways it means there is a lot of noise out there, and it can be harder to get noticed, but at the same time who wants to complain about a vibrant and active scene? It's always been a pretty inclusive and diverse arena, but the sheer range of voices out there now is fantastic.
Another big change has been the disappearance of so many review sites and blogs – Broken Frontier being a notable exception! There used to be a great comics blog scene, with some tremendous critical writing. Exposure from some of these sites via a review of your work could really help the profile. Relying on social media to promote is a slippery game, and it's only getting harder with crazy algorithms and erratic billionaire whimsy.
The main thing though, is that there is brilliant small press work out there, and all the best comic shops have brilliant sections stuffed to the gills with it.
AO: Cindy and Biscuit is just one aspect of your comics work. Can you fill us in on some of your other projects over the years in terms of both comics practice and comics commentary?
WHITE: I self-published a few comics, such as the aforementioned Beau & Me, Tony is a Werewolf and Christmas with Frank, all long out of print. I did a weekly one panel comic called Terminus on Mindless Ones that I collected into a handsome little edition last year. There was a short-lived experimental one-panel strip called Insomnia which I am still super proud of. I have also published two issues of my solo horror anthology Sticky Ribs which I'd love to return to. I've also contributed to various anthologies, taken part in exhibitions, and run cartooning workshops.
As a critic (lol) I have written a lot for the Mindless Ones site that I set up with some good pals years ago. I couldn't in good conscience recommend any of my pieces though – it's largely juvenilia but was a great exercise in just getting on and producing something on a regular basis, engaging in the general comics discourse. And there is some brilliant critical writing on the site, by the other Mindless.
I have also been doing the podcast SILENCE! for more years than I can remember with my best pal Fraser Geesin, an extremely talented comic creator in his own right. That's been a hugely fun thing to do, and in our slapdash, surreal way I think we contributed something unique that gained a cult following from assorted weirdos (I love you all). In addition I have a cult film podcast that I do with Mat Colegate (a proper critic and creator of skronky musical wonderments as Mighty Lord Deathman) called The Savage Beast. That came out of lockdown and was a proper sanity saver!
From the pages of Sticky Ribs #2
AO: What's next for Dan White? Are there any other comics ideas in gestation that you can tease us with?
WHITE: Hmmm, well it's all in early stages but there's a thing that's been gestating in my mind for a while called Zip City Rumbles whose elevator pitch is 'Ken Loach's Pokemon'. I'd like to do another Sticky Ribs to scratch my nastier horror itch. I'm also planning a children's book version of Tony Is a Werewolf, an early comic that I am still hugely fond of.
But in the meantime I'm promoting the heck out of Cindy and Biscuit: We Love Trouble so I hope everyone reading will get themselves a copy!
Interview by Andy Oliver
Dan White will be at Gosh! Comics this Saturday, August 5th for Small Press Day