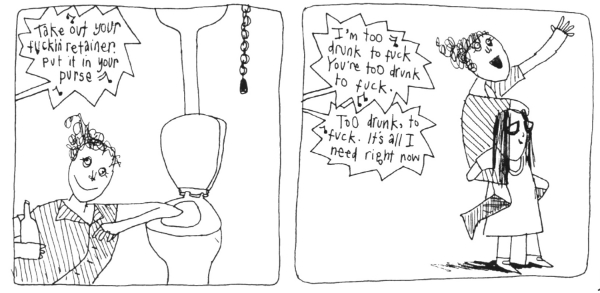 We're back in my 'Six UK Small Press Creators to Watch in 2015' territory today with a new/old offering from that small press force of nature Danny Noble, the creator behind Monday Morning and Was it… Too Much for You?.  The latter of which I described in April here at BF as not just "wondrously, wildly, wickedly witty" but also as "by far the cleverest and most original use of the form that it's been my pleasure to review in 'Small Pressganged' so far in 2015." That's the ultimate in pull quotes right there.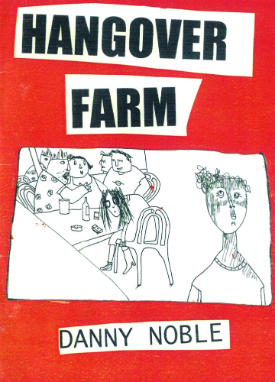 Earlier this year, when I interviewed Danny as part of this column's 'Small Press Spotlight on…' interviews series here, I was fortunate enough to be provided with not just a number of long out of print works in preparation but also given access to previously unpublished Noble material as well. One of those formerly long forgotten books was Hangover Farm, a selection of shorts of varying lengths following the muddle-headed misadventures of a troublesome trio of sozzled slackers. Originally published way back in 2004, the 50-plus page Hangover Farm is now available again as it returns to print this week as the Noble Renaissance continues to gather unrelenting, inexorable pace…
This being a Danny Noble comic, of course, there's always a suspicion of at least a few dollops of autobiography – whether hyperbolically enhanced or not – being mixed in with the fictional scenarios. Indeed, Hangover Farm features an unnamed central character who may (or may not be) another one of Noble's on-page avatars, alongside her sidekick Rosie and their persistently sniffing chum Tom. If you enjoy the usual under-the-influence exploits we've all come to expect as a central plank of Danny's work – gloriously intoxicated visits to the cinema, waking up and wondering who one's bedmate is, and that titular trip to a farmyard while fuelled by illicit substances all feature – then there's plenty of bawdy bacchanalian bad behaviour on offer in these pages.
Here we have a world where trying to "piss in the corner" of the video store that Tom works in is considered a lesser crime than borrowing My Big Fat Greek Wedding, where jaded reflections on the relative success of old school mates are considered with a resigned and lackadaisical weariness, and where social calamity is part of the job spec. It's a far more contemplative piece than some of Noble's later work but while it doesn't have the rhythmic beat of, say, Was it… Too Much for You? it speaks to the reader on possibly a more relatable and empathic level.
Perhaps that's because what marks Hangover Farm out as different to other Noble offerings currently available is that a significant proportion of the material here is not played for out and out laughs. It's often witty in construction, even in the bleaker passages, but there's something profounder in these pages, something that, in amongst all the outrageousness and off-the-wall antics, speaks to us about the self-destructive foibles of human nature.
One of the main ongoing subplots that weaves itself in and out of many of the stories, for example, is the main character's fixation on the unworthy and undeserving Harvey (of the Bad Hair) – an already spoken for gent who she has the briefest of dalliances with, drunkenly steals a push bike to romantically pursue, and stalks via an unsober scaffold climb up his building in the early hours of the morning!  A catalogue of dodgy deeds in the name of love, perhaps, but by the time this doomed obsession reaches its inevitable end you can't help but retain your sympathy for this perplexed protagonist. Here we have a central character who perhaps doesn't always do the right thing but there's a poignancy to Noble's portrayal of the self-torture and despair of falling for someone unattainable that is recognisable, darkly comedic and yet actually quite delicate in composition.
Those who have been introduced to Danny Noble's work this year through the addled exploits of her perpetually naked Alan and Ollie characters should note that as this is work that is over a decade old it does represents a less refined Noble.  That may in itself sound a terrifying prospect but fret not as I'm applying that adjective to storytelling style rather than content. While Hangover Farm doesn't always have the same assured command of the form that Was it… Too Much for You? or even older work like Monday Morning both have, it's nevertheless full of many of her standard tricks of the trade.
Her utterly impeccable comic timing, in particular, is as exquisite as ever. An encounter at an evening art class with taciturn student Bruno – another recurring presence throughout the book who Noble's heroine becomes determined to befriend as a kind of self-challenge – ends in a moment of slow motion slapstick disaster that is almost beautiful to behold. It's just one example of that brilliant pacing also displayed in those pregnant pauses that articulate so much about her characters, their personality tics, or the situations they find themselves embroiled within.
The visuals may be a little scratchier than in subsequent work but they're as expressive in intent as ever. Just take a look at the scene above as our main character literally cries herself apart, or the use of shading below to communicate mood and quiet hopelessness. Understated and unassuming yet sheer perfection in terms of the way it fosters an intimate connection between audience and page.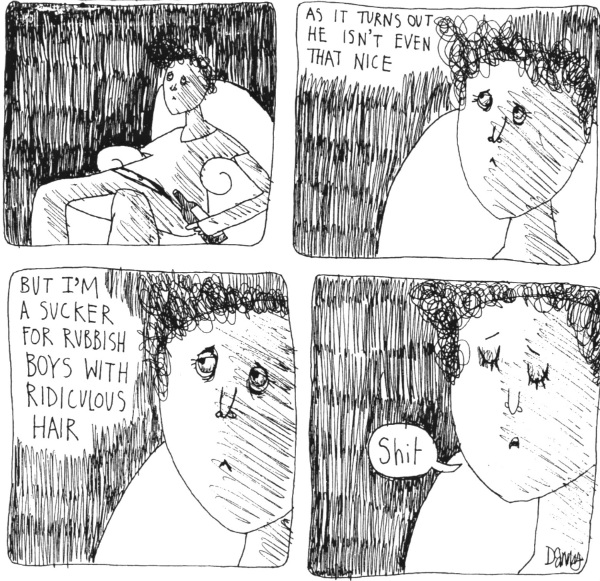 Acutely observed and painfully funny, there's an emotional complexity to Hangover Farm that is proof positive that Noble's repertoire consists of far, far more than simply jokes about knobs, booze and passing out.
Time for something longer-form, Danny…
For more on the work of Danny Noble visit her site here and follow her on Twitter here. You can buy copies of Hangover Farm online here priced £4.00.
For regular updates on all things small press follow Andy Oliver on Twitter here.