By its very definition editor Rozi Hathaway's new multi-creator Sneaky Business anthology is a difficult prospect for any reviewer to tackle. Comprised of 17 short strips – most of them just two pages long with a couple of one-pagers thrown in for good measure – its premise is formed on each contribution being themed around the idea of sneakiness or stealth. As a result, much of the work herein builds up to a final gag or a twist in the tale which, in turn, obviously demands a certain degree of caution from anyone discussing the contents of the comic.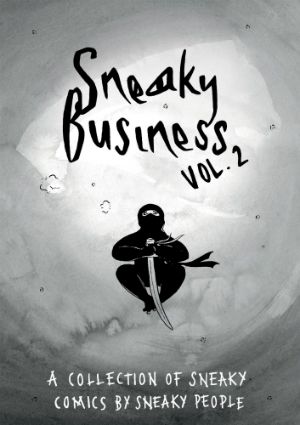 Hathaway has been not just one of the most prolific of my 2015 'Six UK Small Press Creators to Watch in 2015' but also an artist who has tirelessly grabbed every opportunity over the last year to take her work to new audiences. From tabling at festivals, panel appearances, speaking at events, live drawing, signings and self-publishing two collaborative anthologies, she's been a sterling example of how to best go about raising your profile and getting your work seen. Aspiring small pressers would do well to look at her weekly blog for pointers.
When I reviewed the first, and much shorter, Sneaky Business here at Broken Frontier last year I noted that it provided an appealing bite-sized introduction to the work and styles of the creators that graced its pages. This second volume is a similarly welcoming taster of a diverse array of approaches to the page. That includes more indie and alt-flavoured work through to comics that fit firmly into a traditional genre fiction mould.
As you would expect from a UK small press project that had an open submissions policy there are a number of familiar names involved who have had frequent 'Small Pressganged' coverage over the years. Rozi Hathaway herself leads proceedings with a humorous short that deftly evolves from slice-of-life storytelling to magical realism, wittily toying with the readership's expectations along the way.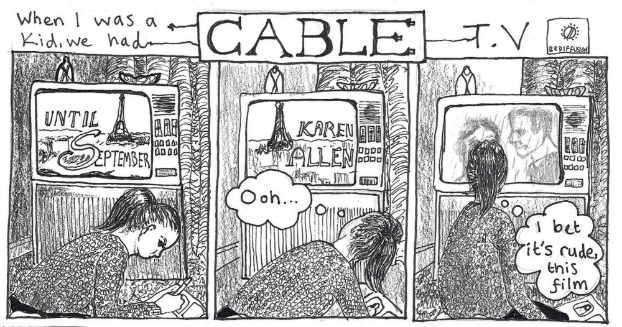 It will come as no surprise, though, that the two show-stealing entries come from creators who have been regular faces in this column over the last couple of years. Wallis Eates once again displays just why she is one of the most vitally important and perceptive practitioners of autobiographical comics in the UK at the moment in 'When I Was a Kid We Had Cable TV' (above). A recognisable account of childhood curiosity with the adult world, it cleverly exploits the standards of the form with the most inventive manipulation of thought bubbles, speech balloons and colour to expand its sense of a child's eye view of reality. Visual characterisation here is also subtle yet astonishingly expressive. Outstanding work from an artist who deserves far, far greater exposure.

Danny Noble, of course, always provides a memorable contribution in any anthology her work appears within. 'Neighbour' is another of her brilliant visual essays on social awkwardness with her on-page persona bumbling her way through the niceties of modern living with that oddly charming gauche ineptitude that has come to be a trademark element of her comics. While it works towards a perhaps predictable punchline, the route there is exquisite in delivery. Squirmingly funny slapstick, comedy timing that borders on perfection and that profound understanding of the mechanics of panel-to-panel storytelling. Sneaky Business is worth the cover price for these two tales alone.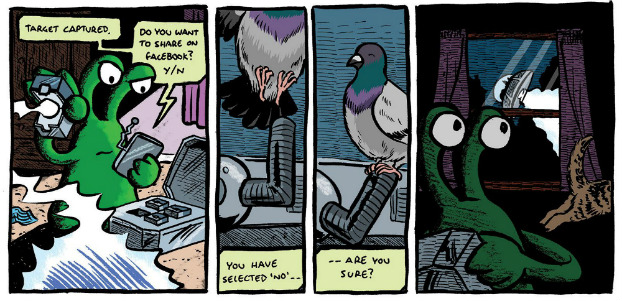 Elsewhere Evan Stamps provides a rhythmic and touching wordless story of a cat burglar and a home for unwanted children (see top banner image) while Rica March makes us root for true love to win in a delicately crafted observational piece. Elias Bevan is another creator to play with the possibilities of the page in a very neat piece of meta subversion and Alex Hahn has more frantic fun with his alien Blop character (above).
Elizabeth Querstret has been expanding her comics repertoire of late with material that has shifted away significantly from her spontaneously scribbled and refreshingly open diary comics. 'Sneaky Critters' is an amusing fable of anthropomorphised woodland life with inviting artwork that would surely appeal to a younger reader. K. Ly R's 'Sneaking Treats' (below) also has an allure for an all-ages audience, albeit a more sinister one in a Halloween shocker that makes atmospheric use of autumnal colours. And those who remember a certain divisive early issue of John Byrne's Alpha Flight will no doubt smile at Alex Tawns' cheeky 'Spot the Ninja!'.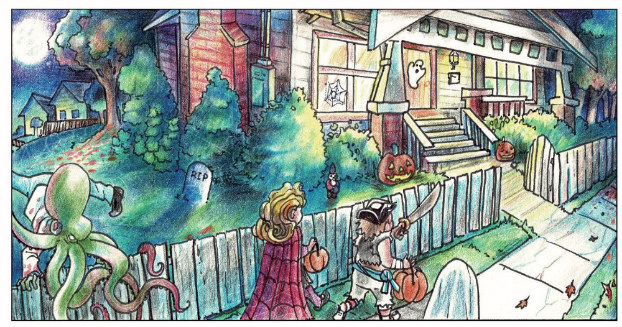 Sneaky Business #2 is indeed an extremely eclectic compilation of comics and, given that slightly patchwork array of styles and genres, it's inevitable that each individual reader will gravitate more towards some sections than others. But that selfsame disparate line-up is also part of its charm. As is often the way with anthologies there's only room here to cover a selection of those who contributed to this volume but at an almost giveaway price of £3.00 there's really no excuse for not picking up a copy of a book that acts as a communal platform for so many distinctively different forms of practice all tied together by that one unifying theme.
For more on the work of Rozi Hathaway check out her site here. You can also follow Rozi on Twitter here. Sneaky Business Volume 2 debuts at Bristol Comic and Zine Fair this Saturday and will be available from her online store thereafter priced £3.00.  
For regular updates on all things small press follow Andy Oliver on Twitter here.