Adding to their growing catalogue of socially relevant comics and graphic novels, Oni and Lion Forge have announced a new graphic novel for the middle-grade demographic coming in early 2021. Details of Lilah Sturges and Meaghan Carter's Girl Haven follow below.
[hr}
The Oni-Lion Forge Publishing Group is pleased to announce an upcoming collaboration with Lilah Sturges, author of the New York Times bestselling series Lumberjanes, and Meaghan Carter, creator of the webcomics Take Off and Godslave, with the release of their middle-grade graphic novel Girl Haven in February 2021.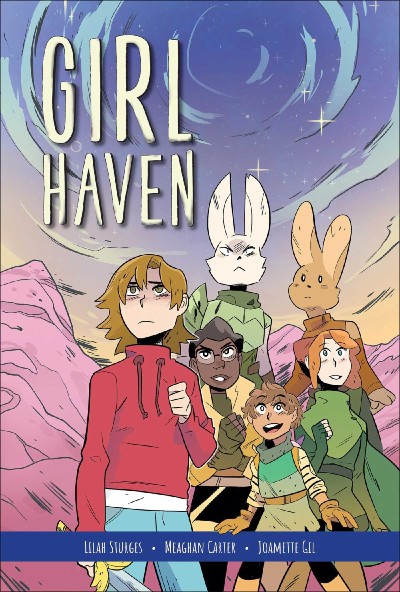 Three years ago, Ash's mom left home and never returned, leaving behind a husband and child and a shed full of mystical curiosities related to the all-girl fantasy world she'd created as a child—Koretris. One day, Ash invites a new group of female friends from the school's Pride Club over, and they try one of the spells to enter Koretris. To their amazement, they're all transported to a magical realm filled with human-sized talking animals who are fiercely protective of their world and are ready to fight to defend it.
But if Koretris is real, why is Ash there? Everyone has always called Ash a boy—shouldn't the spell have kept Ash out? And what does it mean if it let Ash in? With a diverse and queer cast of characters, Girl Haven takes place in that strange, special time of life when every young person is on the verge of discovering who they are—and what they want for themselves.
For Lilah Sturges, this was the book missing from her own childhood experience, and a perfect chance to offer it to the next generation. "Girl Haven is the book I wish I'd had when I was in middle school. The book is for anyone who loves a fantasy adventure, but it has a special message for young trans kids—that they are okay, that they are allowed to be who they are and also to be confused sometimes, and that they are worthy of love and friendship." For Sturges, it was important for the readers to explore how their gender made sense for them as they develop the stories of their own lives.
"The Girl Haven team and story has been such a thrill to work with, and I'm so thankful Lilah let me help bring this story to life. Girl Haven has a world with so much life, heart, and sword fights! It's a beautiful message for trans kids, wrapped up in a fantasy adventure," added co-creator Meaghan Carter.
Girl Haven will be available in stores and online February 9, 2021.