THOUGHT BUBBLE FORTNIGHT 2021! Ver's Wolvendaughter was one of the original batch of releases from Quindrie Press, the Scottish micropublisher who burst onto the indie comics scene this year with a stated ethos of both providing a platform for creators' passion projects and boosting the profiles of marginalised voices. A one-shot, complete-in-one fantasy tale, Wolvendaughter is one of those titles that introduces you to an artist whose visual storytelling is so confident, so flowing and so expressive that you wonder how you have managed to miss their practice before.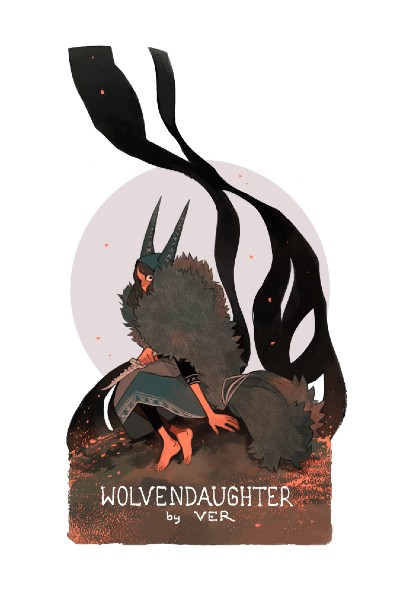 In a distant realm the Beast is a force of destructive nature that leaves chaos and carnage in its wake. Towns are razed to the ground and lives shattered forever as it relentlessly wreaks havoc on everything in its path. Tradition means that a young woman, The Daughter, is always chosen to act as its herald, joining it on its journey. But what is the true nature of this mysterious relationship and what role does it play in the order of things in this world?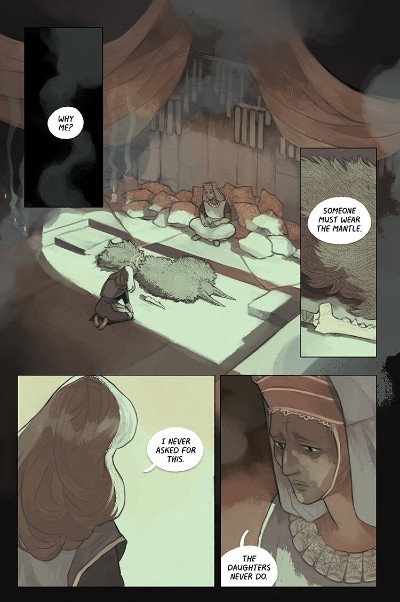 The second you come to the end of Wolvendaughter you will want to return to the first page because this is a story that takes you on a journey of discovery on its first reading and then one of realisation on its second. In that regard audience interaction with the page reflects its thematic heart – an exploration of the cycles of existence, of death and rebirth, of responsibility and inevitability, self-determination and fate. In terms of allegory, of course, the reader can project their own truths onto its pages but the cleverness of this comic is in the way in which theme and narrative structure are so inextricably intertwined.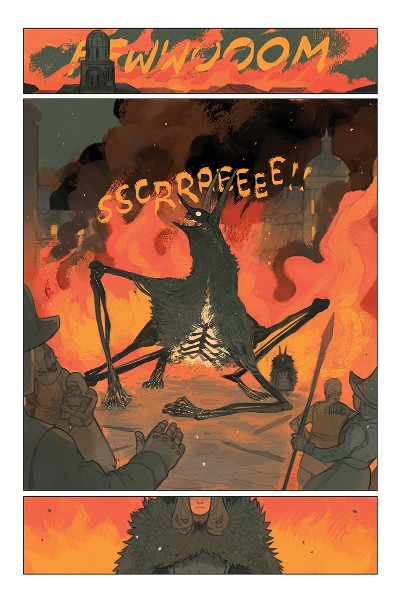 Ver's character designs give us a world where a creature as otherworldly as the Beast – in all its horrifyingly spindly and angular monstrousness – sits side by side with the stoic order that provide The Daughter. Their page structures continuously shift and adapt to mirror tone, action and emotion. Scenes of conflict and violence see panels take on overlapping and skewed placement, for example, adding to the chaos and terror of the events they depict, and subtle but resonant shifts in colour use affect the way we interact with the story. Complementing this is Eve Greenwood's lettering which intuitively guides the reader's eye around the pivotal events. With carefully paced twists that surprise and yet seem so obvious the moment they are revealed, Wolvendaughter is the work of an undeniable major newer talent. You can find Ver at Table 7 in the ComiXology Originals Hall and Quindrie Press at Table 14/15 in the ComiXology Originals Hall at Thought Bubble.
Ver (W/A), Eve Greenwood (L), Eve Greenwood & Alex Assan (E) • Quindrie Press, £8.00 print/£4.00 digital
Buy online here
Review by Andy Oliver