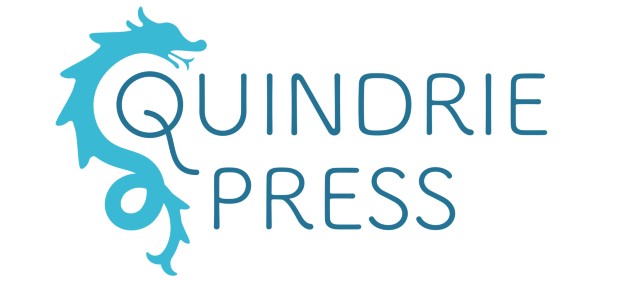 With four gorgeously illustrated comics currently crowdfunding on Kickstarter, new small press publisher Quindrie Press have already made a huge impact before their first books have been published. Their stated aim of providing a platform for creators' passion projects and boosting the profiles of marginalised voices, embodies exactly the kind of ethos we look to promote here at Broken Frontier. I caught up with Quindrie Press founder Eve Greenwood to talk about their first line-up of books, the Scottish comics scene, and their future publishing plans…
ANDY OLIVER: Let's begin with the intros. Who makes up Quindrie Press? What are your roles in the press and can you tell us a little about your past work in comics?
EVE GREENWOOD: My name's Eve Greenwood. I'm the founder of Quindrie Press, as well as one of the editors and the in-house letterer. I run pretty much everything behind the scenes. I come primarily from a webcomic background – I've been running my webcomic Inhibit since 2015, the first book of which I published through Kickstarter in 2019, and have self-published a few other shorter comics as well. I also graduated in 2018 with a Masters in Comics & Graphic Novels.
Our other editor is Alex Assan, an artist from Tel Aviv with a BA degree in Illustration, Graphic Novels & Children's Publishing. They're the artist for the webcomic Shaderunners, the creator of upcoming graphic novel Sunhead, and were the co-editor for the Come Together anthology. They're also my advisor and voice of reason – they're brilliant, I'm incredibly lucky to have them on board.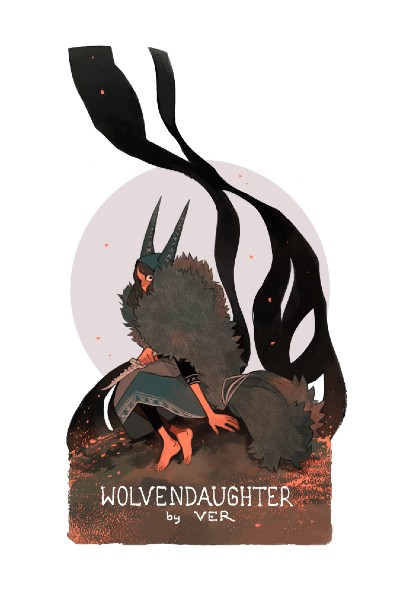 AO: One of your stated aims is to amplify both emerging and marginalised voices. What were the origins of Quindrie Press and what you see as its core publishing mission moving forwards?
GREENWOOD: The concept for Quindrie Press had been percolating for a quite a while before I decided to launch it as a small press. I fell in love with the creativity of the webcomics community as a teenager, then again when I started my own webcomic and began to get more involved in the wider comics scene. I often saw creators having to put their personal work aside in order to make room for freelance, and the love I had for the way creators were so excited by their stories got me wanting to find a way to help them make their ideas a reality.
It won't be news to anyone, but the world of printed comics is historically dominated by straight, white, cis men. There have been fantastic leaps in the last few years to bring forward marginalised voices, but there is still a large barrier to entry in comparison with webcomics, which are so much more accessible. I would see the same few names being published or being invited to conventions over and over, and I know how many incredible creators there are here who have stories to tell that aren't getting recognised. Giving those creators a leg up and making sure they are given the chance to share their personal work is at the very heart of what I want to do with Quindrie.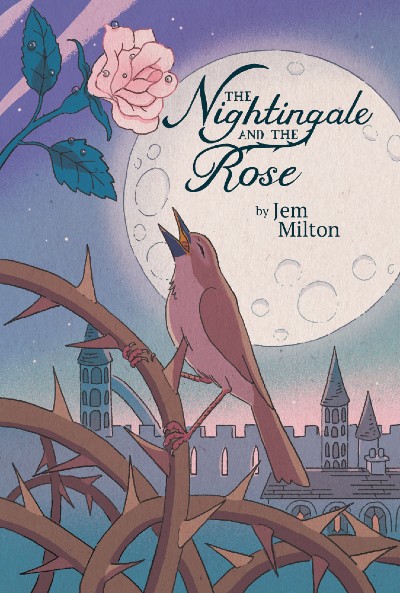 AO: Given the Scottish links in one way or another to your initial line-up of creators, how would you say the indie comics scene has evolved in Scotland over the last few years?
GREENWOOD: Scotland has a long history with comics – the Beano comes from Dundee, after all – and I think that really shows in the broad range of the work being produced here. Glasgow especially has a fantastic zine and indie art scene. Over the last couple of years we've seen a rise in exciting new independent Scottish publishers like Power Couple Press, run by Nat Walpole and Aki Hassan, and CHIP Collective, run by Ashling Larkin and Cat Laird, both of which are doing such different and exciting things with the comics medium. I'm definitely seeing a determination to steer independent Scottish comics in a fresh direction and I can't wait to be a part of it.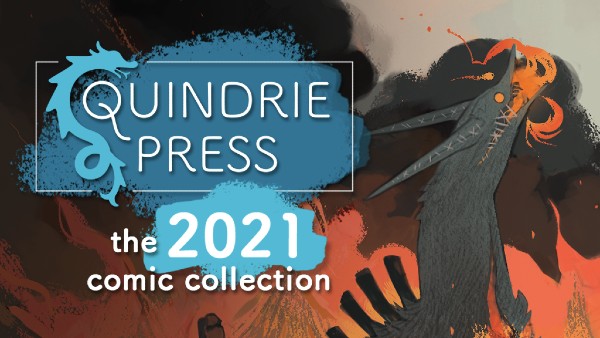 AO: The Kickstarter for your first batch of books is currently live. Can you give us a quick rundown of the projects on offer and what each of the creators involved brings to the form in terms of visual storytelling and the language of comics?
GREENWOOD: Wolvendaughter, by Ver (below), is the story of a terrible Beast that wreaks destruction and despair wherever it goes, accompanied by a young girl called the Daughter. It's a beautiful and tragic fable that questions the seemingly inescapable cycle of ruin and rebirth, and Ver's mastery of layout draws you effortlessly into their storytelling. They make gorgeous use of both tight, skewed panels and open, borderless panels to play with scale, depth, and tone. No part of the page goes to waste; where another artist might leave the gutter empty, Ver sees it as another opportunity to convey story. There are a lot of examples of this in Wolvendaughter, where smoke pours free from panels or ash scatters the page, making the events feel that much more real and immediate. This sort of attention to the elements that make up a comic page always delights me, and Ver has a great eye for these extra little details that really elevate their work.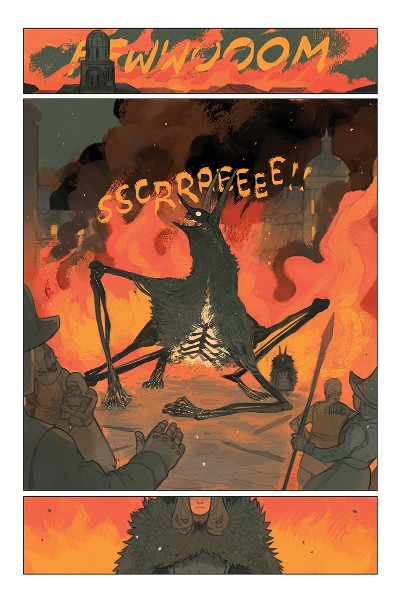 The Beechwood Helm, by Letty Wilson (below), is the story of two knights who stumble across a Red Knight and accept his challenge to duel. Unbeknownst to them, however, winning the challenge comes with a terrible curse. It's a vicious yet hopeful story about violence and breaking free from it. Letty's hand-inked lines are filled with a life I'm always trying to capture in my own work, and even though the characters and environments she draws are beautiful, she knows exactly how to turn a scene terrifying in a single panel. She also makes fantastic use of colour to convey the creeping curse and intrusive thoughts, building to a climax where everything on the page is screaming "danger" to the reader. Everything Letty puts on the page helps to tell the story and no choice feels unmotivated.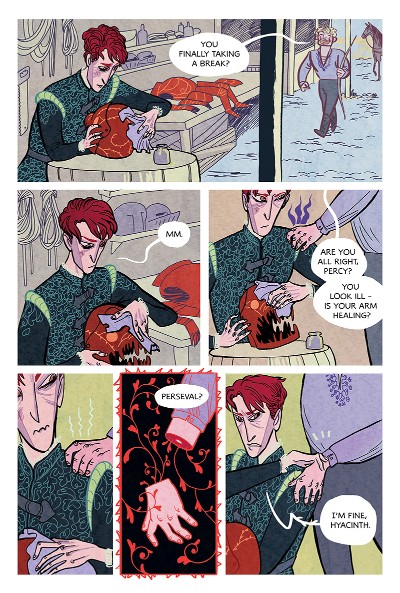 The Nightingale and the Rose, by Jem Milton (below), in an adaptation of Oscar Wilde's short story. In a magical college, a student pines after their beautiful potions partner. Hoping to help the student to capture her heart, a nightingale who believes in true love begins a journey to help them find the red rose needed to complete their homework, but the only way to conjure a red rose is to tell a terrible price. This queer retelling tweaks the original in a way that I think really strengthens the themes of love and the ways we can throw too much of ourselves into a relationship. An adaptation is always a translation, and Jem translates the poetic nature of Wilde's prose into the comic format wonderfully by playing with overlapping imagery and bright, dreamlike colours. At every turn their style choices shine, from the simple linework that still radiates intense emotion, to the textured artwork that really conveys the romantic and fairytale-like tone.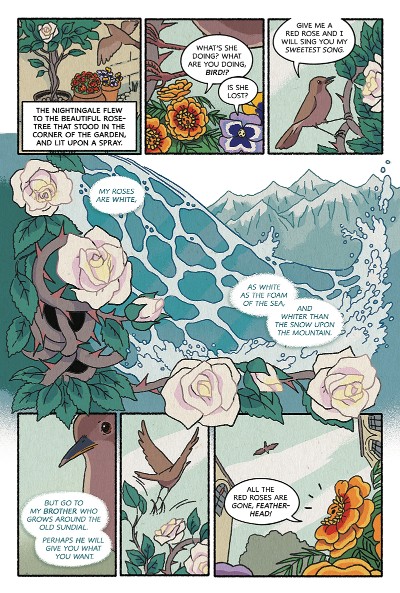 What the Witch Saw, by Thomas Heitler (below), is the story of a team of Witches sent to terraform the moon into a liveable home for humanity. It is a silent comic, which is perfect for Thomas's ligne claire-inspired artstyle, and is a deliberately optimistic vision of the future in response to the current state of space exploration. One of the best parts of Thomas's comics is his use of framing, in terms of both the images within the panels and the panel borders themselves. The way he integrates Celtic knots and patterns makes some pages feel like illuminated manuscripts, which is something I've never seen before, and his art perfectly marries a futuristic aesthetic with a vintage feel without ever clashing.
As well as the four comics, we also have a printset from Robbie Kieran (below), whose chunky, geometric art is instantly recognisable. Robbie turns purposefully wonky perspective and sharp, impossible angles into something that somehow feels natural and organic, and that feel full of energy despite his minimalist approach. He also makes comics, and they're some of the most silly and thoughtful comics I've read.
If you couldn't tell, I'm a huge fan of each of these artists and I'm very excited that I got to work with each of them!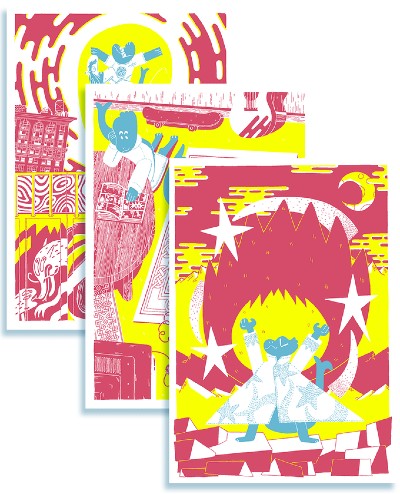 AO: Those first releases all have fantasy-based elements to them. Is that a deliberate decision or will you be expanding narrative scope depending on potential projects in the future?
GREENWOOD: This wasn't intentional at all – we were interested in fiction comics of all genres, but it just so happened that each of the creators had a fantasy story in mind. It certainly worked out quite nicely in tying our first collection together thematically. While we'll be sticking to fiction comics at least for the foreseeable future, we're open to all kinds of stories!
AO: The obligatory question now for 2020/21… what have been the challenges of launching a new publishing endeavour in the midst of the pandemic and how will you be adapting your marketing approach while we await the festival/convention scene to open up again?
GREENWOOD: We're very lucky that the pandemic has only had a minor effect on our launch. Postage and increasing printing costs has been our main concern, but that's something that was bound to be affected by Brexit even if the pandemic hadn't happened so we were already anticipating some challenges. I think the hardest part was the early days of uncertainty; we were kicking off production right around the time the first lockdown hit, so we weren't even sure if the timeline we had set would end up being realistic. Luckily everything seems to have worked out well.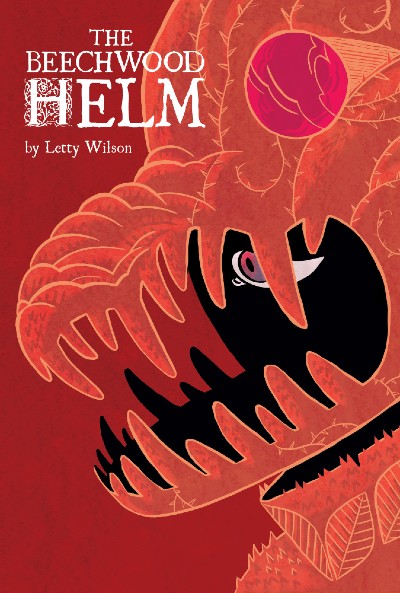 Losing conventions has obviously been an incredibly hard blow. It's much harder to buy a comic by impulse or gut feeling when you can't hold it in your hands. But people are still hungry for comics, and we'll be selling digital copies of all our comics to make sure people can still get hold of them, especially as shipping gets more and more expensive. There's something great about getting to feel the pages of a comic, but there's something just as good to be said about buying a PDF for a couple of quid and stumbling across a story that blows you away. I think a lot of publishers dismiss the PDF market, but it's an alternative that a lot of people look for and in some cases prefer.
AO: What's your policy on submissions in the longer term? Is that something you will consider opening up and, if so, what sort of practice will you be looking for?
GREENWOOD: We're definitely planning on open up submissions in the future. We hope to release yearly collections similar to this first lineup, and our commitment to working with both emerging and marginalised creators means we can't rely solely on stumbling across new artists on our own. We'll be looking for creators with all sorts of comics experience, as long as they have an interesting story to tell, that only they can tell.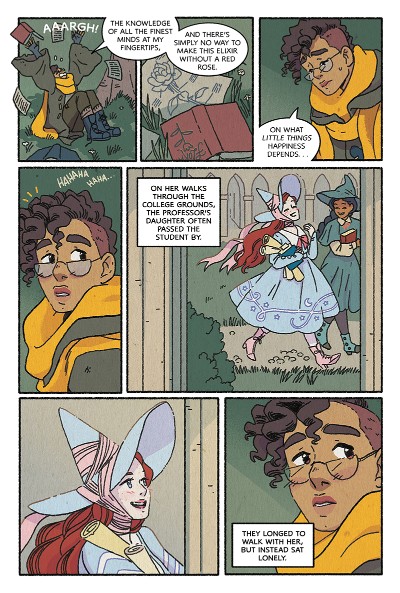 Another sample page from 'The Rose and the Nightingale' by Jem Milton
AO: Finally, while I'm sure the stresses of running a Kickstarter campaign will be more than enough to be dealing with at the moment how far beyond that are you thinking? Are there any longer-terms plans you can hint at?
GREENWOOD: Quindrie is centred on the idea of helping creators to publish passion project comics, and for many creators their passion project is the project they're already working on. Very often these creators meet a roadblock when it comes to printing their work; printing costs can be prohibitively high and putting a crowdfunding campaign together can be daunting, let alone fulfilling it. That's why even though our primary focus is printing brand new short comics, we will definitely be looking at picking up longer comics for print in the future, especially webcomics – and may already have one in the works!
Back the Quindrie Press Kickstarter here!
For more on Quindrie Press visit their site here, and follow them on Twitter and Instagram.
Interview by Andy Oliver