FRONTIER FRIGHTS!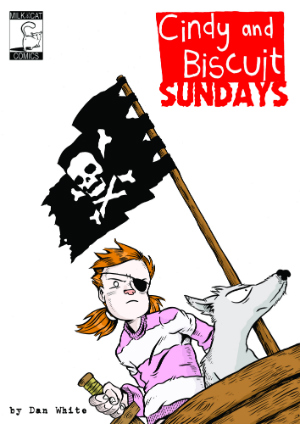 Without even a shadow of a doubt, one of the true annual treats of the small press year is new Cindy and Biscuit material from artist Dan White and the chance to take another brief trip into the supernaturally tinged world of the titular fierce (but really rather lonely) little girl and her faithful canine companion. That much anticipated event usually coincides with the Thought Bubble festival, with this year being no exception.
Cindy and Biscuit: Sundays captures the same sense of poignancy, and visits those familiar themes of childhood discovery of previous issues, but also continues White's ever playful toying with the presentation of his work in terms of both his narrative approach and the comic's format.
This latest one-shot is a series of vignettes taking place on various Sundays across a year of Cindy's life. For those yet to discover White's singular creation, Cindy's childhood adventures at school and around her home involve her seeing off the threats of a series of ghostly apparitions, alien invasions and monstrous menaces that may or may not (depending on how you choose to interpret White's lively strips!) all exist only in her imagination. Her faithful dog Biscuit is her constant companion in dealing with these otherworldly incursions.
This time around Cindy's mini-adventures include facing a Lovecraftian horror in the local swimming baths, discovering a powerful alien artefact in the woods, gaining the attentions of a young admirer and having the best Halloween ever. The stories are not presented as individual episodes but, rather, simply flow into each other, giving an added sense of time's passage and the changing of the seasons. Unlike previous offerings this one-shot is presented in an A4 size which White exploits to its fullest potential with often packed, multi-panelled pages that take full advantage of the bigger size.
Once again this issue of Cindy and Biscuit is a masterclass in the art of panel-to-panel storytelling to create a sense of movement, animation and action. Biscuit's battle against a skeleton horde, for example, which creates a very immediate, dog's eye view of the world or the furiously paced, perspective-shifting sequences where the duo come up against an autumnal leaves-monster. One particular arrangement of panels as Cindy and Biscuit's snowballing assailants get their just desserts brilliantly encapsulates everything that comics can do in emphasising a sense of place, time and motion that other mediums can't in just six artfully placed images.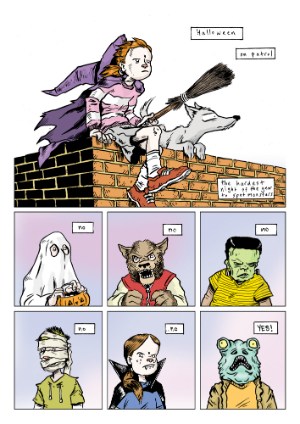 Notably there's a neat sidestep into prose near the middle of the book that presents parallel but intimately interlinked narratives with meta overtones. But it's the bookend one-page strips that perhaps most sum up the book's themes and there's not a single creature from beyond in either of them. Longer-term C and B enthusiasts will, no doubt, feel a moistening of the eye in that final page story that oh so subtly and yet oh so markedly sums up the very heart of this remarkable comic and its two endearing leads.
If you've yet to plunge into Dan White's small press masterpiece this self-contained collection of short tales is an excellent and highly recommended starting point. Standard final Broken Frontier Cindy and Biscuit review plea to publishers: Please someone out there pick up this genius all-ages offering, collect it and bring it to the far wider audience it's owed!
For more on Dan White's work visit his site here and follow him on Twitter here. You can visit his online store here. 
For regular updates on all things small press follow Andy Oliver on Twitter here.
Check out the rest of our Frontier Frights coverage here. Promo art by EdieOP.