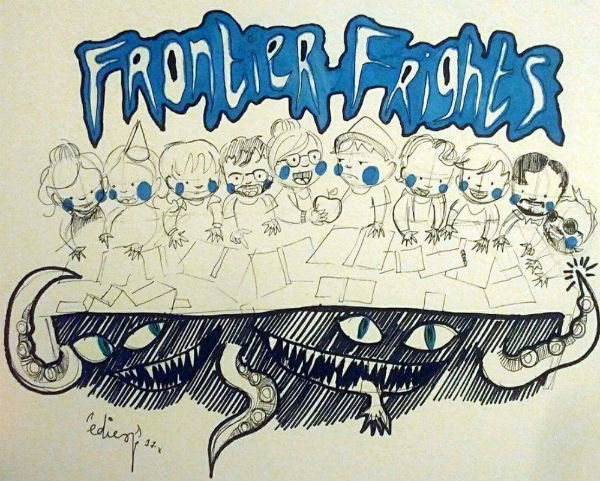 FRONTIER FRIGHTS!
Halloween is coming and our spookily festive Frontier Frights two-day mini-event starts today with a look at some suitably supernatural comics offerings. To get us in the mood our very own Operations Editor EdieOP has created the above promotional art depicting the BF team in the Broken Frontier Bullpen as we scheme and plot our creepy coverage! If you haven't checked out Edie's own all-ages British Comic Award-nominated graphic novel Maleficium you can buy it from the Avery Hill online store here. A perfect read for Halloween!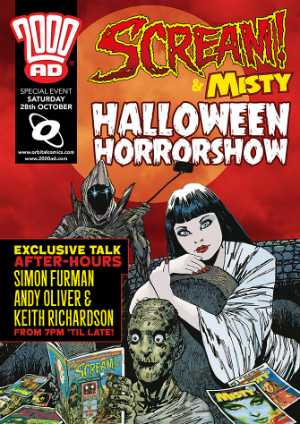 And speaking of comics with a horror twist, this past weekend saw the new Scream! and Misty Special – reviving a number of cult classic British comics characters – getting a double celebration in London. 2000 AD publisher Rebellion have been bringing these much loved properties to entire new audiences since they acquired a large part of the IPC archives last year and a healthy number of creators from the Special including Hannah Berry, Simon Coleby, Warwick Fraser-Coombe, Frazer Irving, Grainne McEntee, John Stokes, Ben Willsher and Alec Worley were signing in the afternoon at Gosh! Comics.
The Scream!/Misty extravaganza continued in the evening at Orbital Comics where I had the pleasure of interviewing two cross-generational versions of Scream! editor "Ghastly McNasty" – Simon Furman from the original 1984 era of Scream! and Keith Richardson, the editorial driving force behind the revival Scream! and Misty Special. The conversation was recorded for future release but [Spoiler Warning] I can reveal it was an absolute pleasure to hear Simon talking in such detail about his time on the weekly and to listen to Keith's infectious enthusiasm for the comic. A lovely way to spend the official 15th birthday of Broken Frontier!
Photo left courtesy of Orbital Comics
Speaking of which… thank you for all your good wishes for our decade and a half milestone! We're still listing some of our favourite small press creators and micropublishers in this thread on Twitter here with the #15YearsofBrokenFrontier hashtag. Please give it a look and check out some of the shop links there.
We're off to bob for apples and carve our pumpkins now. Enjoy the tricks and treats we have in store for you over the next two days!
– Andy Oliver, Broken Frontier Editor-in-Chief, October 30th, 2017
For regular updates on all things small press and Broken Frontier follow Andy Oliver on Twitter here.