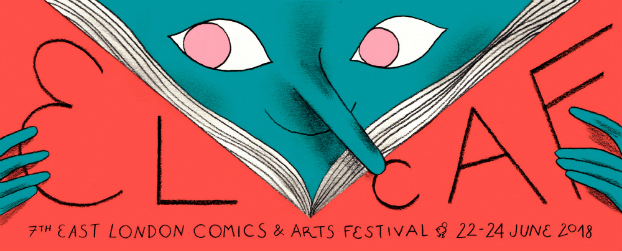 There's just two months to 2018's East London Comics & Arts Festival, undoubtedly one of our favourite events on the UK comics calendar and a weekend that champions the kind of practice that is at the very heart of what we do here at Broken Frontier. Today the festival programme goes live. We have the official press release below and you can also check out the full details on the ELCAF site here (and the wider ELCAF season here).
This also seems an appropriate moment to talk about our own ELCAF coverage here at BF in the coming weeks. We're delighted to be an official festival partner this year and you can look forward to an entire two weeks of related reviews, interviews and previews in the run-up to the festival this year with ELCAF Fortnight kicking off on the site on June 11th.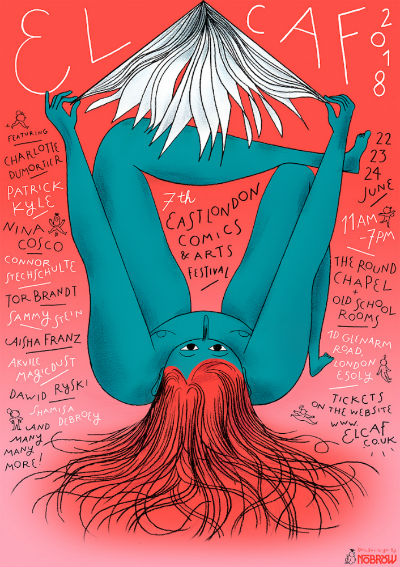 A healthy number of the BF team will be roaming the Round Chapel over the weekend (and you can look for me on all three days if you want to talk Broken Frontier…) and there are no fewer than five of this year's Broken Frontier 'Six to Watch' creators exhibiting at the festival at various points over the weekend.
For the fourth year in a row I will also be chairing a discussion event at ELCAF. This year's Broken Frontier panel covering a discussion on 'Comics and Routes into Publishing' for aspiring comics creators. If you want to hear advice, thoughts and feedback on getting your work in front of publishers, raising the profile of your comics practice, getting reviews and finding a wider audience then pop along late Saturday afternoon to our chat with Ricky Miller (Avery Hill Publishing co-publisher), Tom Oldham (Breakdown Press co-publisher and Gosh! Comics small press specialist), Broken Frontier's own EdieOP (self-publisher who went on to be British Comic Awards-nominated for her debut graphic novel Maleficium) and Sabba Khan (2017 Broken Frontier 'Six to Watch' creator and longlisted for the Myriad First Graphic Novel Competition).

The full ELCAF press release follows as the build-up to ELCAF 2018 well and truly begins!
Nobrow is proud to present ELCAF 2018, the 7th EAST LONDON COMICS & ARTS FESTIVAL, dedicated to showcasing the most exciting talent in comics, sequential art, illustration and storytelling.
Returning to the Round Chapel, School Rooms, Hackney, East London for three days on 22, 23 and 24 June.
Each year ELCAF sees over 4,000 visitors celebrate the diverse range of work produced by selected exhibitors and take part in the extensive curated programme of talks and workshops that liven up the heart of the festival.
As with every edition, ELCAF has the pleasure of inviting an internationally celebrated artist to create a unique identity for the year and we are extremely honoured to announce Charlotte Dumortier as this year's artists-in-residence. Based in Antwerp, her work is characterised by bright colours and bold shapes. As well as being an illustrator, she also works as a motion graphics animator. Charlotte makes comics for zines and anthologies and her "first real comic book" is called Murphy's Miserable Space Adventures and is published by Oogachtend. She also makes mini comics and zines under the moniker yum yum zines with her friend Shamisa Debroey who will be joining ELCAF this year. Alongside Charlotte, ELCAF is inviting an exciting roster of international artists including Patrick Kyle, Nina Cosco, Conor Stechschulte, Tor Brandt, Sammy Stein, Aisha Franz, Akvile Magicdust, Dawid Ryski and many, many more.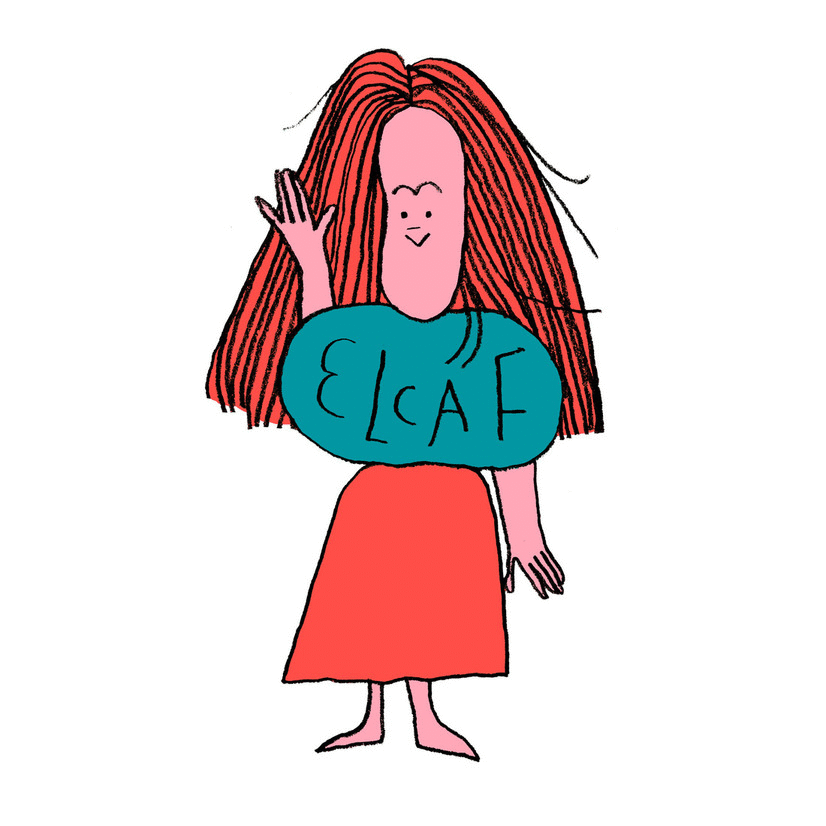 In 2018 we are curating another extensive ELCAF season across London and beyond. Kicking off in May we'll be bringing an exhibition by our European partners to the Discover Children's Story Centre in Stratford. From 28 May — 1 June, The rule and the game: a sensory reading lab invites visitors to explore the relationship between word and image in children's books.
In addition, we are teaming up with our founders Nobrow to celebrate the 10th edition of the magazine that brought them to the fore. Studio Dreams: ELCAF x Nobrow 10 will highlight a number of the 70 artists featured in the magazine through a series of workshops, talks and an exhibition. It starts off on 27 May with a whole day of workshops and a panel at Hay Festival with Katie Harnett, Jim Stoten, Ben Newman and Joe Todd-Stanton, continues with an exhibition at SPACE, Hackney from 14 — 16 June that sees all 70 illustrations in one room plus 8 very special new commissions and culminates in a panel discussion at ELCAF itself.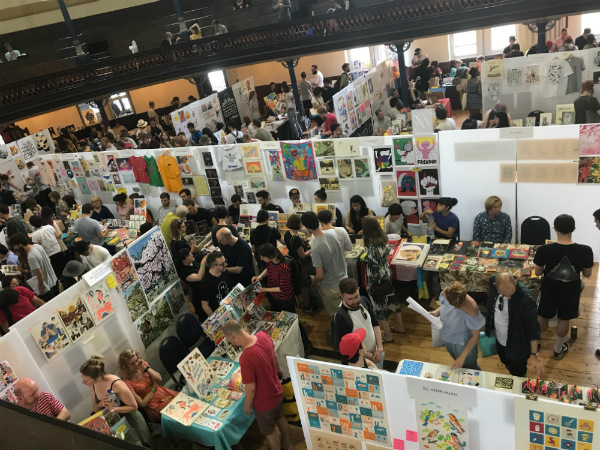 A view of the Round Chapel at last year's event
We are again joining up with Hackney Council to do a free drop-in workshop with Sandra Dieckmann at Dalston Library, this time during Dalston Children's festival on 2 June. Our series of Masterclasses at the House of Illustration continue this year with Ben Newman and Bigu Maku. The ELCAF season will culminate in the festival itself, where on top of tons of workshops and talks, we'll have springboard meetings for aspiring illustrators and comic artists, and, for the third year, the ELCAF Award. The ELCAF Award will recognise artists and publishers who are excelling in their fields by offering a selection of prizes that will support their work.
– Andy Oliver, Broken Frontier Editor-in-Chief, April 23rd, 2018
For regular updates on all things small press and Broken Frontier follow Andy Oliver on Twitter here.