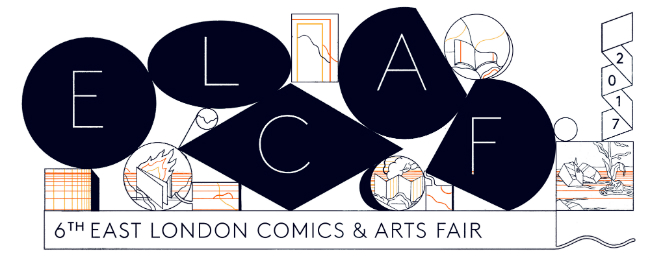 ELCAF – the East London Comics & Arts Festival – returns for its sixth incarnation this June courtesy of Nobrow Press. Longer-term Broken Frontier readers may remember my very enthusiastic write-up of last year's ELCAF here when I said that "ELCAF has certainly cemented its place now as one of the most distinctive and important UK indie comics festivals on the calendar." Of all the many, many events I attended in a Broken Frontier capacity last year ELCAF was, without a doubt, one of the absolute highlights.
This year's festival will once again be at East London's Round Chapel and Old School Rooms over June 16th-18th (open between 12pm and 7pm) for another three-day celebration  of some of the most exciting alternative work in the form. Admission costs £10 for three days or £5 per day, and ELCAF 2017 is free for under-16s.
From a Broken Frontier perspective we're delighted to say that a number of our 'Six Small Press Creators to Watch' – from all three generations of the initiative – will be exhibiting at various points over the weekend including Kim Clements, Peony Gent, Josh Hicks and Emma Raby. Ellice Weaver will also be there with Avery Hill Publishing who will be debuting her hugely anticipated Something City at the festival.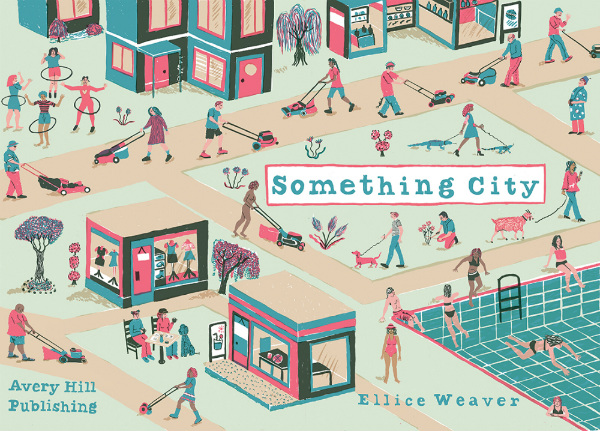 The latest ELCAF press release is presented below with the full programme of events over the weekend to be announced soon. You can now book tickets for the event here for individual days or for the whole weekend. As with previous years there's a whole host of festival pre-programming too as part of "ELCAF season" which starts on April 22nd. Check out the many exhibitions, workshops and masterclasses (bookable here) below. There really are some remarkable opportunities there for aspiring creators!
Interspersed are images from last year's ELCAF to whet your appetites…
Nobrow is proud to present ELCAF 2017, the 6th East London Comics & Arts Festival, dedicated to showcasing the most exciting talent in comics, sequential art, illustration and storytelling.
In 2017 ELCAF is running another three day programme of talks, workshops, screenings and signings alongside an exhibitor showcase of small press and independent publishing.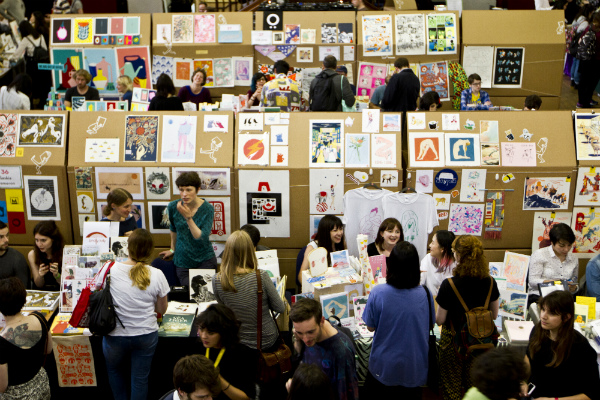 Guest artists this year include: Anna Haifisch, Tommi Musturi, Sarah Glidden, Rob Flowers, Max Baitinger, It's Raining Elephants, Anouk Boisrobert and Louis Rigaux, Flatpack Cinema, Tower Block Books, Emily Hughes, Donya Todd, Ed Cheverton, Simon Moreton, Antoine Cossé, Una, Albertine and Germano Zullo, Nick White, Bianca Bagnarelli, with more to be announced.
As with every edition, ELCAF invites an internationally celebrated artist to create a unique identity for the year and we are extremely honoured to have Icinori as this year's artists-in-residence. Icinori's artwork will feature across the festival hall, website, banners and printed publications.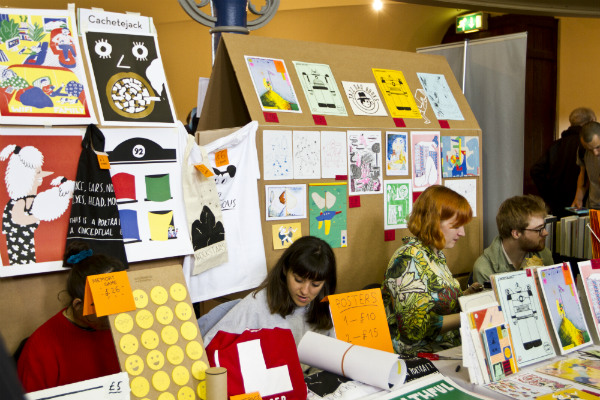 The ELCAF Season breakdown:
ELCAF x Foyles, a new partnership that sees ELCAF-inspired events across our partners Foyles' national stores – beginning with children's workshops with Katie Harnett in Chelmsford, Owen Davey in Birmingham, Nous Vous in the London Charing Cross store, and an author's reception with Ed Cheverton, Simon Moreton and Donya Todd in Bristol.
The Rise of Riso exhibition at Foyles Gallery, Charing Cross. THURSDAY 8 JUNE – MONDAY 10 JULY featuring 7 international risograph studios including the US, Sweden, Italy, London and Japan.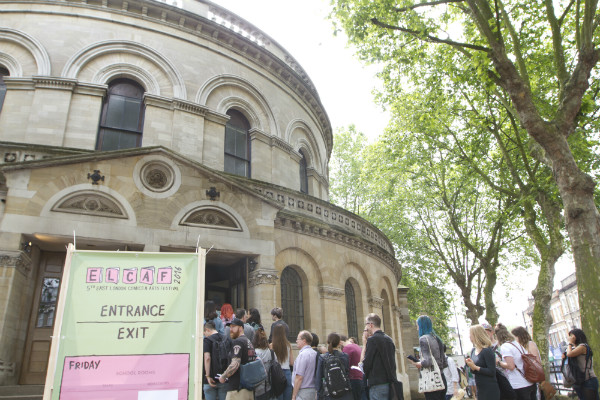 Springboard Meetings at Foyles Charing Cross, SATURDAY 10 JUNE An afternoon of Springboard meetings, giving you the chance to meetwith an industry expert, show your work, ask questions and gain insight into the professional creative industries of comics and narrative illustration. Each expert is available for an hour, divided into 15 minute slots of which you can book for free.
Make your own Island workshop, Icinori, SUNDAY 21 MAY In collaboration with NOW Gallery and Urban Village Fete in Greenwich. A drop-in workshop that will use visual elements of the exhibition to encourage participants to create their very own version of The Island.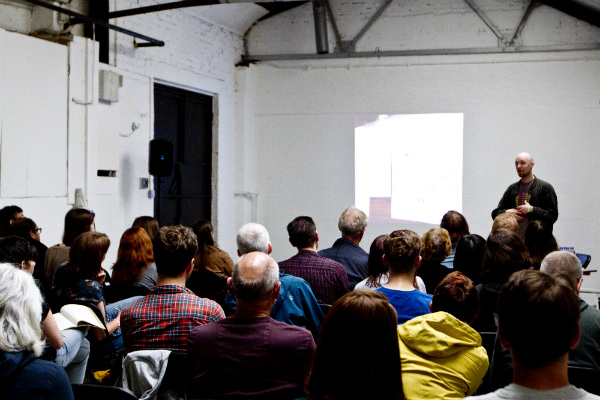 ELCAF x NOW Gallery Exhibition, FRIDAY 20 MAY – SUNDAY 25 JUNE The Island is a site-specific interactive storytelling experience for all ages imagined and created by French illustrator duo Icinori. As visitors step into the story, they begin their journey told through a three- dimensional landscape, characters and words. The installation explores the possibilities of storytelling and puts the public in the middle of the narrative, hinting at the importance of imagination & flights of fancy. PRIVATE VIEW: THURSDAY 19 MAY (18.00 – 21.00)
Shapely Stories, Katie Johnston (Day Job Studio) WEDNESDAY 31 MAY Once again we're teaming up with Hackney Central Library to offer a free drop-in community workshop in illustration.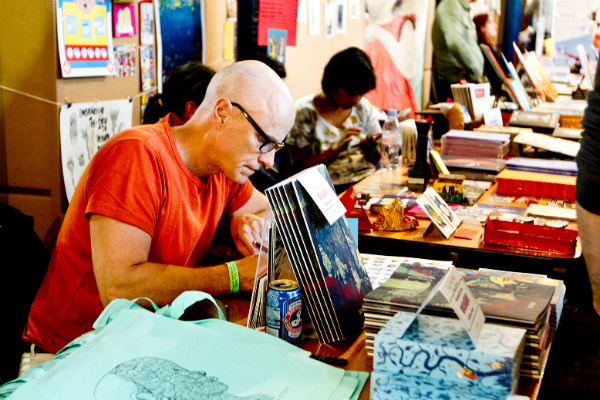 Masterclasses at the House of Illustration. Three specialist all-day masterclasses have been programmed to run over May and June. Leading artists will be Emily Hughes, Bianca Bagnarelli and Paul Layzell
The ELCAF x WeTransfer Award recognises an artist who is excelling in their field by giving a grant of £3,500 to a winning submission.
The ELCAF audience Award invites guests, fellow artists and publishers pick a winner from the 2017 exhibitor during the festival.
For more on ELCAF visit the site here and follow the festival on Twitter here.