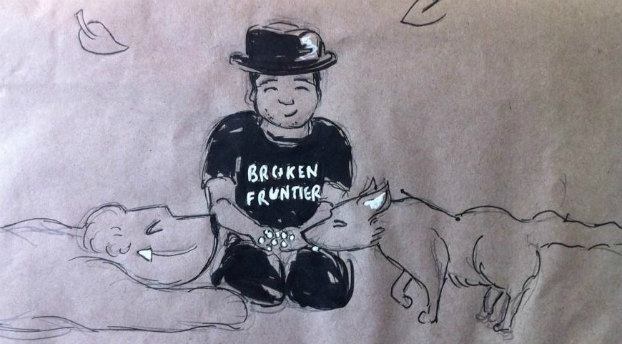 It sneaked up on me unexpectedly this past week. Indeed, had it not been for one of those countless, seemingly hourly, social media reminders about our past online activity I probably would have missed it entirely. But February 23rd marked the two-year anniversary of our first annual 'Six Small Press Creators to Watch' announcement – when we unveiled Rozi Hathaway, Jess Milton, Danny Noble, Emma Raby, Alice Urbino and Adam Vian as our first half dozen artists we believed deserved to make the step up to the next level of recognition.
For something that was only ever intended to be an informal series of articles through 2015, the 'Six to Watch' theme quickly took on a life of its own. To the point, in fact, that it's now the central focus of our 'Small Pressganged' column. And it seems to be an aspect of our coverage that you, our readers, have embraced as well. To date, the Big Reveal of 2017's 'Six' is not just our single highest traffic piece at Broken Frontier so far this year – it's also had nearly twice the hits that our next most popular article has had in that time.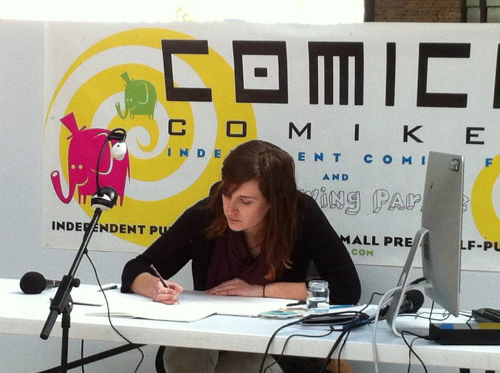 Rozi Hathaway at the Comica Comiket Drawing Parade in Spring 2016
Over the last two years, behind the scenes, we've been able to provide not just mentorship to those chosen creators but also offered a whole host of opportunities to improve their profiles outside of the online environs of the site. That's taken the form of panel appearances, chances to present about their work at events, space on the Broken Frontier table at shows/festivals, participation in drawing parades, guesting at the Gosh/BF Drink and Draw and, of course, a spot in our non-profit showcase for their work – our critically acclaimed Broken Frontier Small Press Yearbook.
We like to use the word "championing" a lot here at BF but bringing top new creators to the attention of our readers and explaining exactly why their creative endeavours should be rewarded with a larger audience is a focal part of the site's philosophy. And indeed it's an absolute joy to see 'Six to Watch'-ers go on to bigger things. In 2017 we've already had the announcements of Ellice Weaver's Something City being published by Avery Hill this Spring and Rozi Hathaway's new comic Cosmos and Other Stories coming from Good Comics in March.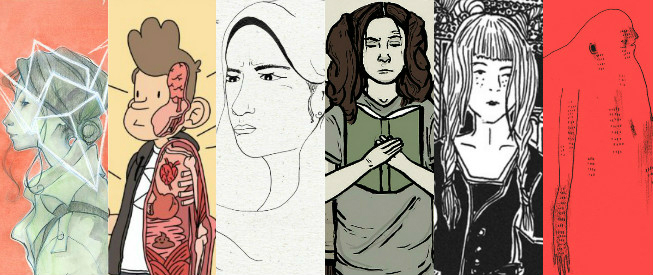 As for our 2017 'Six' – well Peony Gent, Josh Hicks, Sabba Khan, Olivia Sullivan, Anja Uhren and Kate-mia White may just represent the most diverse collection of styles we've featured in the programme to date. You've seen some coverage of their comics on the site over the last few weeks and that will increase significantly as the fairs, festivals and shows circuit begins in the Spring. They're an incredibly talented bunch and you could do far worse than click on the relevant links in this article and follow them all on Twitter.
Oh… and I did I mention the Broken Frontier Small Press Yearbook above? Well the pages are coming in for the 2017 edition and they're simply gorgeous. We'll have more to say on that in the not too distant future…
– Andy Oliver, Broken Frontier Editor-in-Chief, February 27, 2017
This week's 'Andy Oliver cartoon' is by Rozi Hathaway. Rozi is one of Broken Frontier's original 'Six Small Press Creators to Watch', a contributor to the 2016 Broken Frontier Small Press Yearbook and the winner of the 2016 Broken Frontier Breakout Talent Award.
She was one of the artists involved in Ravi Thornton's graphic memoir HOAX Psychosis Blues (alongside the likes of Bryan Talbot, Karrie Fransman and Hannah Berry) and has self-published a number of comics like Njálla, Sneaky Business and Ø. Her new comic Cosmos and Other Stories will be published by Good Comics in March and can be pre-ordered here. You can discover more about Rozi's work on her site here and follow her on Twitter here.
For regular updates on all things small press and Broken Frontier follow Andy Oliver on Twitter here.