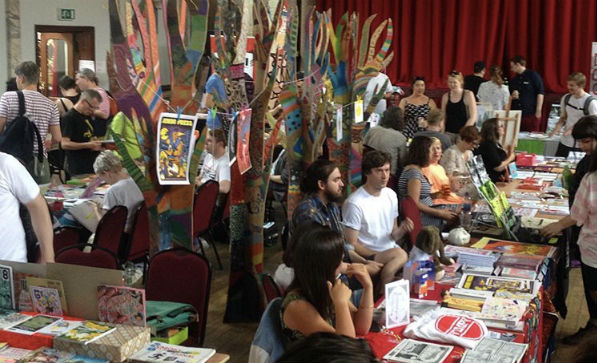 The briefest of behind-the-scenes at BF catch-ups today as we give you a quick visual record of this past Saturday's South London Comic and Zine Fair (SLCZF) which took place in what felt like a near tropical South Norwood. Broken Frontier looked after the Communal Table this year with myself, BF's Tom Murphy and original Broken Frontier 'Six to Watch' artist Emma Raby on hand alongside festival organiser Gareth Brookes to provide an opportunity and a space for non-tabling creators to showcase their work.
SLCZF is a carefully curated event with exhibitors ranging from bigger indie publishers like Avery Hill Publishing and Centrala through to grassroots self-publishers in the process of building up an audience like Hattie Comics, Joe Stone and Jade King, all of whom we featured on the site last week. We reported back on the huge success of last year's show here at BF if you want to revisit the origins of SLCZF, and this year's event was just as much a celebration of small press community and creativity as the 2017 edition.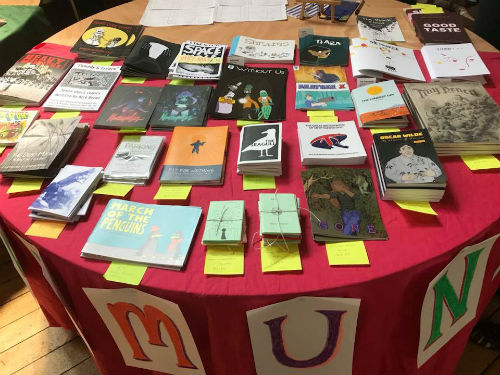 The main thing I took away from this year's SLCZF, though, was a very obvious observation from working on the Communal Table across the day given its focus on attracting new creators to submit their comics (a big reason why I was so happy to be given the opportunity to put Broken Frontier's name to the table). It's perhaps something that we all take for granted but it's worth underlining here because it's easily forgotten.
It can be an incredibly daunting prospect to share your work in print with a potential audience for the very first time.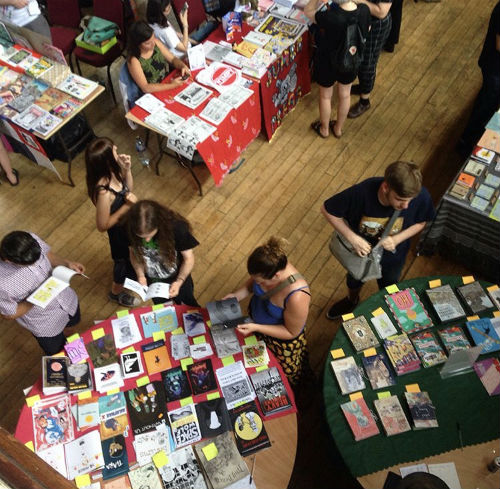 As the day progressed we took self-published work that included everything from enthusiastic DIY presentation to books of a professional level of content. That encapsulated the democratic nature of comics as a medium but I was also aware of the nervousness of some of the artists in approaching the table, all of whom turned out to have never sold their work at an event before. I hope we provided an encouraging space for them and we'll look to tweet out some examples of the excellent practice we discovered over the course of the next few days.
Huge thanks to SLCZF organiser Gareth Brookes once again, to all the artists who trusted their work to us for the afternoon and to everyone who supported new creators by checking out their comics on the Communal Table on the day.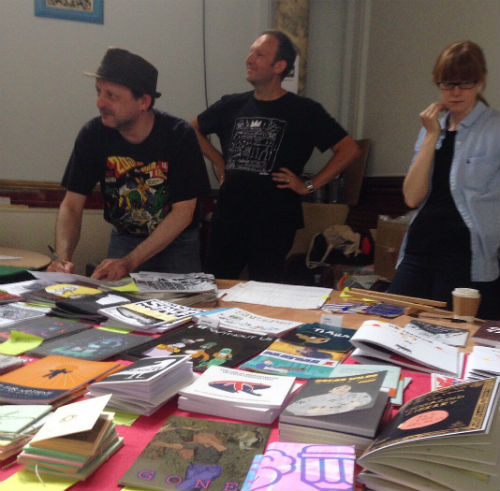 Our last Broken Frontier appearance of the summer will be at the Cartoon Museum for the 'Sustaining Comics' programme of events on July 28th. We'll hopefully see you there if you're London-based!
– Andy Oliver, Broken Frontier Editor-in-Chief, July 16th, 2018
For regular updates on all things small press and Broken Frontier follow Andy Oliver on Twitter here.