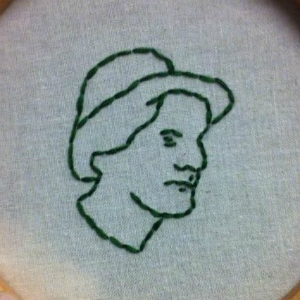 Emma Rios, Isabel Greenberg, Krent Able, Jade Sarson, Rachael Stott, Gary Northfield, Karrie Fransman, ILYA, Hannah Berry and Joe Decie. That's merely a small number of the artistic names to have graced the guest list for the collaborative Gosh! Comics and Broken Frontier Drink and Draw nights; just one of the many regular events that Gosh count as part of their monthly comics calendar.
It's been the best part of two years now since the Drink and Draw first opened for business, with Tom Humberstone as our initial guest, and in that time we've hosted 13 evenings (the most recent this past Tuesday) with 38 comics stars on hand to show off their creative talents and interact with our attendees.
While every edition sees new punters joining in the fun we also now have a steady core of regular faces who loyally turn up for each and every evening of themed drawing and informal social artistry.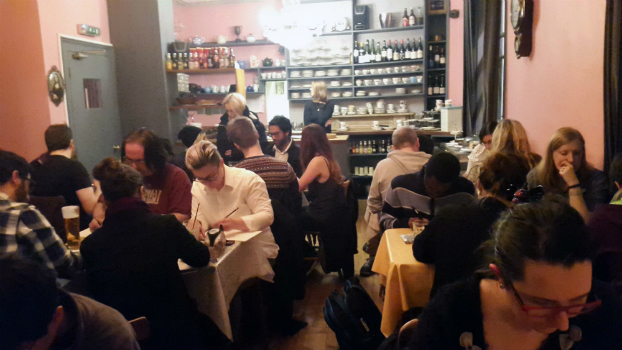 Let's drink and draw! The special February 2016 Save Our Souls D&D
Our creator participants have ranged from well-known names who have worked for the likes of Image, Marvel and DC, to award-winning graphic novelists, through to some of the hottest new rising talent on the indie and small press scenes.
Indeed our own Broken Frontier 'Six to Watch' stars of the future Alice Urbino, Rozi Hathaway, Brigid Deacon and Anja Uhren have all been on the bill at one time or another, and fellow Six-to-Watcher Danny Noble wowed us all with her rapid-fire cartooning wit as our regular Artist-in-Residence in the early months of the Drink and Draw.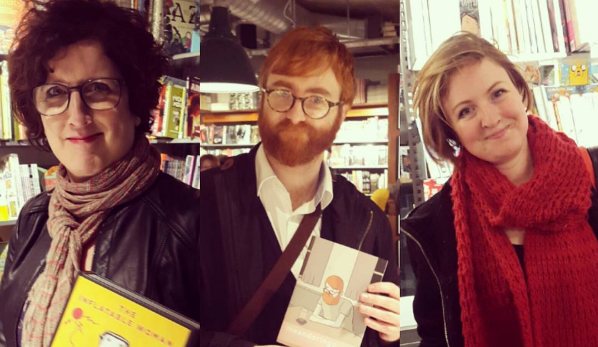 Our most recent guest artists last week – Rachael Ball, Matthew Dooley and Sarah Gordon
We've drunk and drawn our way through an ever-changing number of Soho's pubs in that time, ensuring that the D&D continually reinvents and reinvigorates itself, with Gosh's Nora Goldberg taking over from Tom Oldham as co-host at the beginning of 2016. It's an event that embodies everything I said here a few weeks ago about the importance of comics community and working partnerships in bringing creators and their audiences together, and in the last year or so its popularity has grown in leaps and bounds.
Warwick Johnson-Cadwell art from the April 2016 Drink and Draw
If you're looking for extra indications of what to expect on the evenings here's a further list of guests who have attended since 2015 to whet your appetites: David Hine, Mark Stafford, Mike Medaglia, Fumio Obata, Verity Glass, Sean Azzopardi, Robert M. Ball, Warwick Johnson-Cadwell, S.J. Harris, Amber Hsu, Cristian Ortiz, Gareth Brookes, Ian Williams, Lando, Stathis Tsemberlidis, Rebecca K. Jones, Lizzy Stewart, John Riordan, Grace Wilson, Rachael Ball. Sarah Gordon and Matthew Dooley.
Let's face it – if that lot were all in an anthology together we'd all be queuing up to buy it!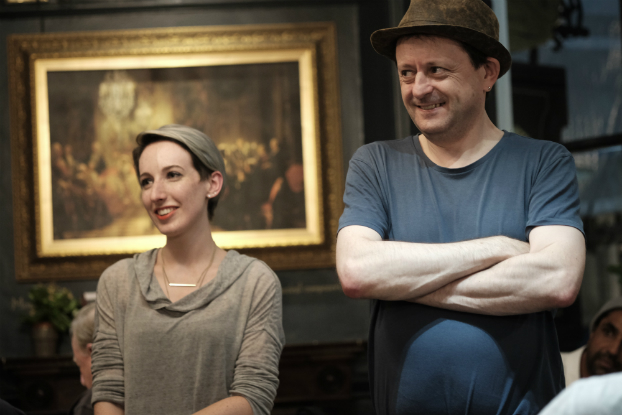 Your Drink and Draw hosts – Nora Goldberg and Andy Oliver
Those wanting to discover more about the Drink and Draw can join the Facebook group here. Whether your pencilling is professionally proficient or you're simply a graphite have-a-go-hero, all are welcome for a wonderfully relaxed night where promoting the social side of comics is the ultimate objective. Nora and I look forward to seeing you there in future!
– Andy Oliver, Broken Frontier Editor-in-Chief, March 6th, 2017
This week's 'Andy Oliver cartoon' is by Gareth Brookes and was hand-stitched at the July 2016 Gosh/BF Drink and Draw. Gareth was the winner of the 2012 Myriad First Graphic Novel Competition for The Black Project and has been a mainstay of the UK small press scene for many years including The Manly Boys & Comely Girls Annuals from Avery Hill, Can I Borrow Your Toilet? and the most recent š! anthology from kuš! comics. He was a contributor to the first Broken Frontier Small Press Yearbook and his new graphic novel A Thousand Coloured Castles is published by Myriad this April. 
For regular updates on all things small press and Broken Frontier follow Andy Oliver on Twitter here.